U.S. industrial output dropped unexpectedly in January as automakers slashed production, while new claims for jobless rose sharply last week partly due to winter storms, data released Thursday showed.
A separate report, however, offered a brighter note on the U.S. factory sector, showing manucturing activity in New York State rose this month.
The 0.5 percent drop in industrial production last month, the largest decline since September 2005, reflected a 0.7 percent fall in manufacturing output that more than offset a rebound at utilities, the Federal Reserve said.
It said about half of the factory sector decline was caused by a 6 percent plunge in the production of motor vehicles and parts.
The drop in output dragged the amount of capacity in use at the nation's factories, mines and utilities down to 81.2 percent, its lowest in nearly a year.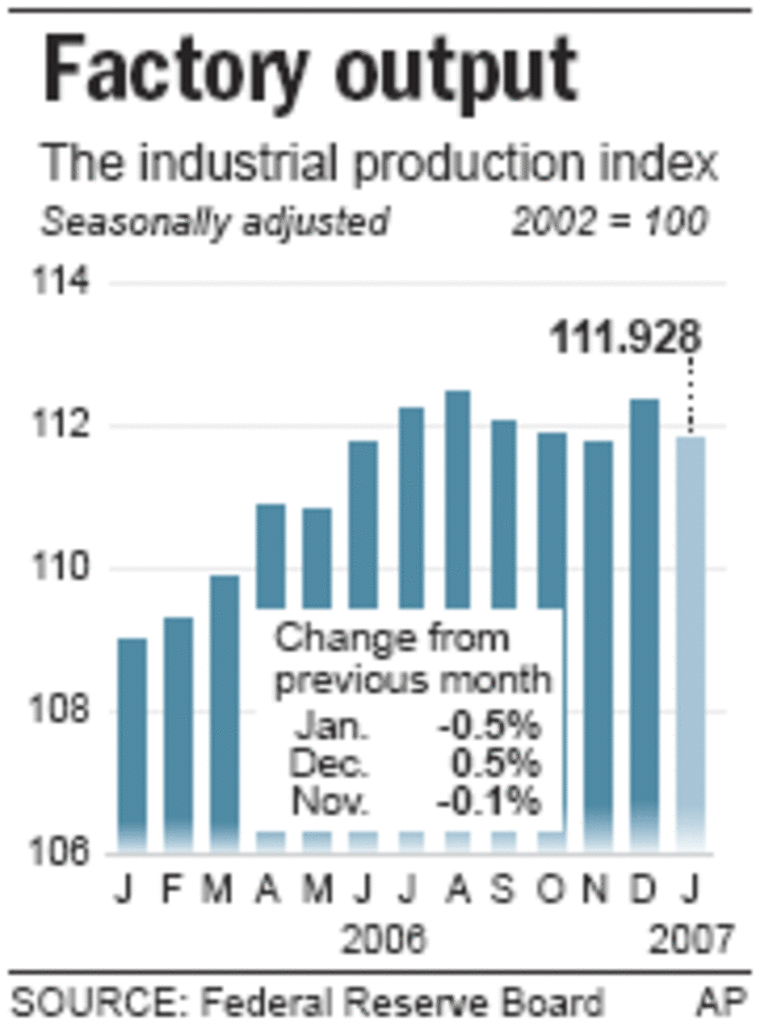 Analysts had predicted industrial output would be flat in January and had forecast a smaller decline in capacity use.
Prices for government bonds rose and the dollar fell as traders in financial markets saw the weak tenor of the data bolstering the case for interest-rate cuts from the Fed late in the year.
In its report on New York State factory activity, the New York Federal Reserve Bank said its general factory conditions index surged to 24.35 in February from 9.13 in January. Economists had expected a reading of only 10.0.
A separate report from the Labor Department showed first-time claims for state unemployment aid climbed by a bigger-than-expected 44,000 last week to 357,000.
A department official said a significant part of the rise was due to winter storms in the Midwest and Northeast, which likely hit the construction sector hard, putting more workers into unemployment lines. He said he was not able to specifically quantify the impact the weather may have had.
The jump in claims took them to the highest level since November, but economists took the increase with a grain of salt.
"These data are hugely volatile and we need to see what happens over the next few weeks. If a sustained increase really is under way, everything will change," said Ian Shepherdson, chief U.S. economist at High Frequency Economics.
He said rising claims signal slower payroll growth and increasing unemployment, which would greatly increase the chance of the Fed lowering borrowing costs.
A four-week moving average of initial claims, which smooths some of the weekly volatility, rose by 17,500 to 326,250 last week, suggesting some emerging weakness in the labor market.
In addition, the number of workers continuing on unemployment benefits rose by 71,000 to 2.56 million in the week ended Feb. 3, the most recent week for which the data were available. It was the highest level since January 2006.
In a separate report, the Labor Department said U.S. import prices fell 1.2 percent in January as imported petroleum costs tumbled 7.3 percent, which helped financial markets further put away any inflation concerns.
It also said export prices rose 0.3 percent in January, boosted primarily by price gains on U.S. capital goods, which account for 40 percent of all exports. About 25 percent of all U.S. goods from the manufacturing sector are exported.
It was the fifth straight increase in export prices for capital goods, which rose by 0.2 percent. Auto export prices rose by 0.2 percent, the 13th straight monthly rise.