/ Source: The Associated Press
The last of hundreds of stranded motorists in Pennsylvania were freed but highways remained shut Friday as crews struggled to clear ice and snow following a monster storm that has been blamed for at least 22 deaths.
Interstate 78, site of a huge traffic tie-up Thursday, as well as large portions of I-81 and I-80, remained closed so workers could clear them. The icy mixture, up to six inches thick, became rock-hard as overnight temperatures plummeted to the low teens and single digits.
The sprawling storm system, which caused deaths from Nebraska to New England, blew out to sea Thursday, leaving huge snow piles, frigid temperatures and tens of thousands without power across the Midwest and Northeast.
Numerous areas saw more than a foot of snow. More than 137,000 customers had lost power at the height of the storm.
"This storm was rare because of the unusual amount of snow and ice," said Pennsylvania Transportation Secretary Allen Biehler. "This series of accidents that blocked our way made it really, really difficult."
Stuck and hyperglycemic
Eugene Coleman, who is hyperglycemic, was trapped in the Pennsylvania jam for 20 hours while on his way home to Hartford, Conn., from visiting his terminally ill mother in Georgia, along with his girlfriend and pregnant daughter.
"How could you operate a state like this? It's totally disgusting," Coleman said.
Gov. Ed Rendell agreed, calling the state's handling of the situation "totally unacceptable."
At least 22 deaths were blamed on the huge storm system: six in Ohio; three in Nebraska; two each in Indiana, New York, New Jersey and Delaware; and one each in Missouri, Pennsylvania, Virginia, New Hampshire and Louisiana.
At New York City's Kennedy Airport, JetBlue travelers continued to experience delays and cancellations Friday as the airline struggled for a third day to recover from a storm-related backlog that left angry passengers stuck in grounded planes for hours.
The company had hoped to have things back to normal by Friday morning.
"It didn't work as well as we planned," spokesman Bryan Baldwin said. "It's going to take longer than we anticipated to do that."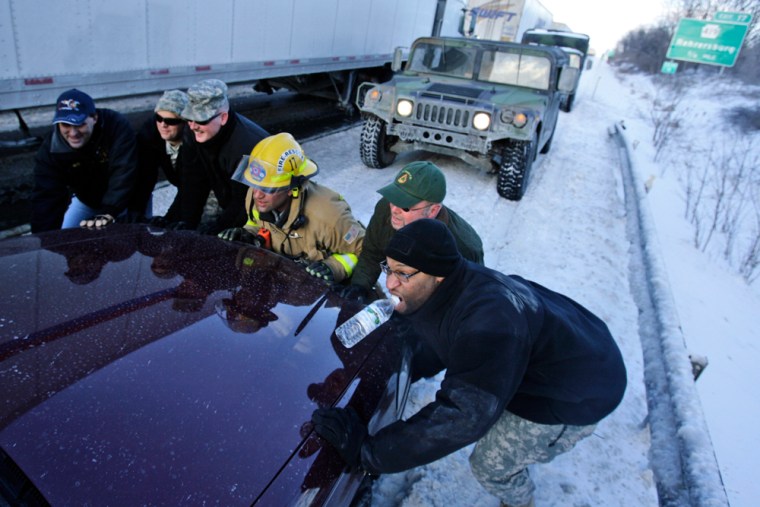 In Pennsylvania, where the storm moved in Wednesday, officials said all motorists had been cleared off the highways by early Friday, though the ice remained.
"We have plow trucks out there, we have graders out there, we have loaders out there, just hammering away at it," Sean Brown, a spokesman for the state transportation department, said Friday morning.
The traffic jam on a 50-mile stretch of I-78 was so bad that National Guardsmen in Humvees had to ferry food, fuel and baby supplies Thursday to motorists who had been stranded for nearly 24 hours.
Onramps were late to close
Drivers were outraged, especially because state police did not close all the entrance ramps to I-78 until around 5 p.m. Thursday, more than 24 hours after cars and trucks started getting caught.
"Why would they have that exit open if they were just going to let us sit there?" said a crying Deborah Miller. Her 5-year-old son was trapped in the car with her, running a 103-degree fever from strep throat.
The storm brought new troubles to parts of upstate New York that have received 10 feet or more of snow since the beginning of February. Oswego, N.Y., got an additional 20 inches over the past two days on top of the 85 inches that fell between Feb. 3 and Monday. Gov. Eliot Spitzer asked President Bush on Thursday to declare a federal emergency in Oswego and five other counties.
In Maryland, BGE utility officials said it could be late Friday before power is restored to everyone. The worst outages were in Anne Arundel County, with 22,000 without power, and in Prince George County, where 7,700 were without power.
More than 137,000 customers had lost power at the height of the storm.
A few flights were canceled Thursday after numerous cancellations Wednesday, and many school districts that had canceled classes Wednesday extended the unplanned vacation by an extra day.