/ Source: Destination Weddings & Honeymoons
Dreaming of a wedding locale that blends tropical warmth, historic ambiance and at-home accessibility? Puerto Rico offers all this and more, accented with spicy Latin flair.
When Jill Huntley and Robert Taylor decided to tie the knot, there was no question where they would do it: Puerto Rico, the place where they first fell in love. They'd met in Chicago, where they worked together — he as an attorney and she as a trial consultant — but it took a stint doing a trial on the sultry Caribbean island to show them that they were made for each other. "He proposed to me there, too," says Jill. In addition to the romantic memories, convenience clinched the deal. With direct flights from many U.S. airports, their guests could get from chilly winter to tropical beach in a matter of hours. "My family doesn't travel very much," says Jill. "Puerto Rico was less threatening. They didn't need passports – that was huge. And just about everyone on the island speaks English. It's a short trip from the east coast, yet it's like you're a world away."
Just 100 miles long by 30 miles wide, Puerto Rico has remarkably varied geography.  With mountains, beach, rainforest and near-desert, brides can choose virtually any setting they like. A modern infrastructure means that wedding planning by phone or email is as easy as calling around the corner, and a host of bilingual wedding coordinators both in resorts and working independently can take care of every detail.
"Puerto Rico offers a rich cultural and ethnic heritage," says Anne Marie Kleis, of AMK Events. She coordinates 35 to 50 weddings a year in Puerto Rico, more than 75 percent of them for North American couples. "The Latin culture makes it a fantastic place for weddings, the excellent climate makes it sexy, but Puerto Rico is also absolutely modern."
San Juan

Cosmopolitan Caribbean
If you want to get to know Puerto Rico, start at the island's heart, Old San Juan. The oldest city under the U.S. flag, it was built by the Spanish in the 1500s. The narrow, winding streets are cobbled in blue stone and lined with pastel-painted walls. Colonial balconies of elaborate wrought iron and carved wood spill over with riotously colored bougainvillea, and the whole minicity is ringed by the original stone walls, which meet at stately El Morro Fort overlooking the Atlantic Ocean.
"We knew we didn't want to get married on the beach," says Jill.  "Old San Juan, with its elegance and beautiful colors, was just the perfect setting."
For the ceremony and reception on October 29, 2005, the couple chose Hotel El Convento, a former 17th century convent overlooking the second-oldest cathedral in the New World. Music was a key part of the 80-person reception: A local band played a mix of salsa and American music, and the tables in the Spanish-style courtyard were accessorized with fuchsia mini maracas. "Those maracas really helped people get up and dance," recalls the bride.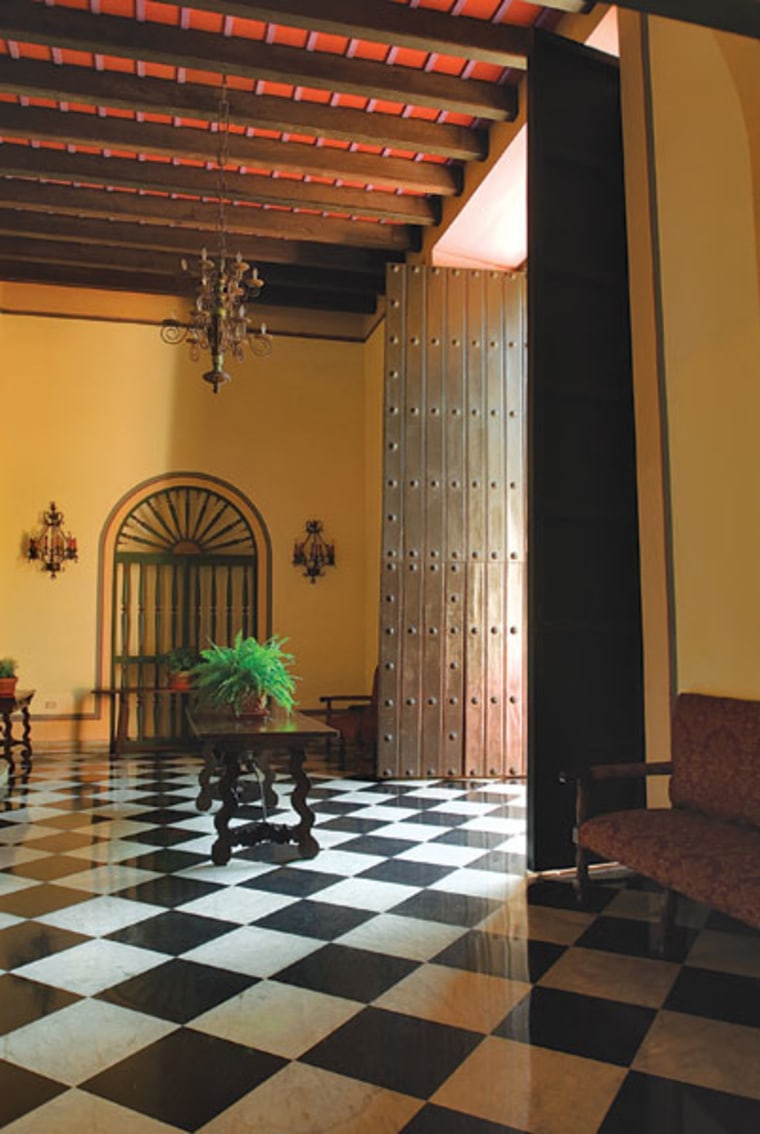 One of the great advantages of staying in Old San Juan is that guests can walk to almost everything. During the day, visitors can explore museums and art galleries, shop at factory outlets like Polo and Coach or sit at sidewalk café and sip piña coladas (the drink was invented in Puerto Rico). At night, the crowds come out along South Fortaleza Street (known as SoFo), where exciting Nuevo Latino, Asian and Indian-inspired restaurants like Parrot Club and Dragonfly sizzle like South Beach nightclubs.
But San Juan does not end at the old city walls. Greater San Juan rolls eastward, unfolding along the Atlantic Ocean in great stretches of golden sand. Just outside the boundary you'll find glamorous Condado, a strip of glittering shops (Gucci, Cartier) and world-class high-rise hotels fronting a strip of beach between the ocean and the Condado Lagoon.
Further east lies Isla Verde, a series of beaches that stretch more than three miles. With loads of beachfront hotels, condominiums and restaurants close by, the area is a moderately priced alternative to Old San Juan or Condado. Another plus: a bevy of seaside shops offer every type of water sport, from parasailing to jet skiing. One of Isla Verde's hottest addresses is the Wyndham El San Juan Hotel & Casino. The oversized lobby is spectacular, with mahogany paneled floors and ceilings and a Czech crystal chandelier over the central bar. Saturday nights are a must-do, as all of San Juan gets glammed up and comes down for a drink and a dance. And Isla Verde is a mere 15-minute drive from Old San Juan, making all areas accessible for a city celebration.
West Coast

Barefoot and Funky
The San Juan metro area offers cosmopolitan glamour, but for beach-bum charm, Puerto Rico's west coast fits the bill, It's a two-and-a-half hour drive from San Juan, or you can fly directly into Aguadilla's Rafael Hernández Airport.
The biggest draw here is the town of Rincón. Ever since surfers discovered the winter waves in the 1960s, this westernmost point has become a favorite of the hang-ten set. Many of those surf pioneers stuck around to run guesthouses, and the area slowly opened up to tourism. Nowadays, the appeal goes way beyond surfing, with sailing and fishing charters, scuba diving, whale-watching and the best sunsets on the island. Lodging options are include funky guesthouses, chic villas, and the ultra-exclusive Horned Dorset Primavera, Puerto Rico's only Relais & Chateaux property, where the bilevel suites come with sexy amenities like four-poster beds, flat-screen TVs, plunge pools and optimum privacy.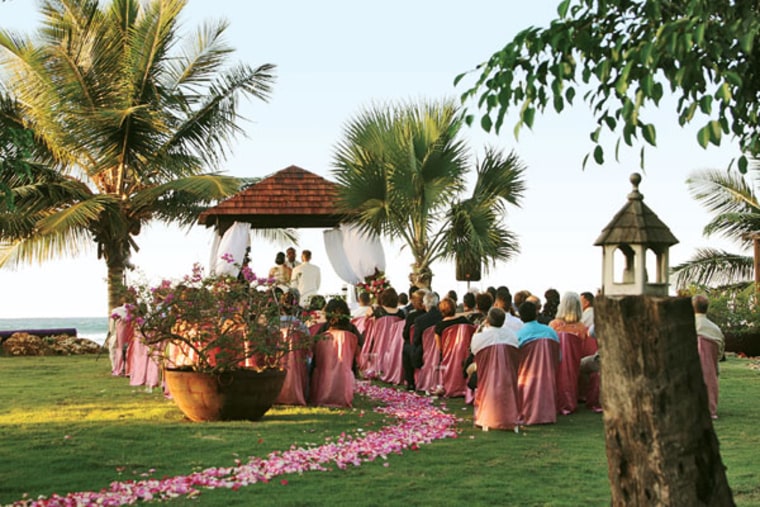 For their nuptials on January 14, 2006, Nathan and Melisa Lopez Franzen opted for the family-friendly Rincón Beach Resort, just south of town. Melisa is originally from the west coast of Puerto Rico, but the couple currently lives in snowy Minnesota. About 35 percent of destination wedding brides in Puerto Rico have some family connection to the island, says planner Anne Marie Kleis.
"I always wanted to be married in Puerto Rico," says Melisa. It didn't take much convincing to get her new in-laws excited. "Most of Nathan's family had never been there, so for them it was a great vacation." Some of their guests stayed at the hotel, while others got together to rent beachfront houses together.
Melisa used the wedding as an opportunity to showcase her culture. Favors were mini burlap bags of Puerto Rican coffee, toasted and ground to order, and a local guitarist playing Puerto Rican ballads performed during the cocktail hour. The buffet was Caribbean calypso. "The food was amazing," Melisa says. "There were pastelillos (traditional turnovers stuffed with meat and seafood) but dressed up to look prettier than you usually find them. And the white-wine sangria was perfect." Instead of lighting a unity candle, the families combined earth from Minnesota and sand from the island to symbolize the union of cultures.
The area also offers some special ceremony options outside of traditional resorts, including El Faro, a charming restored lighthouse that makes a dramatic backdrop for photos.  "Rincón is not for the conventional," says Sue Ragowsky, owner of the contemporary 10-room Club Bon-Accord in the funky Barrio Buntas neighborhood. "There are some wonderful horse-and-buggies here, which are a great way to arrive at a beach wedding. We also have a man who collects old American cars; they're immaculate, and another unique way to make your entrance." A more old-fashioned method of transportation is on horseback; outfitters like Tropical Trail Rides, in nearby Isabela, specialize in local paso fino horses, which are smaller and easier for beginning riders than larger North American steeds.
In addition to horses, Isabela has long been a favorite of water-sports fans due to great diving, windsurfing and beaches. Less developed than Rincón, it nonetheless has some beautiful accommodations, especially Villa Montaña, where 50 elegant bungalows spread down the lawn to the beach.

East Coast and Vieques

Rustic Chic
Puerto Rico's east coast is another wedding hot spot. Megaresorts like the El Conquistador Resort and Golden Door Spa in Fajardo, and Westin Rio Mar Beach Resort and the all-inclusive Paradisus Puerto Rico, in Rio Grande, offer golf, spas, fine dining and onsite wedding planners accustomed to working with North American brides. The region also provides easy access to some of Puerto Rico's most well-known attractions: El Yunque Rain Forest, the only tropical forest in the United States National Forest System; the popular half-moon of Luquillo Beach; and Cabezas de San Juan, a natural preserve with lighthouse views of a half-dozen Virgin Islands. The area is only a 45-minute drive from San Juan; most larger resorts offer shuttle service to and from the city's international airport.          
Eight miles off Puerto Rico's southeastern coast is the island of Vieques. The U.S. Navy once used this 21-mile-gem as a military testing ground, but in recent years it's become one of the hippest destinations in the Caribbean. Accessible via a 20-minute flight from San Juan or a one-hour ferry ride from Fajardo, this tiny island has loads of natural charms, including nearly empty white-sand beaches, resident wild horses and a bioluminescent bay From the oddly welcoming cement bunkers at Hix House to the novel decor in each room of Hacienda Tamarindo, to the African veldt glamour of Inn on the Blue Horizon, the resorts of Vieques are highly individual. This is an island of fashion shoots and flip flops, battered jeep rentals and wine-tasting afternoons.
"I wanted a barefoot-in-the-sand ceremony and reception for my 50 guests," says
Michelle Perez Kenderish, who was born in Puerto Rico and now lives in Miami with her husband, Victor Hugo Colmenares. She'd heard about Vieques but had never been there; a tip from a colleague and a quick visit proved it was the place for her and her groom. "We chose Vieques because it was the undiscovered Puerto Rico. Not a lot of people know about it, so it has remained unspoiled and magical," she says. "I was thrilled when I discovered that it had plenty of options for all kinds of budgets." For their home base, the couple rented the luxurious four-bedroom Villa Playa Martineau, which came with a pool and hot tub. "It was worth the splurge on the house -- it sleeps 10, so I could have my family with me and save on hotel expenses."
The couple held their rehearsal dinner at the ultra-chic, adults-only Bravo Beach Hotel, followed by a ceremony on May 20, 2006, at Martineau Bay Resort & Spa. (Note: The resort has since closed and will reopen as a W Hotel in late 2007.) Minister Raúl Utreras performed the bilingual ceremony. "A minister is the best choice," says Vieques- bases wedding planner, Galina Slavova of Sweet Gala. "If you want a judge you have to go to the main island."
The couple held the reception at the villa so the party could go on all night. A traditional three-piece trio played local ballads during the cocktail hour, while the reception featured a drum-based bomba and plena group. "Our guests had a blast dancing," Michelle says. "It was truly a great way to showcase something truly cultural and unique to Puerto Rico."
is your ultimate resource for planning a destination wedding or honeymoon. Discover amazing places throughout the world to tie the knot as well as the perfect spot for your honeymoon. In every issue, you get coverage of real-life lovebirds and their nuptials, expert advice for planning your big day, and the hottest styles in wedding attire to take you from wedding to honeymoon.