/ Source: The Associated Press
Indian police released sketches Tuesday of two men suspected of planting a pair of bombs that sparked a fire on a train barreling through northern India for Pakistan, killing 68 people in an attack officials said was intended to disrupt relations between the two countries.
The two, whose identities are not known, boarded the Samjhauta Express when it left New Delhi on Sunday and soon began arguing with the conductor, saying they were on the wrong train. They were allowed to jump off when the train slowed down about 15 minutes to 20 minutes before the crude bombs detonated, said Sharad Kumar, a senior police official.
Also Tuesday, Indian officials detained a Pakistani passenger for questioning.
The attack "is the handiwork of a militant outfit, but we don't know which group is involved," he told reporters.
Officials said the attack was timed ahead of the arrival of Pakistani Foreign Minister Khursheed Kasuri, who was expected Tuesday in the Indian capital.
"This is an attempt to derail the improving relationship between India and Pakistan," Railway Minister Laloo Prasad told reporters.
Pakistan quickly decried the attack, and Indian officials took pains to avoid laying any quick blame. Each side appeared to reach out across the border.
Indian Prime Minister Manmohan Singh declared his country's "abhorrence for this heinous terrorist act," and expressed his condolences by telephone to Pakistani Prime Minister Shaukat Aziz, according to Singh's office. Most of the dead were Pakistani.
India will do "everything possible to ensure that its perpetrators are punished," the statement said.
No suspects ruled out
A Home Ministry official, speaking on condition of anonymity because of the investigation, said no suspects had been ruled out — from Kashmiri separatists to Hindu extremists.
The man arrested on Tuesday is a resident of Karachi, Pakistan, said Bharti Arora, a senior Haryana state railway police official.
"He was found in a drunken state and he's being questioned. But his account has been inconsistent and we have no definite conclusions yet," Arora said.
Speaking to India's CNN-IBN television, Kasuri called the bombing a "terrible act of terrorism" and said "the peace process must go on with greater vigor and greater determination."
Navtej Sarna, spokesman for India's foreign ministry, read a statement that focused, in large part, on help being offered by India to Pakistani families.
"The entire process is being carried out in cooperation with Pakistani authorities," he said, adding that Pakistani diplomats were visiting the scene and that visas would be issued quickly for Pakistani relatives of the dead and injured.
"We will not allow elements which want to sabotage the ongoing peace process and succeed in their nefarious designs," Pakistani President Gen. Pervez Musharraf was quoted as saying by state-run Associated Press of Pakistan.
India's junior home minister, Sriprakash Jaiswal, said the bombs were intended only to start a fire and were timed to explode ahead of Kasuri's Tuesday arrival.
United Nations Secretary-General Ban Ki-moon condemned the bombing and said he was satisfied the leaders of India and Pakistan were determined to continue their dialogue.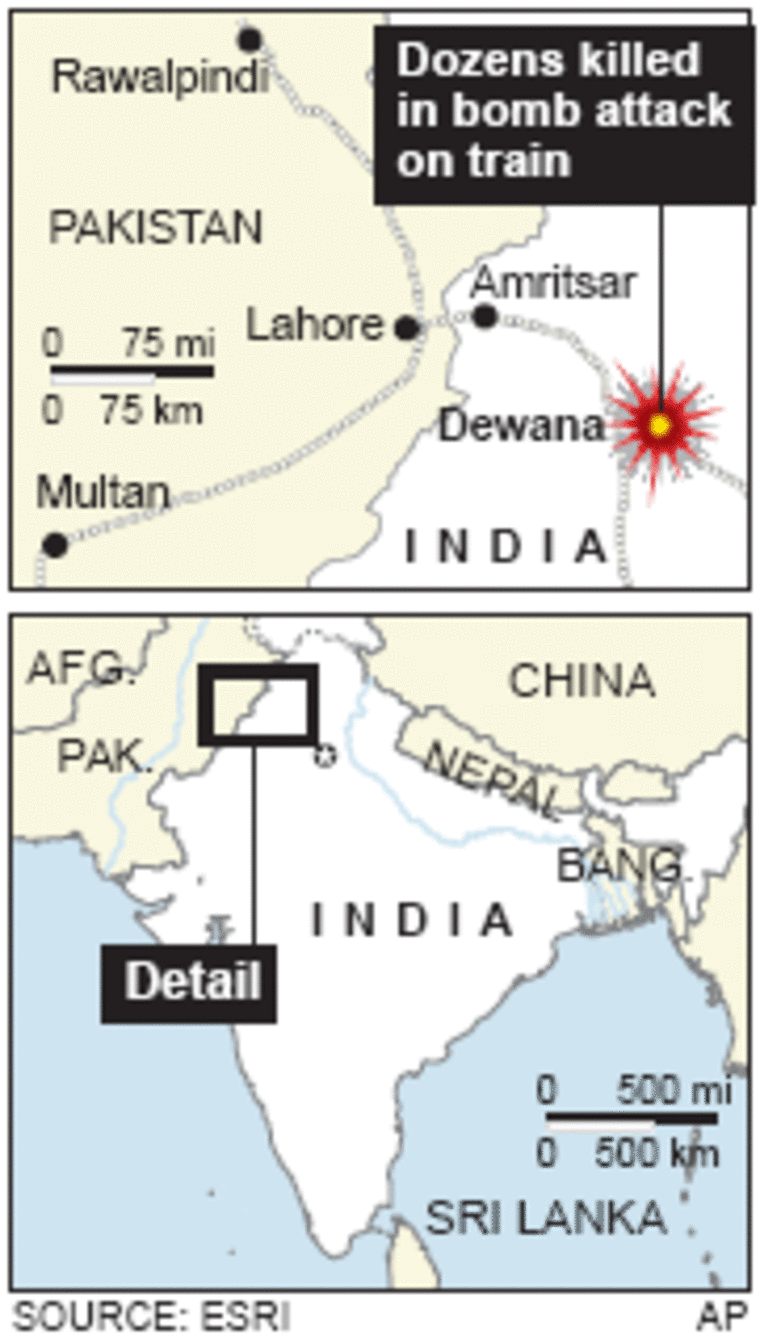 Authorities say two suitcases packed with crude unexploded bombs and bottles of gasoline were found in undamaged train cars, indicating the fire had been sparked by similar devices.
Witnesses described a horrific scene as the train stopped on an isolated stretch of railway near the village of Dewana, about 50 miles north of New Delhi. The train's driver apparently didn't realize what was happening in the seconds after the blasts, until the assistant station manager in Dewana saw fire shooting from the cars as they sped past.
"I saw flames leaping out of the windows," said Vinod Kumar Gupta, who pulled the signal ordering the train to stop. The train — which normally races through this region at about 55-60 mph — took five minutes to stop.
As on most Indian trains, the windows of many cars are barred for security reasons, sealing in many victims, and officials said at least one door was fused shut by the heat.
"We couldn't save anyone," said Rajinder Prasad, a laborer who raced with his neighbors to the scene, scooping water from a reservoir and throwing it at flames. "They were screaming inside, but no one could get out."
From the less-damaged rear coach, some people were seen "jumping out with their bodies on fire," said Arora.
But in the forward coach, where the flames were more intense, few escaped.
Fire engines arrived about 45 minutes later, but it was another two hours before the flames were extinguished.
The death toll rose Tuesday to 67 people after doctors conducting the post-mortem exams realized that what they thought was one corpse was actually two badly burned bodies fused together, Arora said.
Many bodies burned beyond recognition. At least 30 passengers were hospitalized, officials said, with a dozen critically injured people brought to New Delhi.
Makeshift morgue
Families converged on the nearby Panipat hospital, turned into a makeshift morgue. Outside, police set up a desk next to a stack of wooden coffins where worried relatives could search through piles of burned, sodden Pakistani passports and other charred possessions.
"We have seen the bodies but they are in no state to be identified, not from their clothes, not from their faces," said Shamim Khan, a relative of one of the passengers.
Within hours of the fire, authorities detached the burned coaches and the rest of the train left for the border.
The train was traveling from New Delhi to Atari, the last station before the Pakistan border. At Atari, passengers switch to a Pakistani train that takes them to Lahore, Pakistan.
The New Delhi-Lahore train link was suspended after a 2001 attack on the Indian Parliament that India blamed on Pakistan and which nearly led to a war between the two.
But relations between the nuclear-armed neighbors have improved, and the train service — restarted in 2004 — is one of the most visible results.
Their enmity focuses on Kashmir, a largely Muslim Himalayan region divided between them but claimed by both. More than a dozen militant groups have been fighting in Indian Kashmir for nearly two decades, seeking the region's independence or its merger with predominantly Islamic Pakistan. More than 68,000 people have died.