/ Source: The Associated Press
Wyoming, with its wide-open spaces and crisp, clear vistas, is starting to worry it has made itself too attractive in one respect: Convicted sex offenders from out of state are moving in, apparently because the laws are less restrictive.
"We don't want to become the playground for sex offenders," Attorney General Pat Crank said. "But there must be something that sex offenders are seeing. Otherwise they wouldn't be moving here in the kind of numbers that we seem to be seeing."
Wyoming is home to about 1,200 known sex offenders. That is not a large number for such a sparsely populated state. But law enforcement officials and legislators are worried because 56 percent of those offenders moved to Wyoming after being convicted somewhere else.
Afraid that the word is out among ex-convicts that Wyoming has some of the nation's loosest restrictions on sex offenders, state legislators are rushing to tighten the laws, and they are meeting little resistance.
"We're going to make it so there's no place for them to hide," vowed Republican Rep. Ed Buchanan, chairman of the House Judiciary Committee.
While other states often prohibit sex offenders from living near schools, daycare centers or other places with children, Wyoming has no such laws.
"They can live right next to a school if they want to. They can live in a home with children if they want to," said Laramie County sheriff's Sgt. Linda Gesell.
Sex offender registration not required
Also, unlike many other states, Wyoming does not require people convicted of indecent exposure or sexual battery to register as sex offenders. In addition, ex-convicts who are deemed low- and medium-risk offenders are not listed on the state's publicly accessible Web site.
Gary Smith, a 29-year-old cook in Cheyenne, left Wyoming for Oklahoma after serving four years in prison for having sex with a 15-year-old girl.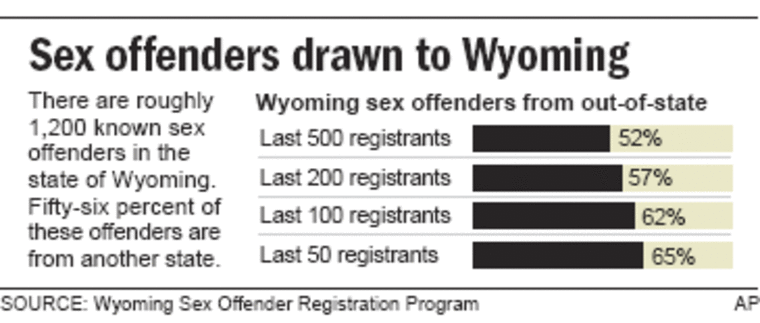 A few months later, a neighbor posted fliers in Smith's trailer park showing his criminal record, which had been taken from an Oklahoma Web site on registered sex offenders.
Smith and his wife quickly headed back to Wyoming. Although he is a registered sex offender here, he is not listed on public databases because authorities do not consider him at high risk of committing another crime. Smith is glad the state does not call attention to his conviction.
"If they ain't supposed to publish stuff about you, they don't do it," he said.
No out-of-state conviction standards
Wyoming also lacks a standardized system for accepting convictions from other states. That means authorities must obtain court papers on each sex offender before determining the corresponding Wyoming crime and deciding whether that person must register. That can cause long delays, because only one person is in charge of such efforts.
"It becomes daunting," said that person, Bob Brackett, program manager for the Wyoming sex offender registry.
Brackett recalled getting a call recently from a Florida sex offender who wanted to discuss the state's laws. The man eventually moved to Wyoming.
"A short time later, he called our office to ask a question, indicated that it was much easier to live here, and that he was going to call a buddy of his," another Florida sex offender, to urge him to move to Wyoming, Brackett said.
Last week, Gov. Dave Freudenthal signed bills that would increase the penalties for incest and make it a crime to knowingly harbor an unregistered sex offender.
Lawmakers have also introduced a two-strikes-you're-out bill that that could bring a life sentence for anyone convicted of two sex offenses against minors. Other proposals would require all sex offenders to be listed on an Internet database and some to wear GPS tracking devices.
Some lawmakers opposed
The few lawmakers who oppose some of the bills warn that the measures could backfire by driving sex offenders underground, making it harder for them to go straight, and swamping the registry with hundreds more names. That, in turn, could make it more difficult to keep track of the truly dangerous convicts, they say.
Currently, the publicly accessible Web registry of high-risk offenders has just 120 names.
"I don't want to dilute the effect of the sex offender list" by including, for example, someone convicted of statutory rape along with child molesters, said Republican state Sen. Bruce Burns.
Democratic Rep. Jane Warren questioned whether the statistics are being accurately interpreted. She suggested that some out-of-state sex offenders might be moving to Wyoming because the oil and gas boom has created lots of jobs.
But others suspect that beefed-up sex offender laws in states such as Virginia, Vermont, New Mexico and Washington are forcing convicts to look elsewhere for a place to live.
"They look around for states that do not have the strongest laws, because if you can go someplace and you don't have to be a registered sex offender, you don't have to check in with authorities, obviously from their perspective that's a better situation," Wyoming's attorney general said.