/ Source: msnbc.com contributor
Big-city dwellers who love golf might have the luxury of not needing to travel very far for great rounds, but manicured, serene courses that aren't stampeded by thousands of players every day and don't cost tons of money? Those are rare finds indeed.
So why not venture to the emerald tracks of the Pacific Northwest, specifically Seattle?
Sure, you might run into the infamous rainy season if you make the trek any time from late October through, well, maybe May and possibly June, but if you get a nice day, you'll experience none of the little things that can sometimes bug you about metropolitan golf in other parts of the United States.
And if you go in the summer when the views of Mt. Rainier, the Cascades and the Olympic range pop out of the fog, the sun's out all day, it's 75 degrees and there's fresh Alaskan salmon grilling up on the 19th hole grill, even better, right?
In search of golf solitude at a fair price and without the chafing of a truly metropolitan golf system, my buddy Burnsie and I hit the Internet and picked a trio of Seattle golf options — three different price ranges, and, as the courses promised, three different golf "experiences."
Well, make that the Seattle area.
That's because we heard so many good things about Suncadia that we figured it was worth the trip to drive 80 miles east over Snoqualmie Pass and into the woods.
Decent 'Exposure'
Astute pop-culture enthusiasts and TV freaks will note that Suncadia is the new resort in the town of Roslyn, Wash., made famous as the setting for the outstanding 1990s show "Northern Exposure." This means that after your round, you can head into town, grab a frosty at The Brick, check out Dr. Fleischman's office and peer into the KBHR studio where Chris Stevens delivered his morning missives.
But you've got golf to play first, and Suncadia is one heck of a place for it.
So far, there's one public course, called Prospector, and one immaculate, tournament-worthy private gem called Tumble Creek. Another public course, Rope Rider, is in the process of being routed through this pristine land of forest, streams and fresh mountain air.
Prospector is simply fantastic and worth every penny of the $75 to $100 that it will cost you. The vistas are stunning, the houses — this is a big-time vacation community — are actually cool, blending into the whole woodsy environment, and unobtrusive, and the fairways and greens are as perfect as you'll encounter on a public golf course.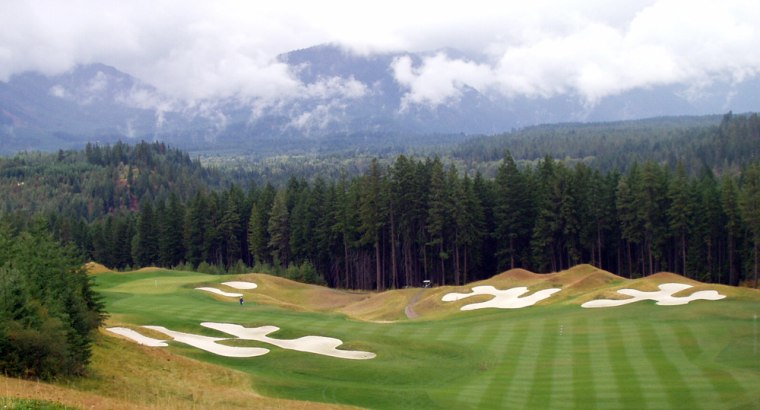 The 10th hole alone might be worth the money. The classic risk-reward par-4, with the elevated tee providing one of the most beautiful backdrops you'll ever see on a golf course, gives big hitters the chance to rope one about 270 and have a chip shot in. If the Cascade and Cle Elum River valley view takes away your concentration, just bail out into a comfy landing area on the right.
Overall, Suncadia offers playability, excellent conditions and country-club amenities for a green fee that quite honestly is a bargain compared to a lot of overrated tracks that somehow are even more expensive.
But if you don't feel like dropping a Benjamin to bathe Titleists in lakes and shrubbery, there's at least one golf course in the Seattle area that provides as much bang for your buck as any in the country. Seriously.
Remember all the hubbub about Bethpage State Park's Black Course outside of New York City, how you can play a U.S. Open-worthy track for under $40 if you get there at about 3 a.m. and wait in your car behind about 763 other people?
Striking Gold Mountain
Burnsie and I are happy to report that Western Washington has its own version of Bethpage Black, it's called Gold Mountain, and you won't need to lug your sleeping bag and Coleman hibachi into the parking lot to get a tee time.
Located near Port Orchard, about 25 miles west of Tacoma, and managed by the city of Bremerton, this is Muni Paradise. Two courses, Cascade and Olympic, sit smack in the middle of a gorgeous forest not too far from the nether reaches of the Puget Sound.
Cascade is the easier of the two but still offers a great collection of holes, with elevated tees, uphill shots, plenty of trees and wildlife visible around almost every bend in the afternoons. It's always in great shape considering the amount of play it gets, and the best part is the fact that even in September it can be as inexpensive as $25 on weekdays and $29 on weekends. Even in peak season it's not much more expensive than that.
The Olympic course, however, is the real reason to head out to this complex if you're a serious golfer. It was designed by John Harbottle and is a cut above the Cascade in every category. The greens are hard and fast and superb. The fairways are excellent. It's under $40, too.
The holes offer a little bit of everything — plenty of undulation and elevation changes and water comes into play starting at the ninth hole and throughout the back nine. From the tips, this bad boy measures every bit of its 7,073 yards, especially when you tee it in the morning and have to deal with the deep forest dew.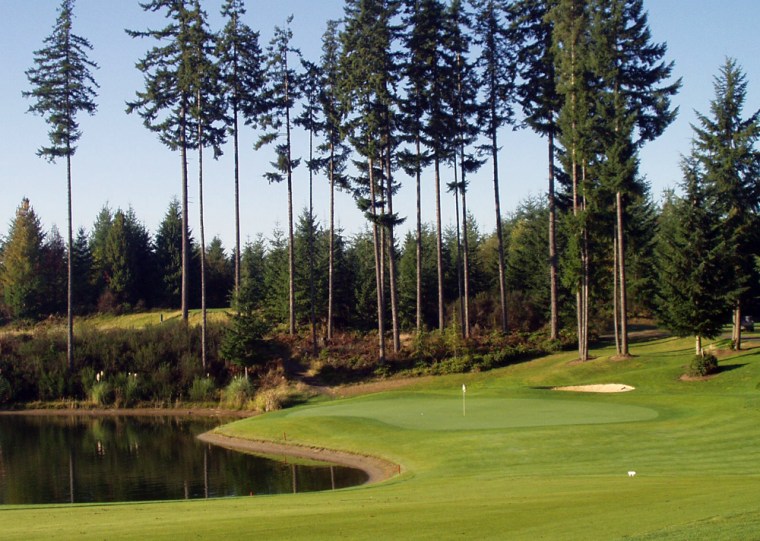 This course is so good that it lured the 2006 U.S. Amateur Public Links Championship and is poised to attract even more tournaments as it grows beyond its relatively young age of 10 years. We can't wait to see what happens at this hidden, affordable gem.
For the last stop, we headed back toward the "big city" and chose a tried-and-true muni, the conveniently located West Seattle Golf Course.
Worth the wait
This is one of three 18-hole municipal tracks run by the City of Seattle and probably the best of the lot — the other two are Jefferson Park, the course where PGA Tour star Fred Couples learned the game as a child — and Jackson Park.
West Seattle sits on a nice piece of land overlooking the whole city, you can see the snow-covered peak of Rainier on a clear day, and if you've got five or six hours to spare and you don't mind waiting a little while for each shot (or dealing with an occasionally surly pro shop employee),  you'll have a grand time. The course is usually in fine shape for a muni that only costs $28 to walk ($33 on weekends), although its lack of solid drainage makes it a bit of a quagmire in the winter.
Starting out with a fair, vast par-5, West Seattle doesn't offer much in terms of mystery, and traditionalists will appreciate its straightforwardness.
Things get more interesting on the back nine, especially the signature 12th hole, which features a dazzling view of downtown and the Space Needle. Don't get distracted, though, because you're going to have to thread a tight tee shot through a chute of trees.
The course closes with five holes in succession that switch back right next to each other, so with the weekend hacks out in full force, you might have yourself a good ol' time with those community fairways, if you know what we mean.
All in all, though, it's a pretty sweet city deal that simply requires patience — something that playing in crowded cities all the time has surely already given you plenty of.
For more information on these three courses and nearby accommodations, check out the Web sites for Suncadia, Gold Mountain and West Seattle Golf Course.