/ Source: Forbes Traveler.com
To leap and freefall for 30 feet in a pair of skis is a harrowing stunt. But to do it from the top of the 10,450-foot Rendezvous Mountain at Jackson Hole Mountain Resort in Wyoming, where Corbet's Couloir cuts a steep white scar between towering cliff faces, is to perform a skier's sacred rite of passage.
Indeed, just to enter Corbet's Couloir, a skier or snowboarder must drop off a cornice that varies from 10 to 30 feet in height throughout the season. Then it's back-to-back turns on a narrow and steep slope, a one-way trip down to the deep white abyss of Tensleep Bowl.
As the ultimate proving grounds for expert skiers and snowboarders, double-black diamond runs offer trees, rocks, giant icy bumps and heart-in-throat drops that push riders to their physical and mental max. Hundreds of vertical feet can fall away underfoot in seconds. One wrong move, one moment of hesitation, and fate can tip toward a tumbling, embarrassing -- and potentially injuring -- slide to the bottom of the mountain.
But what is life without a bit of risk?
A long time ago, as a burgeoning ski bum in the early 1990s, I kept a scribbled list in a notebook of some of North America's most difficult double-diamond runs, from archetypes like Corbet's Couloir to Snowbird's Great Scott in Utah and the Palisades at Squaw Valley, Calif. My goal was simple: to travel the continent and ski them all.
And I did.
For 10 ski seasons I road-tripped to resorts, honing my hop-turns, dropping cliffs, shredding powder, breaking skis, and having the time of my life -- all while checking off run after run on my old list.
Only later did I discover that this was nothing unique.
Most every expert skier and snowboarder has a list -- physically scrawled out, or ethereally in the back of the mind -- of certain double-diamond runs that matter. I heard stories of people traveling around the world to ski a single guarded pitch.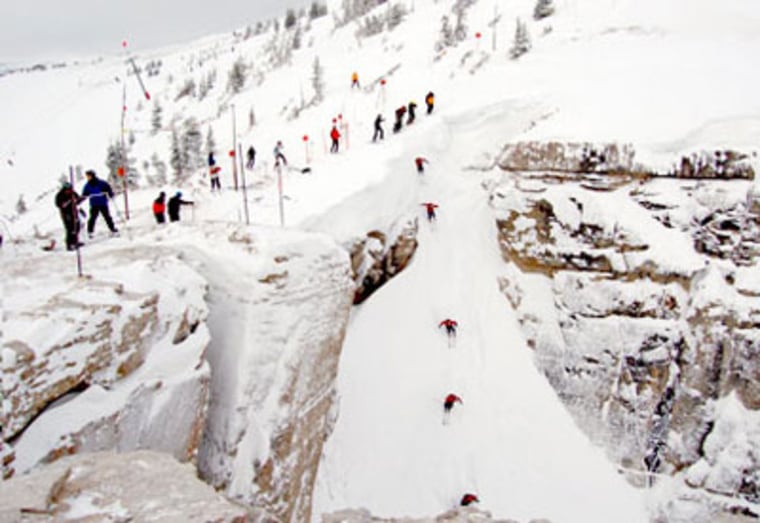 For the list below -- the Top 10 Double-Black Diamond Runs of North America -- I polled ski guides, industry executives, ski magazine editors and a few professionals who make a living skiing the steeps in front of a camera. They each picked a run or two from their personal lists, including rarely open avalanche chutes of the West, alpine bowls and classic New England bump runs.
The runs they picked, from steep icy slots in Vermont to rocky couloirs in the Teton Range, form an admirable list and a geographic shotgun spread of steep-slope adventure.
Now... print this list off, tack it to your wall and start planning your own double-diamond conquest.