/ Source: The Associated Press
Emergency crews on Saturday found a third body in a 330-foot-deep sinkhole that had swallowed a dozen homes and forced the evacuation of nearly 1,000 people in a crowded Guatemala City neighborhood.
The body of Domingo Soyos, 53, was carried out of the enormous fissure and identified by family members, medical crews said.
Soyos was the father of teenagers Irma and David Soyos, whose bodies were found floating in a river of sewage soon after the sinkhole opened on Friday.
Residents said there were other people unaccounted for, but emergency crews could not confirm that.
Officials blamed recent rains and an underground sewage flow from a ruptured main for the tragedy. The pit emitted foul odors, loud noises and tremors, shaking the surrounding ground. A rush of water could be heard from its depths, and authorities feared it could widen or other sinkholes could open up.
Police evacuated nearby homes and cordoned off a 500-yard perimeter around the crater. Security officials were on guard for possible looters and curious onlookers.
"We have closed the valves on the storm and sewer drains and we are going to wait until the area stabilizes before going down there to evaluate, but in the meantime, the mouth of the hole will certainly become larger," Alvaro Rodas, the director of social development for Guatemala City, said on Friday.
A preventable trajedy?
Edward Ramirez said he and other residents had been hearing noises and feeling tremors for about a month before the ground opened up before dawn, waking many in the poor neighborhood.
"People were shouting 'The electric posts are falling down!"' said the 26-year-old Ramirez, who lives 50 yards from the hole. "We are going to a friend's house now. There's no way we'll stay here."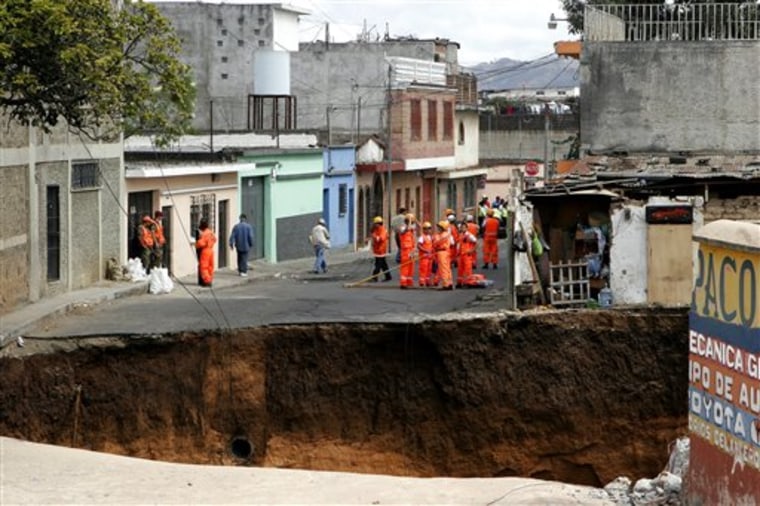 Authorities had apparently suspected something was wrong with the site before the sinkhole appeared.
"We knew, and the INSIVUMEH (the country's seismology institute) had placed a seismic meter there," Rodas said. "The city government had contracted a robotic camera system to go down there, but the disaster occurred first."
'Felt the earth shaking'
Maria Rivas said she was in her home when the sinkhole opened.
"I started to hear booming and I felt the earth shaking, and then I realized that the homes had collapsed" into the sinkhole, she said.
Security officials guarded the site from possible looters and to clear the area of onlookers.
Cristobal Colon, a spokesman for the municipal water authority, said the sewage main ruptured after becoming clogged. He said the city was aware of the blockage and the army had been considering a controlled explosion to clear the pipe, which carries both rainwater and sewage for much of the capital.
Antonio Fuentes, 50, said he plans to abandon the run-down neighborhood he has called home for 15 years.
"Last night, a friend had to take my handicapped wife out on motorcycle," he said. "Now I'm leaving for good, never to come back."