/ Source: The Associated Press
Secretary of State Condoleezza Rice said the U.S. would hold direct talks with Iran if Tehran suspended its nuclear program. Iran's president, however, pledged to move ahead with enrichment activity that Washington contends masks weapons development.
"I am prepared to meet my counterpart or an Iranian representative at any time if Iran will suspend its enrichment and reprocessing activities. That should be a clear signal," Rice said in Washington.
Earlier Sunday, Iranian President Mahmoud Ahmadinejad comparing his nation's nuclear drive to a train without a reverse gear or brakes. "We dismantled the rear gear and brakes of the train and threw them away sometime ago," he was quoted on the radio as telling Islamic clerics.
Iran says its energy program is peaceful.
Vice President Dick Cheney said last week on his trip to Australia that the United States believes "it would be a serious mistake if a nation such as Iran became a nuclear power." He reaffirmed the Bush administration's policy that "all options are on the table" to deter Tehran.
Rice said the Iranians "don't need a reverse gear. They need to stop and then we can come to the table and we can talk about how to move forward." She contended Ahmadinejad's stands are isolating his country.
"I have no doubt that the Iranian people want to be like other people, capable of carrying out their freedom of having greater pluralism in their politics. All of that is important."
Rice: 'They need to change'
President Bush, she said, "has made very clear that around the world we're going to continue to advocate for democracy. We are. However, with Iran, in a situation in which they are in defiance of the international community and they need to change that behavior, then we can talk about everything.
"And we'll talk about it with this regime. I've said that I am prepared to meet my counterpart or an Iranian representative at any time if Iran will suspend its enrichment and reprocessing activities. That should be a clear signal," Rice said.
The International Atomic Energy Agency said Thursday that Iran had ignored a U.N. Security Council ultimatum to freeze its uranium enrichment program and had expanded the program by setting up hundreds of centrifuges.
A council resolution adopted Dec. 23 penalized Tehran and warned of further punishment if Iran did not comply.
Security Council reps to meet Monday
Diplomats from the five permanent Security Council members and Germany planned to meet in London on Monday to begin discussing what steps to take to increase international pressure on Tehran to cooperate.
"People in Iran are concerned about the fact that financial institutions are moving out of Iran and refusing to deal with Iran," Rice said. "They're concerned that their oil and gas fields need investment that they're probably not going to be able to get at the high end because people are not going to take the reputational and investment risk of dealing with a country that has gotten itself into a very bad club."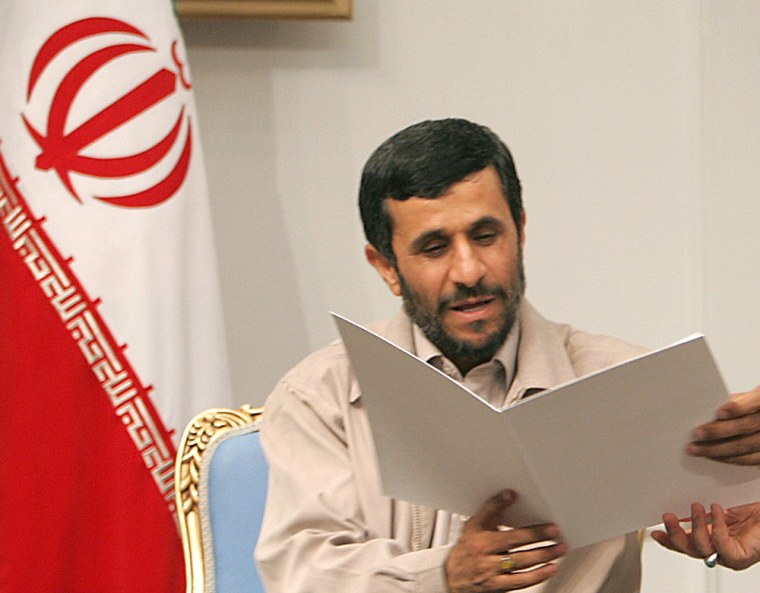 But, she added, "I just want to repeat, Iran has another course that it can take. If it stops its enrichment and reprocessing activities, as demanded by the international community, we're all prepared to have full-scale negotiations any time and any place."
In addition to the nuclear impasse, the administration has clashed with Iran over Iraq, with the administration saying U.S. intelligence has pinpointed Tehran as supplying weapons that have killed American soldiers.
U.S. officials deny Iran attack plan
Defense Secretary Robert Gates has said the U.S. has no intention of attacking Iran. Bush, in defending the intelligence on Iran, has said, "Does this mean you're trying to have a pretext for war? No. It means I'm trying to protect our troops."
against Iran that could be activated within 24 hours of Bush's orders. The author, Seymour Hersh, cited a former senior intelligence official as his source.
A Pentagon spokesman, Bryan Whitman, said Sunday he know of no such planning group, the U.S. is not planning to go to war with Iran and "to suggest anything to the contrary is simply wrong, misleading and mischievous."
The top Republican on the House Armed Services Committee said U.S. intelligence long has focused on Iran, especially for its nuclear intentions.
"We have contingency plans around the world. We had contingency plans with the Soviet Union, and we had specific targets. That didn't mean that we were planning to strike the Soviet Union," said Rep. Duncan Hunter, D-Calif.
He said Hersh interprets that "into an intent to attack Iran in the near future. That's not the case."
Rice appeared on "Fox News Sunday" and "This Week" on ABC, Hunter on "Late Edition" on CNN.
Pakistan warns of escalation
Meanwhile, in Pakistan, seven Muslim nations warned of a "dangerous escalation of tension" over Iran's nuclear program and urged the standoff be resolved diplomatically without resorting to force.
The statement of concern came after ministers from Egypt, Indonesia, Jordan, Malaysia, Saudi Arabia, Turkey and Pakistan met to seek ways to resolve Middle East conflicts, as well as the situation with Iran.