When Alaska officials on Wednesday sell the state's rights to explore for oil and gas on its southwestern peninsula, they may be offering a toehold on new a energy frontier.
Most of the leases on the 5.8 million acres of state territory are for onshore development, but having them could make offshore exploration feasible on federal territory which has the most oil and gas potential, state officials say.
Alaska's state territory goes three miles offshore before becoming federal territory.
For that federal territory, the federal Minerals Management Service has proposed oil and gas lease sales in southwestern Alaska's salmon-rich Bristol Bay for the first time since 1988. No date for such a sale has been set but is proposed in MMS's five-year plan.
President Bush last month lifted a ban on oil and gas development in the sensitive Bristol Bay region.
But don't expect a rush at Wednesday's Alaska Peninsula onshore lease sale, the second such sale to be held in 25 years, said Kevin Banks, acting director of the Alaska Division of Oil and Gas.
The region holds good potential for onshore and offshore hydrocarbons, especially natural gas, but faces economic challenges of being hundreds of miles from any existing oil and gas infrastructure, he said.
"The basin is really pretty good. It's thick, but it also seems some of the best prospects are farther offshore than state land," he said.
Federal territories in the North Aleutian Basin off Alaska, which is mainly Bristol Bay, has 750 million barrels of oil and 8.6 trillion cubic feet of natural gas, the MMS estimates.
Alaska officials have no estimate of the oil and gas potential on the 5.8 million acres of state territory up for lease.
The last state lease sale was held in 2005 when 37 tracts were sold, but so far no drilling has occurred.
The last federal lease sale was 1988 and it fetched $95.4 million in bids. But no development has occurred.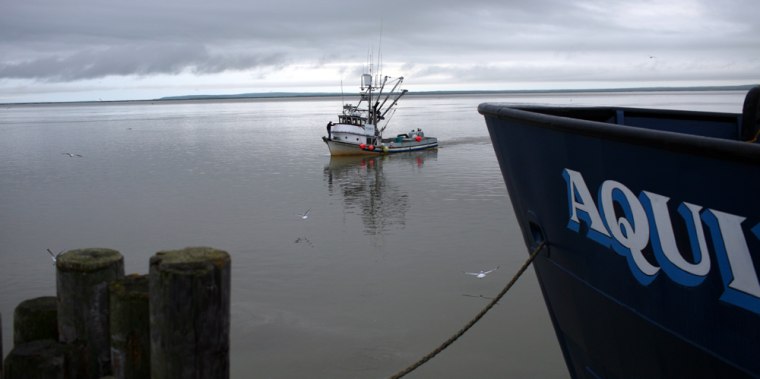 Bristol Bay's status as the home for the world's biggest sockeye salmon runs, as well as its importance to other forms of marine life, makes it too sensitive and valuable to risk to oil and gas development, leasing opponents say.
Fishing, conservation and many Alaska Native groups remain as adamant in their opposition to Bristol Bay drilling as they were in the 1980s.
"One spill could really harm the ability to market Bristol Bay salmon into the future," said Kelly Harrell of the Alaska Marine Conservation Council. Not only is there the possibility of a spill, there could also be chronic leaks, pollution and other industrial disturbances, she said. "That's too great a risk for this region."
But many in the region want offshore oil and gas development to diversify the area's economy and have overcome the fear of oil spills that was heightened after the 1989 Exxon Valdez disaster. The Valdez spill was in Prince William Sound east of Bristol Bay.