/ Source: The Associated Press
The Capitol Limited, an Amtrak train from Chicago, is scheduled to arrive in Washington every day at 1:30 p.m. But frequent rider Edda Ramos knows better than to make plans for the afternoon or evening.
She knows a late arrival — sometimes by an hour or two, sometimes by seven or eight — "is the one thing you can count on."
The 764-mile route is among Amtrak's most dismal performers, with just 11 percent of trains arriving within 30 minutes of their scheduled time last year. But the problem exists to one degree or another on the majority of Amtrak routes.
The main reason: In most of the country, the national passenger railroad operates on tracks owned by freight railroads, and the tracks are badly congested.
With freight traffic soaring in recent years, Amtrak's never-stellar on-time performance declined to an average of 68 percent last year, its worst showing since the 1970s. When the routes where Amtrak owns the tracks are excluded, the on-time performance last year fell to 61 percent.
Even the lawmakers who vote on Amtrak's subsidies of more than $1 billion annually have gotten caught in the holdups. Earlier this month, House Democrats traveling to a retreat in Williamsburg, Va., arrived two hours late after getting stuck behind a CSX freight train with engine trouble.
Alex Kummant, who took over as Amtrak's president in September, has made improving on-time performance a priority. A former executive at Union Pacific Corp. — a freight railroad long considered hostile to Amtrak — he says the relationship between Amtrak and the freight railroads is inherently complicated.
"It is an intersection of a subsidized structure with a truly private-sector structure, so how do you coexist?" he said in a recent interview with The Associated Press.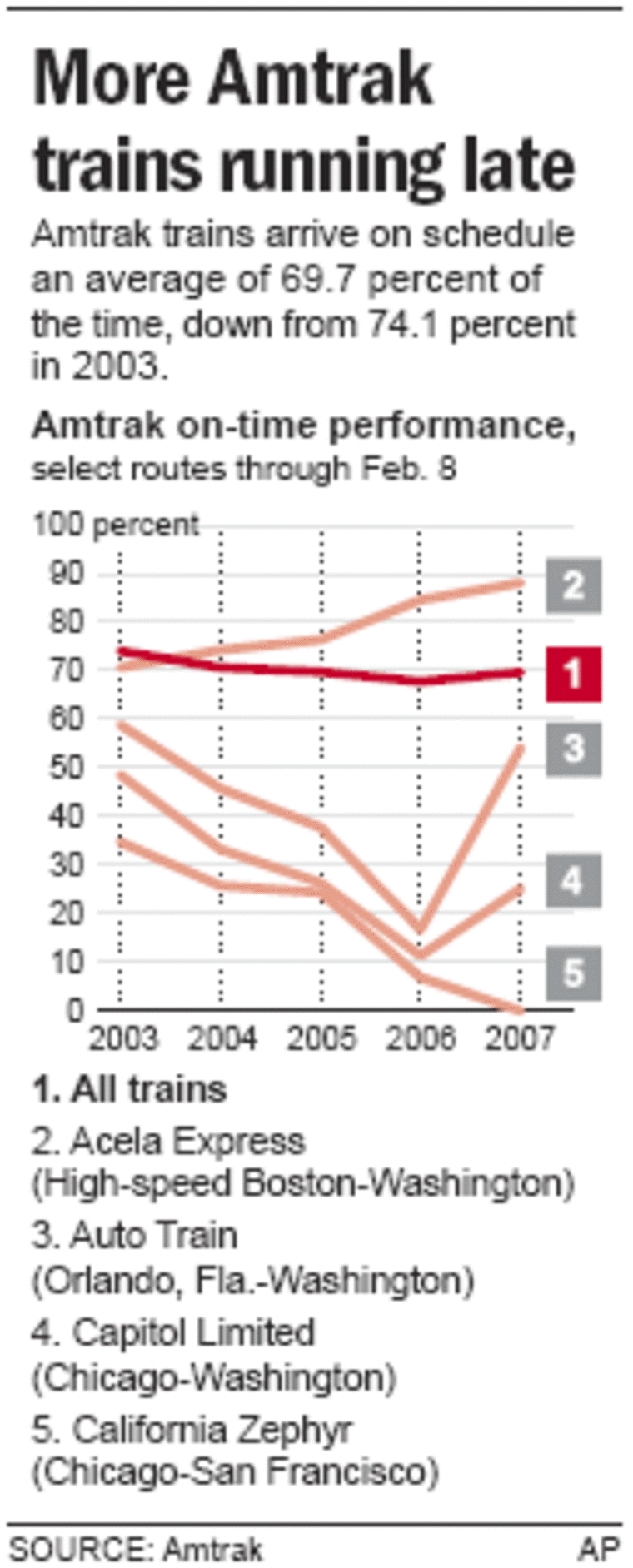 Kummant doesn't blame the freight railroads for most delays, saying they need government help to make the capital investments necessary to cope with soaring volumes.
But passenger advocates and others accuse the freight railroads of failing to live up to their end of a bargain struck in 1970, when Congress agreed to let the railroads unload the passenger service they said was dragging them down. In exchange, the railroads were required to give priority on their tracks to trains run by a new national passenger railroad. Amtrak pays modest fees for use of the tracks.
Amtrak performs far better on the Northeast corridor, where it owns the tracks. Last year, 85 percent of its high-speed Acela Express trains between Boston and Washington arrived within 10 minutes of their scheduled time.
But where Amtrak depends on the freight railroads, the picture is far gloomier, and the Capitol Limited is not even the worst case. The Coast Starlight, which runs between Seattle and Los Angeles, had an on-time performance of 4 percent in the fiscal year ended Sept. 30. For the California Zephyr, connecting Chicago and San Francisco, the figure was 7 percent. In the current fiscal year, the California Zephyr has not once arrived on time.
"The resulting damage to Amtrak's brand, reputation and repeat business is potentially devastating," Amtrak's former acting president, David Hughes, wrote in a letter last summer to the federal Surface Transportation Board.
The freight railroads say they do the best they can and are investing heavily in capacity improvements. In its own letter to the board, CSX Corp. said Amtrak should add more time to its schedules to reflect reality.
There is little incentive for the railroads to help Amtrak arrive on time, because the fees that Amtrak pays to use the tracks are paltry in relation to the billions of dollars the freight lines take in. Nor are there any real consequences for failing to accommodate Amtrak. A bill in the Senate calls for establishing penalties.
In the last fiscal year, Amtrak paid all of its host railroads $90 million — including about $15.5 million in rewards for on-time performance. If Amtrak had performed better, the railroads could have earned an additional $74.5 million in incentives.
Kummant said he believes the freight railroads are making a good-faith effort. But he said track capacity has become maxed out as freight traffic has soared in recent years, thanks to increased demand for coal and a growing reliance on rail.
That, in turn, has worn out the tracks, forcing Amtrak trains that normally travel 79 mph to slow to as little as 20 mph. Much of the rail network is single-tracked, meaning trains going in one direction have to pull over onto sidings to let trains coming the other way pass.
But Kummant said the situation has shown some improvement in recent months. And in what he called a sign of better relations, he has been given a sneak peak at the railroads' capital plans, and "they're nothing short of stunning."
To further speed up improvements, the freight industry is lobbying for federal tax credits for investments in track and other infrastructure to expand capacity.
One late arrival of the Capitol Limited last week showed how complicated the issue is. The train lost several hours because of "freight interference" on Norfolk Southern Corp.'s tracks between Chicago and Toledo, Ohio. But its problems actually started when it left Chicago an hour and a half late because of mechanical problems, thus missing its time slot. It arrived at Washington's Union Station 3½ hours late.
The late arrival was frustrating for Ramos, 44, who started riding the Capitol Limited last year to visit relatives in Chicago. The Washington resident takes the train to avoid airport security hassles, but said she wouldn't risk it for business travel.
"I would be fired!" she said.