/ Source: msnbc.com news services
Locals and tourists were urged Wednesday to stay on higher ground after two spectacular eruptions from a volcano on this island raised the risk of giant waves caused by falling volcanic debris.
"We've done evacuation drills," one resident told Sky Italia television. "We were ready yesterday when that siren went off, we all gathered in the piazza."
Two big lava flows burst out of Stromboli's side on Tuesday, sending up vast plumes of steam as rock debris plunged into the Mediterranean waters below. Authorities said there was no immediate risk to people living on the island, off the coast of Sicily.
"The eruption (lava flows) are very well fed," said Enzo Boschi, head of Italy's National Institute of Geophysics and Vulcanology. "But there's no reason to think that anything extraordinary will happen in the short term. The population is not at risk."
Locals fear a repeat of the events of December 2002 when a similar upsurge in volcanic activity caused a massive chunk of rock to drop into the sea, causing a 30-foot tidal wave that destroyed homes close to the shore and caused several injuries.
Orders to move 30 feet above water line
Emergency sirens sounded on the island when the new eruption began and local authorities ordered all people on the island to move to at least 30 feet above the water line. People on the nearby islands of Panarea and Lipari have been advised to do the same.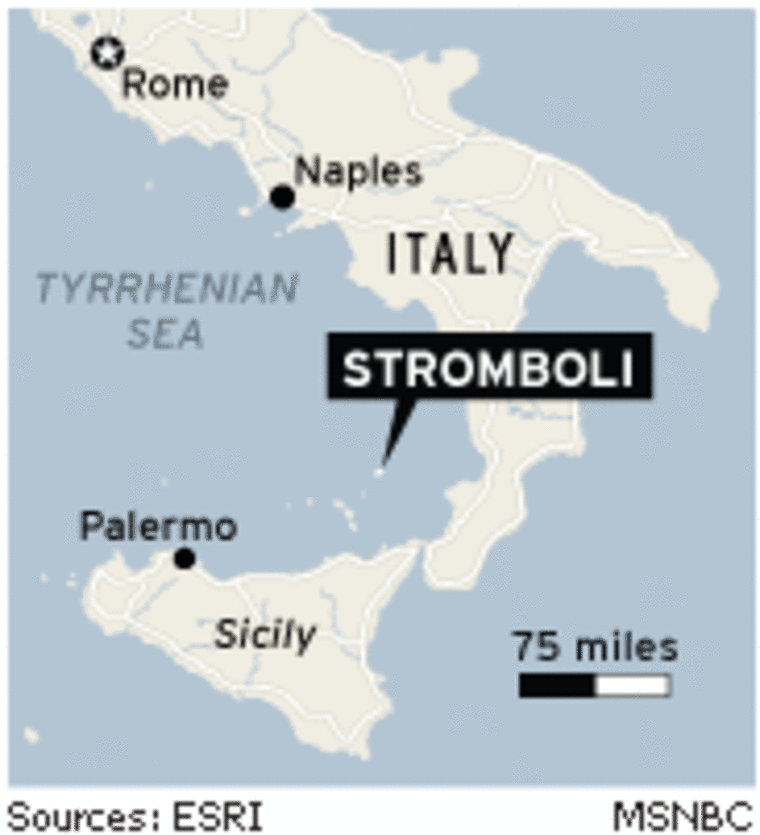 The lava is flowing down an uninhabited part of the island and the risk, either of a greater eruption or of a tsunami, has not been deemed great enough to prompt a full-scale evacuation.
In winter only a few hundred people live on Stromboli, but the population swells to several thousand in the summer.
Tourists are drawn to climb to the 3,000 foot summit of the live volcano and peer down into its crater as the volcano blasts molten rock high into the sky.
The island was the setting for a 1950 movie starring Ingrid Bergman and in recent decades has, along with other islands in the Aeolian archipelago, become a favorite location for holiday homes for the rich and famous.
Famous homeowners
Designers Dolce & Gabbana, writer Umberto Eco and Italian President Giorgio Napolitano are all reported to have homes on Stromboli.
Stromboli, 40 miles north of Sicily, is the northernmost of seven islands in the Aeolian archipelago north of Sicily.
In spring 2003, Stromboli sent hardened lava raining down on some of the settlements nestled in the folds of the island's green slopes. A few chunks crashed into houses.
Stromboli is not the only active volcano in southern Italy, with Mt. Etna in Sicily coming to life every few months.