/ Source: Forbes Traveler.com
It's a chilly workday morning, mid-winter, and the nicest thing you've experienced for hours is a lukewarm cup of coffee. (East-coasters, think snow and ice outside the office window; westerners, wind and rain; folks in the middle, a stupendously awful mix of it all.) You want to be on a sun-drenched beach, oversized multi-hued drink in hand, by Friday afternoon. What to do? Where to go?
That's the question we put to our cabana-load of experts, three travel agents well-versed in the fine art of luxury winter getaways. We'd like to recommend to our frostbitten readers 10 resorts for a long weekend of fun in the sun, we said. Where should we send them? Here is what we learned.
Cancellations
Even though yours is a spur-of-the-moment escape from the bitter cold, do some planning, as much as possible. Start by looking for cancellations. Hawaii, the Mexican Riviera, the Bahamas, Turks & Caicos, the Florida Keys — the list of potential winter getaways is practically endless, we were told — but they all might have this in common: no vacancy. "Most luxury resorts are sold out at least a month in advance," said Barbara King of Great Getaways. Don't let that stop you. If you have a place in mind, contact the resort directly and ask about last-minute openings. Someone else's change of plans could be your first step towards a much needed thaw-out. And at this time of year, cancellations occur more often than you might suspect.
Most resort web sites also include an "Availability Calendar" with dates color-coded by vacancy. If you can't make it by Friday, consider the next week. For example, at time of writing the calendar for , Antigua, showed a long-weekend vacancy two weeks away. Can you wait that long for white-sand paradise against a backdrop of tropical rainforest? Tough call.
Also consider a first-choice resort's sister property, where ambience, service and style might be familiar enough to work that sun-baked magic (often at a lower cost, to boot). Kathy Lerner of World Wide Travel suggests Grand Vellas All Suites & Spa Resort or , both ideally located on the Mexican Pacific Coast, the latter for a lower rate (right now Velas Vallarta has studios available this weekend for $310 a night).
Private, or direct
Two pieces of advice about getting there: private jet or non-stop flight. If a private jet is not immediately available, our experts suggest you might consider renting hours on one. The list of possible destinations — and departure dates and times — widens considerably. (For more on this, see our recent feature on .) When planning a commercial flight, to minimize travel and maximize beach time, look for something non-stop. Resort Web sites tend to boast about direct flights if they are available, and most of our recommendations are either non-stop from major U.S. cities or something very close. And after all, the idea of a 15-minute ferry ride in the British West Indies, from St. Maarten's to Cap Juluca, Anguilla, really doesn't sound that unappealing.
Great expectations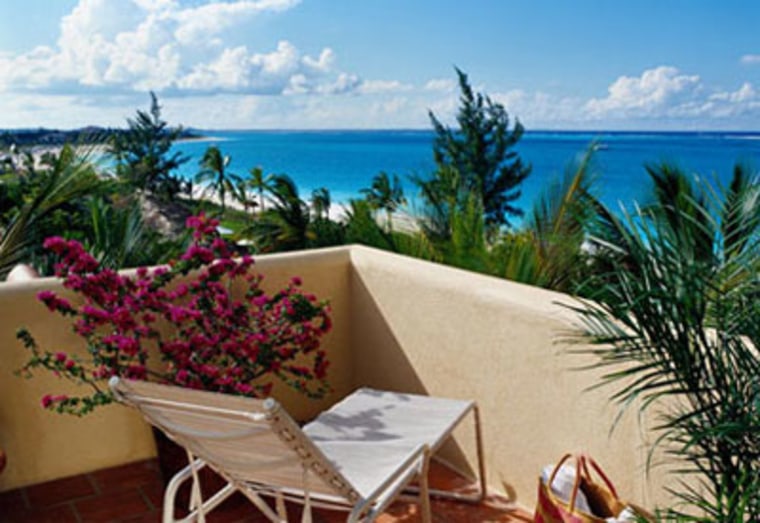 Quick winter getaways require flexibility — manage your expectations. Carlisle Bay might not be available immediately, but it is served twice weekly with nonstop flights from New York City. That alone could be worth the wait. Or, if you simply cannot put your plans on hold then (for example) the closest non-stop beach escape from the New York area, travel specialist Rudi Steele tells us, is Bermuda. Currently Bermuda is probably not suitable for extended beach lounging, but it is certainly warmer than New York and "an excellent choice for that quick getaway and a few rounds of golf." Besides, if a bit of cloudy weather mid-winter in Bermuda, the Bahamas, the Florida Keys, or Kona-coast Hawaii threatens to ruin your weekend, do what any self-respecting escape artist would do: Book a day at the resort's spa. Flexibility indeed.
Read on to peruse 10 impulse beach escapes, from the best in the business. Keeping the dream alive, our experts are:
Rudi Steele of Rudi Steele Travel, Inc.
(214.522.2777; www.rudisteele.com);
Barbara King, co-president of Great Getaways
(913.338.2244; www.greatgetaways.travel);
and Kathy Lerner of World Wide Travel
(562.439.5959; www.worldwidetravel.ws).