Why I voted for Sanjaya

On Tuesday night I did something I had never done before. I picked up my phone and dialed 1-866-IDOLS 04. That's right, I voted for Sanjaya! Since I spend most of "American Idol" season producing "Idol" themed segments for Scarborough Country, it will probably shock my colleagues to learn it was my first "Idol" vote. Much like a friend once told me with a look of disdain and confusion that the movie Evita had no words, today I find myself the recipient of a number of sideways looks when I proudly declare myself a fanjaya.
So what made me, a slightly cynical TV producer, dial 10 digits to keep a kid, (who lets face it, isn't exactly looking at a multi-Grammy future) in the contest? Despite what most people might think, it wasn't the faux-hawk. It was actually something Scarborough Country guest Carmen Rasmusen mentioned and was echoed by "Idol" Executive Producer Nigel Lythgoe: this kid has guts!

The London Times may think Sanjaya is "Idol's" proverbial shark just waited to be jumped, but I'm not so sure. I think Sanjaya could be "Idol's" biggest star to date. From Saturday Night Live to Howard Stern, even my mother is talking about him. Earlier this week I was concerned that while America was laughing at this 17-year-old maybe he wasn't in on the joke. Perhaps he really thought he had the pipes of a major recording artist?
Enter, the faux-hawk!
When most teens can't so much as pick a lunch table without the approval of their peers; here is a kid getting up in front of America, and saying okay, I am what I am, and I'm going to do what I do. Right or wrong, that made me want to vote for him. Sanjaya's performance brought out the Ashley Ferl in me and based on the fact that he wasn't in the bottom three, I suspect I'm not alone. Sanjaya may be a national joke but I think the joke might be on us.
|
America's Next Top Controversy
The modeling industry and reality TV aren't exactly strangers to controversy, but it's only on every second Tuesday of the month that they find themselves in it together. If you've missed America's Next Top Model, the CW's top show, it sells itself as a competition to find the next Tyra Banks. In reality, it is an hour of mean girls and pouty pictures that leaves most people talking about the girls' antics over talent. But even the show's most devoted fans were shocked by last week's episode during which the "wannabe Tyra Banks" contestants found themselves posing as corpses.
While slightly creepy, the criticism for the whole death-becomes-her theme would probably be limited to reality TV blogs and fans sites except for one minor detail: the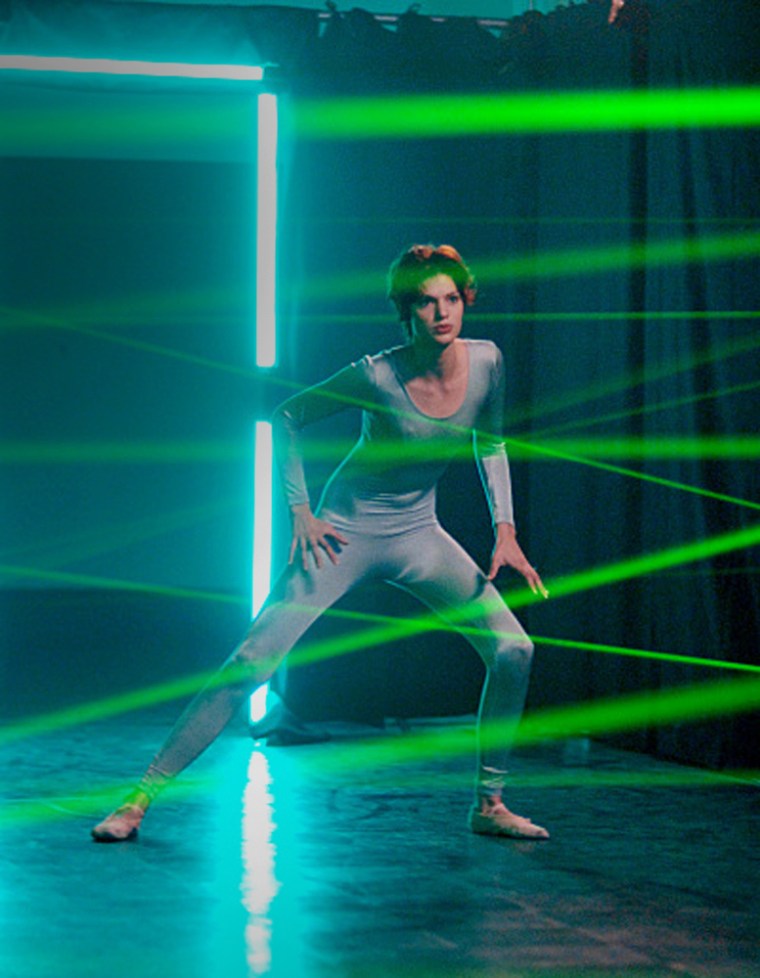 models were posed as murder victims. The whole "murder, death, and violence are sexy" theme came complete with a snazzy story on how another contestant did them in. (One must wonder where these fantasies came from.) Host Tyra Banks and the illustrious panel of judges gave the girls tips and critiques of their death poses, even calling them beautiful.
Death, modeling, and TV -- you could smell the controversy, and sure enough Sonia Ossorio, president of the New York City chapter of the National Organization for Women tells The New York Daily News that the show glamorizes violence against women. Salon.com points out that models really do die from eating disorders and death meets high fashion is at best tacky, at worst irresponsible.
Aside from the larger social issues, I feel a need to point out that one of the contestants, Jael, was dealing with the overdose and death of one of her good friends. This astonishing case of bad timing left this fan feeling like producers took the drama of death, put some makeup on it and tried to sell it to the TV audience as emotional television.
None of the contestants complained about the grim shoot, and one contestant, Renee, is even on the show's Web site gushing about her excitement over shooting 'high fashion." So far Tyra (who is a "Top Model's" producer, as well) and The CW have had no comment, but it's not just Tyra and CW walking this runway of controversy. There is a clip on YouTube accusing "Top Model" producers of making violence sexy and advocates contacting the show's sponsors. No word from any of them, but as the fashion and television industry know: where the fans walk the money will follow.
Give Oprah a break
It may seem like it's Oprah's world and we're just living it, but a few lucky girls actually do. One hundred fifty young ladies call Oprah's much touted Leadership Academy in South Africa home. One would think that the woman who once gave everyone in her studio audience a car would be an indulgent school teacher, but according to reports from South Africa's News 24, the rules in Oprah's world aren't the students 'favorite things.'

Among the complaints: students have little contact with family and are kept on a strict diet that doesn't include any sweets.  Parents are also upset a planned video conference with "Mam Oprah"  (as the girls call her) was canceled at the last minute.

It seems Oprah just can't catch a break. When she opened the school back in January, critics asked why she wasn't helping kids in her own hometown of Chicago.  Even some Oprah fans took issue with her comments to Newsweek that American kids don't appreciate their education the way South African children do. Oprah and her people aren't very happy with reports the school is all work and no play. They quickly issued a statement that the academy is safe not strict, citing the need for rules and structure at a boarding school.
It is true teenage girls need structure, and goodness knows too much chocolate isn't good for anyone. However, the real world is full of temptation and part of educating young people is helping them to make good decisions on their own. One only has to go to Oprah's website to see these girls are the best of the best and many of them have had very hard lives. I think they deserve a top education with a little of the cashmere, fancy baked goods, and Oprah's other high end 'favorite things' on the side.
Rachel Ray's slam dunk
It's time for Rachel Ray to make the donuts! Dunkin' Donuts announced TV's perkiest talk show host is the new face of my favorite caffeine dealer.  That's right, the lady behind 30 minute meals and $40 a day is now a "brand representative" at the only fast food joint I make time for in my day. This caused me enough stress to consider ordering three chocolate coconut munchkins with my large coffee.
As a Massachusetts native, DD's has long been a bit of an obsession for me. It all started with the occasional munchkins my mother use to pick up for birthdays. It picked up steam with I don't know how many thousands of trips through the drive-thru in high school. But I think my love of Dunkin' Donuts went to the next level during the six years I spent living in Washington, D.C. With very few DD's in the metro area, assorted friends and colleagues quickly learned I was always up for a late night, early morning, or midday road trip in search of a cup of Dunkin' Donuts coffee. If that's not enough to convince you: "close proximity to a good Dunkin' Donuts" were actual words I said to my real estate broker when moving to New York.
Before you think I'm crazy or in need of a trip to Starbucks, I'm not the only Dunkin' Donuts fan out there. The Internet is packed with blogs.  Even Katie Couric got herself into a bit of trouble when she mentioned her love of munchkins and DD sent her some free ones. Whoever thought munchkingate was a joke better check the CBS gift policy!
The Boston Herald points out Rachel Ray was born on Cape Cod. A geographic connection to the Massachusetts based company, that she points out give her a "longstanding and deep appreciation for Dunkin' Donuts coffee." Apparently that appreciation of coffee also qualifies her to work with the Dunkin' Donut "chefs" to create healthy menu options.
Now I don't want to pick on Rachel Ray. I think she's great. Her high profile and seemingly endless supply of energy are good marketing tools for Dunkin' Donuts, but couldn't the company that brought us "Fred the Baker" have gone for someone a little less predictable?
|
'Idol' producer says Rosie goes too far
It's Simon, Paula, and Randy versus the ladies of "The View" in a whole new war of the Rosie! On Wednesday's show, Rosie O'Donnell announced "The View" could no longer play clips from "American Idol." She cited her recent criticism of the show as the reason for the "Idol" blackout. The ABC gabfest's den mother Barbara Walters also weighed in telling Rosie, "You don't insult them with your left hand and ask for favors with your right."
Wise words indeed, but the story doesn't end there. Determined to get to the bottom of the rift I made a few calls. I started with a quick call and e-mail to "Idol's" east and west coast publicists. They referred me to a publicist for "Idol's" producers. He issued a statement that I'm not sure Rosie will be including in the family Christmas card:
STATEMENT FROM 'AMERICAN IDOL' "Without wishing to add to the obvious self-promotion of Ms. O'Donnell, I feel as though I must refute her absurd and ridiculous claims that AMERICAN IDOL is racist and/or weightist."Ms. O'Donnell has, once again, spoken without thought or knowledge. Viewers need only look at the show tonight to realize that AMERICAN IDOL constantly confirms to America that talent has nothing to do with weight or color." Nigel Lythgoe, Executive Producer, AMERICAN IDOL
What a comeback! It seemed the "Idol"-Rosie feud was off and running. My next call had to be to ABC to get the "view" on things from the show's publicist. He told me what Rosie said stood for itself and the show's position was Fox told them not to air clips. I still felt like there was more to this story so I went back to Fox's communication department where I was told Fox had not received a request for clips or denied clips to "The View." Now, I was really confused.
But, I would not be defeated! I went back to "The View's" publicist who told me good news: Rosie and the gang would be back to commenting with multimedia because Fremantle, Idol's production company, gave the show permission to run clips and they are the ones in charge of that.
It seemed the "Idol" drought on "The View" was at an end, but honestly the stories didn't quite add up for me. Did Fox tell ABC no clips? ABC's answer: Yes. Fox's answer: No.
I made one more call to "Idol's" producers and was told Fox doesn't even get involved in clip requests: they always go through Fremantle. If all this he-said-she-said has you scratching your head, no worries, the short version goes something like this:
Rosie insults "Idol." The show fires back, maybe pulling clips and definitely releasing a statement. "Idol's" production company releases clips to ABC and another Rosie celebrity feud is avoided. Now does anyone have the number for Donald Trump's publicist?
|
Taking it all off in Hollyweird
When did taking your clothes off become the quickest way to job security in Hollyweird? I'm not talking about the infamous casting couch here, rather the growing trend of 'celebrities' and non apologetic nudity. Even the seemingly kid-friendly Harry Potter is not immune.
Daniel Radcliffe may not be the boy wizard in real life, but he does play him in the movies. According to the BBC he will continue to do so for the last two films. For some time, Potter fans have expressed concern over Radcliffe's advanced age (he will likely be 21 when the seventh and final film is released) ,and it turned out his adult status brought more headlines than Warner Brothers and J.K. Rowling were expecting.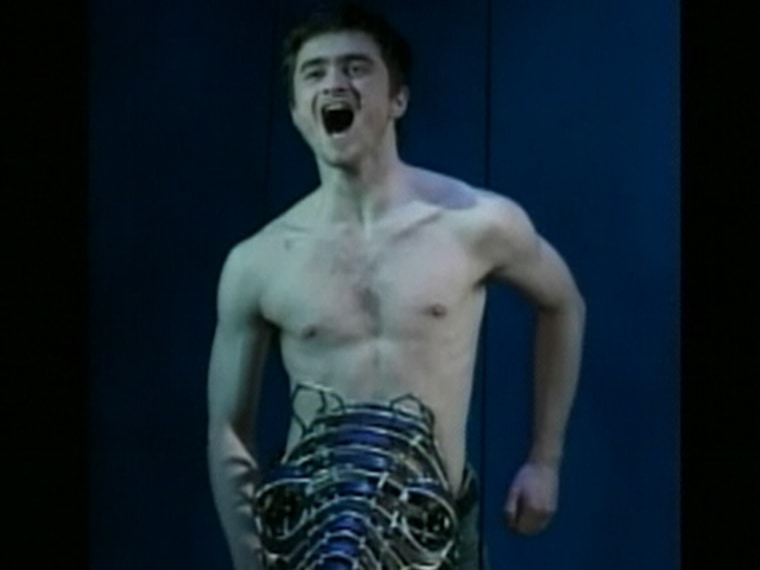 Radcliffe created quite a stir last month in London's West End starring in the play Equus. His decision to tune his craft on the stage seems sound enough on the surface but why pick a play that requires you to act in the nude?
Of course the official line is it's all about the part, but even the most green publicist knows the old phrase "there's no such thing as bad publicity." It's a lesson "American Idol" contestant Antonella Barba learned quickly this week when she became one of the most buzzed about  topics on the Internet. A coup indeed for someone who just three months ago was a Jersey girl singing karaoke. The problem is it's not her singing that's got America talking: it's some racy photos that popped up on the internet. Now to be fair the pictures were taken at the World War Two Memorial in Washington, DC, probably before 'Idol' was a thought in her head.
Since I also went to college in DC, I know that young people do crazy things at the memorials; so I'm not here to judge. That said, after hearing her less than Celine Dion-like performance of 'Because You Loved Me' I have to wonder if there weren't any sexy photos, would she even still be in the running?
Mar. 1, 2007 | 7:10 p.m. ET
By Chris Licht, "Scarborough Country" Executive Producer
Joe tools around with Michael, Dwight at 'The Office'
My favorite show on TV is of course, Scarborough Country.  But a close second is "The Office."  It's a show I never miss (thanks to my DVR).  So, I've got to admit the opportunity to do a visit to the set of "The Office" was something I couldn't wait to do as part of my trip out here to L.A. with Joe.  It did not disappoint.
Joe and I made our way to the nondescript building where the show is produced.  It is in a run-down cul-de-sac north of Burbank in the San Fernando Valley.  It's so out of the way, the address wouldn't show up on my navigation system (thus debunking the name "never lost").  Thanks to some good directions from the NBC PR contact we made it ... only 30 minutes behind schedule.
The first thing you notice about the set is... it really is like any office building you've been in.  Unlike most sets, it has a ceiling. The rooms are real-- with four walls and for the most part it is a working office. The computers are even wired to the Internet.  Every detail on the desks and walls are authentic.  Real pictures, real files and paper order forms that correspond to the character who sits there.
As you see the cast perform and interact, you can't help but think a big reason why the show feels so authentic is the environment of the set.
The people on the set were great to us — from the actors to the production assistants. They gave us all kinds of freedom and access. The cast members seemed to enjoy Joe's visit. I guess he's different than the typical entertainment reporter. Joe was like a kid in a candy store, and that comes across in the piece we put together.
The hightlight came at the end of the shoot. The cast was in place ready to shoot a sceneand they indulged us by filming a little "skit." The premise was Joe would act like he was comfortable "hanging" with the cast, but instead he would get run out of the room. You never know how these kinds of things will work out.  Trust me, we've shot a lot of things over the past year we didn't think were funny enough to air. But this time around, it was TV magic!  I won't spoil the suprise, but it was the perfect end to a great experience.
|
By Kellyanne Dignan, "Scarborough Country" producer
Tax Time in Hollyweird
Last Sunday's Academy Awards officially brings the award show season to an end and creates a problem for celebrities best described as "only in Hollyweird." In case you missed the headlines, it turns out the IRS wants a cut of all that swanky swag presenters and nominees take home. But don't fear for the mathematically challenged members of tinsel town's highest tax bracket: the good people over at H&R block are here to help with tips on what forms to file and how to donate "the goodies" to charity (no your hair dresser's assistant doesn't count).
The tax preparer predicts many celebs will owe up to 35 percent of the value of the bag. Now, I find it hard to feel bad for anyone getting what amounts to 'free stuff' worth more than most people make in a year, but for years the rich and famous have complained (through their publicists) that often they don't want the swag or the taxes that come along with it.
I guess they missed MTV's sneak peak inside the bag for non-winning Oscar nominees. From free LASIK surgery to a 2 night stay in the West Maldives these are gifts I would happily lose an Oscar for. Heck, I'd even kiss an Oscar good-bye and pay a few extra taxes for the free Hostess Products in the gift bag.
But alas such problems don't exist for we mere mortals, which is a good thing because I'm not sure TurboTax has a 'stuff we're giving you for free, hoping desperately you'll wear and or talk about it at some red carpet event, and not give it to your third assistant as a holiday bonus so we'll get the publicity' line.

By Kellyanne Dignan, "Scarborough Country" producer
Comcast: We've got an 'Idol' problem
"America Idol" fans living in Baltimore and Pittsburgh may be in for a bit of a surprise on Thursday. The Associated Press reports Sinclair, the owner of the FOX stations in both towns will pull it's stations' feeds from Comcast Cable at 2 a.m. on Thursday if they don't have a new retransmission-consent deal. It's a lot of big words with one reality: if you have cable in a city where Sinclair Broadcastings owns the local FOX affiliate you could miss the 'Idol' results show. With such a calamity upon us, I called Sinclair to try and get to the bottom of this mess. I'm still waiting for someone to call me back; but 'Idol' fans — I'd prepare and see if Best Buy still sells TV antenna.

No Models on The Bus
Just when you thought it was safe to ride the bus in Santa Monica again, Variety reports  "America's Next Top Model" got thrown off the bus. It seems the locals aren't happy with pictures of 14 sexy women advertising the CW show on city buses. When I first read this headline I assumed we were looking at the same old, "too sexy" for public buses argument: but this is the left coast not red state America. The city's argument had nothing to do with keeping sexy images away from children or decency: it was concerned about endorsing a show that objectified women.
Paris Free Zone
Speaking of objectified, The New York Observer claims The Associated Press' Entertainment Editor sent around a memo on February 13th calling for the wire service to be a Paris Free zone. No, he wasn't calling for closing any French bureaus: he was simply suggesting the midget parties and sex tapes of America's favorite heir-head weren't really news. It was a bold move and for the last 15 days fairly easy to justify. How could he know she was driving on a suspended license?

Angelina Birthday card
Speaking of stories that make you think: 'How do they know that?' Star Magazine reports  Angelina Jolie is upset Brad Pitt sent a birthday card to ex-wife Jennifer Aniston. I guess even mail isn't private in Hollyweird.
| 6:07 p.m. ETBy Kellyanne Dignan, "Scarborough Country" producer
Judge Larry: A threat to the 'Days of our Lives?'
Watch out Luke and Laura. Love him or hate him, Judge Larry Seidlin is daytime drama's brightest new star. While I'm not sure a Florida Circuit Court Judge is eligible for the Daytime Emmy he is clearly going for a nomination. Everyone from legal experts to my Mom and Dad are asking "What's up with this guy?"

One would think that with the cast of characters that have become public figures in the sad death of Anna Nicole Smith, there really wouldn't be room for anyone to shock us: enter Judge Larry. I guess we should have gotten the idea last Thursday when he informed the feuding parties and all of cable TV Anna Nicole's body was on ice, belonged to him, and not going anywhere.

This week's hearing to (in theory) determine where and to whom Smith's body will go has turned into a three ring daytime TV circus, and America is tuning in. Cue the dancing Judge Itos!
Not since the O.J. Simpson trial, more than decade ago, has the TV watching public enjoyed following the events in a court room. I give about 80 percent of the credit to Judge Larry, but despite his reported TV dreams, his long term impact may be most felt in the world of soaps.
Remember soap operas? They're what you watched when you stayed home "sick" in high school. Once upon a TV time, but probably the same day in soapland, the soap opera was network daytime TV bread and butter. Just ask ABC, it recently tried to capitalize on the 25th anniversary of "Luke and Laura's wedding," also known as the holy grail of soaps.
A lot has changed in 25 years; there are more women working outside the home, thousands of new channels, and don't even get me started on TIVO, but some communication experts actually point to the O.J. Simpson trial as the dagger in the soap genre's heart. Millions of viewers left their "stories" and became amateur legal analysts as the "If it doesn't fit..." drama played out.
Eleven years after the verdict, the Anna Nicole Hearing threatens to do the same. It may be just one week, but it comes when soaps are in the most precarious position they've been in years. NBC just canceled "Passions" and ratings continue to slide across the networks. Maybe they should consider hiring Judge Larry for a cameo.

|
By Kellyanne Dignan, "Scarborough Country" producer
Britney's multi-million dollar haircut
Britney Spears' hair may be worth at least $1 million dollars on the internet, but brush out a few tangles and you realize that doesn't even scratch the surface of the hair today gone tomorrow money trail.  Australia's Advertiser has done the math and reports  last Friday may just be the most expensive day of the pop princess's life.
Esther Tognozzi, the owner of the salon where Spears snipped off her own locks, told me she didn't charge for the impromptu buzz cut, but Brit's bodyguards did give her a $50 tip. That's probably the cheapest haircut Spears has had in a long time. There is, however, no way to know what kind of damage she has done to her reputation and ability to make money in the future.
The Advertiser spoke to everyone from branding experts to marketing executives, and the consensus seems to be parents aren't going to want their kids buying a Spears CD and companies aren't going to want Spears promoting their products.
It's a dramatic downward spiral for a young woman who just five years ago signed Pepsi's biggest entertainment endorsement deal to date, reported to be worth millions. Britney's products could also be in trouble. A source at OK! Magazine told me her perfume isn't hitting a high note with fans or distributors. Britney's tours have grossed $145 million to date but with no new CD to promote and two small children at home a major tour seems unlikely anytime soon.
Forbes currently estimates Britney's personal wealth at $100 million dollars. A bank balance like that would appear sufficient on the surface, but a lavish lifestyle and lack of income sources could put a financial squeeze on the 25-year-old pop star.
And let us not forget the "ex" factor: K-Fed. Earlier this month Star Magazine reported the former Mr. Britney Spears (and a major drain on her resources) turned down a $25 million dollar divorce settlement to give up his rights to spousal support and custody of their two sons. If $25 million wasn't enough before rehab, it could cost Britney big bucks to hang on to their kids. If Federline continues to fight for custody, a judge just might think he's the better parent and he could end up with half her hard earned fortune.
Obviously, nothing is more important than Britney's health and mental well being. Money comes and goes and her star was so high she will always have some bank ability. I just hope she finds a way to save herself, her career and her bank account.
| By Kellyanne Dignan, "Scarborough Country" producer

Is Britney the new Anna Nicole?
In the world of celebrity news there is no bigger story than the death of Anna Nicole Smith. It has tragedy, mystery, and at the center an eccentric, famous blonde whom most of the world knew but was actually famous for accomplishing very little besides taking her clothes off.  And let us not forget the motherless baby girl and half-a-billion-dollar fortune.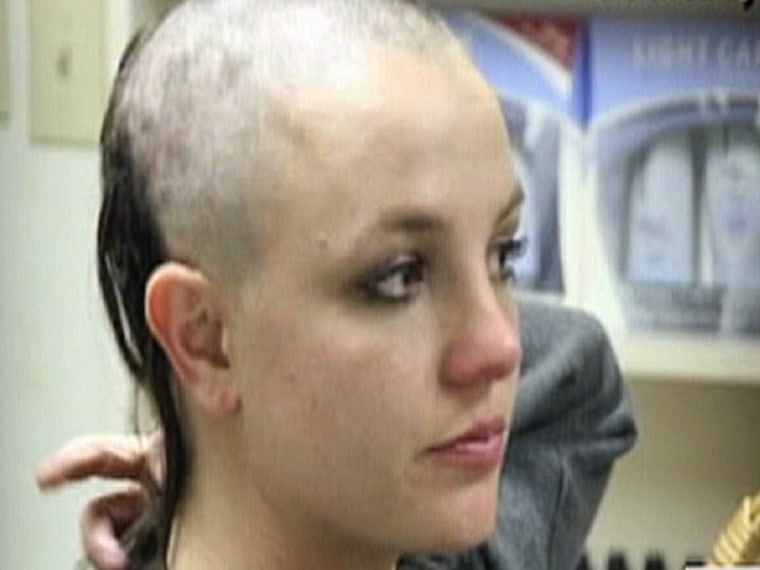 With new developments everyday and a cast of characters tabloids couldn't make up, it seemed like there was no end in sight to the Anna Nicole drama: Enter Britney Spears and some hair clippers.
Spears very public meltdown in an L.A. area salon on Friday night left her bald and several members of the paparazzi richer. Over the weekend, more details emerged.  Britney had possibly gone to rehab for 24 hours and checked out. Britney was fighting with her mom. Britney is scared soon-to-be ex-husband K-Fed will get the kids.
As the stories take up more and more ink in the tabloids, one has to ask if Britney Spears is the new Anna Nicole Smith. Yes, they're both famous, they're both blonde, and they both had very public meltdowns, but that's not where the similarities end. While Britney ruled the pop music scene at the turn of the century she hasn't really been relevant to top 40 radio in a couple of years. Remember, once upon a time Anna Nicole was famous for something; she was a Guess Jeans model and a Playboy Playmate.
So what happened to these two lives? Did Hollywood suck them in and spit them out when they no longer sold jeans and cds by the millions? Could it be the company they kept?
One has only to see the various "interested parties" in the Anna Nicole case to know this woman did not surround herself with the right people. Her life was a family tree and circle of friends filled with users and possibly abusers, and that doesn't even include lawyer-turned-lover Howard K. Stern.
Britney seems to have followed in Anna Nicole's peroxide bleached steps, surrounding herself with friends and family on her payroll, too scared of losing their meal ticket to tell her she needs to spit out the gum and clean up her act. It's a scary day indeed when K-Fed appears to be the only adult with any sense involved in the situation.
Feb. 16, 2007 | By Kellyanne Dignan, "Scarborough Country" producer
A Passport to Paris
Paris Hilton is taking Austria by storm. The heir-head turned pop star is a very busy girl so I guess it makes sense that according to reports she headed for the Vienna Opera Ball with an expired passport. It happens to the best of us. I was surprised by Austrian Press reports claiming the U.S. ambassador to Austria vouched for Hilton and she was welcomed; expired passport and all.
Having just gone through the expired passport process with my sister, I had to wonder if we could have saved ourselves a lot of time and just asked the local ambassador to vouch for us. So I called the State Department to get to the bottom of Paris's expired passport. State Department Spokesman Edgar Vasquez was not aware of Paris's problems but did acknowledge that an ambassador vouching for a citizen is not exactly an everyday occurrence. He also pointed out it was Austria's decision whether or not to admit any person with or without a valid passport and recommended calling the U.S. embassy in Vienna if I had any more questions. I only have one: are the hills really that desperate to be alive with music?
What goes around?
After a less than stellar week in NYC, Britney Spears can certainly use all the help she can get — so I was initially glad to see a report on jossip.com that her former love Justin Timberlake took time during his acceptance speech at last night's Brit Awards to give the pop tart turned train wreck a shout out: "Stop drinking! You know who you are. I'm speaking to you. You are going to get sloppy. OK! magazine is going to say something bad about you." As fate would have it OK! Magazine does have Justin and Brit on it's cover this week. While I appreciate Justin's message I have to wonder if it would be better delivered in a more private setting. I guess it's good to know you'll always have your first love to publicly humiliate you when you are down.

| By Kellyanne Dignan, "Scarborough Country" producer
Cooking up controversy at the Food Network
It's quite a food fight over at the Food Network these days as the Chicago Tribune cooks up  details on a possible fix at "Iron Chef America." For those not familiar with "Iron Chef America," it's a spin off of the popular Japanese show that takes the art of cooking (two celebrity chefs and a secret ingredient), adds a pinch of competition (a time limit and judges) and finishes the whole thing off with a dash of sports reporting (Kitchen Stadium and play-by-play analysis).
The show is clearly a recipe for success, but it seems one of the judges left a bad taste in Chicago chef Graham Elliot Bowles' mouth. Bowles recently went spatula for spatula with "Iron Chef" Bobby Flay in a chocolate battle. Flay was declared the winner. End of story, or so the viewer would think. Bowles tells the Tribune he thinks it wasn't an impartial battle since one of the judge's works for a company that use to do PR for Flay. The Food Network says there was no conflict of interest and the reality is most people in the business of food know each other. I'm not so sure... this smells a little fishy to me!
The end of the comb over?
If you missed Donald Trump's latest feud (Rosie O'Donnell is so last month) you might want to get read in because the stakes just got interesting. Donald has been going insult for insult with WWE chairman Vince McMahon. It doesn't seem like The Donald has a problem with wrestling per say, but McMahon recently claimed he invented the catch phrase "you're fired!" Cue the loser comments.  According to The Detroit News Trump challenged McMahon to a match at WrestleMania 23. The prize: the winner gets to shave the loser's head. The match is set to take place on April 1, and no worries about seeing the Trumpster in spandex: McMahon and Trump both have stand-ins going to the mats.
A sweet ride?
As if a 16-year-old doesn't have enough to deal with when MTV comes to document her super expensive, overly lavish Super Sweet 16 for it's hit show of the same name, The Saint Petersburg Times reports on rumors a local teen painted a picture of wealth on TV that didn't exist. Florida teen Cher Hubser recently shot an episode of the series documenting her over the top party which included a $96,000 Jaguar convertible from mom and dad. It seems some local pranksters were jealous and claimed Cher actually drove a Honda and the whole luxury car was just a scam. Before you shed a tear, the Saint Pete Times reporter got to the bottom of the car switch. Turns out sensible parenting of a sort prevailed and mom and dad decided Cher shouldn't drive such a flashy car to school. Case Closed.
| By Kellyanne Dignan, "Scarborough Country" producer
Fixing 'Idol'
Another week, a new "American Idol" controversy. Britain's Daily Star reports a "furious contestant" is accusing Simon Cowell of planting a former British pop star in the Hollywood round. The contestant in question, Tom Lowe, was signed at the record label BMG when Cowell worked there. If you don't remember a British boy with a Simon connection you aren't alone. Lowe was not seen in "Idol's" broadcast on FOX, but did make the British broadcast. Since Lowe's Seattle audition did not air stateside, I have not seen it.  But according to British reports, Lowe told Simon about the BMG connection. Simon apparently did not remember or know him but that's not stopping at least one bitter contestant from claiming the fix is on. I called "Idol" producers to get their thoughts on the accusations.  They had no comment.
Tinkerbell a fake?
The only reality surrounding Paris Hilton is usually reality TV so I wasn't surprised by a recent US Weekly report the Heir-head is passing off a new Chihuahua as her beloved Tinkerbell. The magazine's dog grooming expert sees distinct changes in the Chihuahua's nail color and claims there is no way the dog currently keeping Paris company is the original from her "Simple Life" days. For the record: Paris's people deny there is a new Tinkerbell. Maybe she just got into the nail polish?
Meeting of the minds
Justin Timberlake and K-fed may have moved on from their famous ex, Britney Spears, but it seems they can't stop running into each other. People Magazine reports and has the pictures of their latest meeting of the minds on the red carpet outside a special concert at Hollywood's Avalon. While Timberlake hit the stage with the Black Eyed Peas and Nelly Furtado, K-Fed was spotted chatting up a brunette outside the VIP area. Brit was no where in sight (though former best friend Paris Hilton was making the rounds), but one can't help but wish the pop tart's first husband Jason Alexander had surfaced. That would have been a party.
|
By Kellyanne Dignan, "Scarborough Country" producer
A world without Brangelina?
Here's a question that will make every tabloid editor shudder: What if Brad Pitt never left Jennifer Aniston for Angelina Jolie? While a Brangelinaless world seems as foreign as Lindsay Lohan in a library it turns out the world's most beautiful couple weren't the only actors up for their staring roles in "Mr. and Mrs. Smith". Gwen Stefani tells British Elle she was up for the part that brought Angelina into Brad's orbit. We may never know if a last-minute casting change would have saved Braniston but something tells me Jen probably wishes Angelina's famous lips had been recast with Gwen's famous abs.
I want my MTV in school
It looks like the beaches of Laguna Beach are about to get a run for their money from the streets of Brooklyn. MTV is planning to film a new show at Brooklyn Tech High School. The BTHS News reports a casting call will be held at Brooklyn Tech for sophomores and juniors who represent the community. Call it the East Coast version of the popular high school "dramentary" Laguna Beach. While it appears school officials are cooperating with MTV producers, I would suggest they give the parents of Laguna Beach a call. They know all too well nothing good happens when MTV knocks on your door. While I breathlessly await Brooklyn's answer to Lauren Conrad and Kristin Cavallari, I am consoled that the school is only letting MTV cameras in. London's Daily Mirror reports some British schools are actually considering screening MTV in the cafeteria to get student to go to lunch. What happened to pizza day?
Addicted to High School
Fans of Disney Channel's "High School Musical" are eagerly awaiting this summer's sequel, cleverly called "High School Musical 2". For those of you not familiar with the made for TV movie turned tween cultural phenomenon, it's plot is relatively simple: It's the fantasy high school experience of every 10-year-old with some snappy Disney songs thrown in to give the Olsen Twins a run for their money. The soundtrack, dubbed a "tween dream" by one of Scarborough Country's interns, plagued carpooling parents everywhere for most of 2006. Now, Salon.com has discovered your child may actually be addicted to HSM! I wonder what Dr. Phil would have to say about that?
|
By Kellyanne Dignan, "Scarborough Country" producer
Cyclone Oprah
We all know Oprah's a world wind of activity, but could the queen of talk actually lend her name to Australia's next cyclone? According to the World Meteorological Association guidelines, cyclones must be named in alphabetical order alternating sexes. With Cyclone Nelson now a distance memory The Australian Weather Service is keeping mum on the name slated for the next cyclone already gathering steam off shore. While Odette appears to be the likely contender; Australia's Townsville Bulletin suggests naming the storm Oprah to bring attention to these deadly storms. While one editorial does not a naming make, it turns out the local weather bureau where the storm forms gets the naming rights, so you never know.
Yankee fans need not apply
It doesn't come as a shock to any fan of the reality TV genre that dating shows are big business. Producers have found a home for everything from "Who Wants to Marry My Dad" to "Joe Millionaire," so it was only a matter of time before the reality of dating on TV caught up with America's pastime. The Boston Herald reports a reality dating show for the relationship-challenged members of Red Sox nation is in development. "Sox Appeal" will bring Fenway fans together for two innings at a time with a final decision on true love during the seventh inning stretch. Sadly, Sox fans outside New England won't be able to catch the show which is set to air on the Sox-owned cable channel NESN. But never fear fellow Red Sox ex-pats, the Drew Barrymore and Jimmy Fallon flick "Fever Pitch" is the show's inspiration and it's available at your local video store.
A spoonful of 'truthiness'
You know you're hot when Ben & Jerry's makes you cold. Salon.com has picked up on rumors Vermont's most famous ice cream company is hard at work on a Colbert-inspired flavor. Stephen Colberry anyone? Ben & Jerry's says it's considering bringing a little truthiness to a scoop shop near you but nothing is set in stone. No time table was given but the company's spokesman did drop a cryptic hint about experimenting with red, white and blue. I'll give the whole idea a 'tip of the hat' if Colbert cream is in my grocer's freezer by the Fourth of July.

The State of Angelina
(Kellyanne Dignan, "Scarborough Country" producer)
While politicians and pundits continue to dissect the State of The Union, The New York Times  speculates on the state of Angelina Jolie. It seems the "Gray Lady" is catching on to what the tabloids have known for weeks: Saint Angelina isn't looking quite so saintly these days.
In the early days of Brangelina, Jolie got a bit of a pass for her unconfirmed roll in the Braniston split. The couple made public appearances and gave interviews portraying their new relationship as family oriented with a whole lot of charity thrown in for good measure. Once baby Shiloh came along and People Magazine snapped up the rights to the first family portrait for millions it seemed nothing could slow this couple down. But like all good things...
Angelina's troubles seemed to begin with her January Vogue cover and interview. Her comments about Brad's ex Jennifer Aniston seemed petty and heartless. The Earth mother was heading down a slippery slope. Next up reports Angie called baby Shiloh a blob, Madonna's adoption illegal, and St. John's clothes ugly.
While none of these headlines exactly helped Jolie, she wasn't dead in the water quite yet: then came the Golden Globes. Instead of making headlines for her dress or an award; everyone was talking about her nasty interview  with Ryan Seacrest. It seems Ms. Jolie thinks herself above answering red carpet questions on award show morning routines.
Now it seems unlikely Angelina is going anywhere anytime soon, (although I do have it on good authority she just left New Orleans for Vietnam) but she better take note of the Hollywood culture she seems to disdain. It pays her quite well and gives her a platform most charities can only dream of. As any has-been actress will tell her: one day you're in- the next you're out.