/ Source: The Associated Press
Off a remote Eastern Oregon highway by a steaming sulfurous lake at the base of a hill, a stately old pile of brick and history beckons.
It recalls a faded color postcard from an old album. Carriages. Women in long dresses and bustles. Men with coats and ties, and hats that they tipped.
"Having a wonderful time," the card might have read. "Waters doing wonders for Mother."
Hot Lake Springs, Ore. Maybe 1910.
The way of life is gone, but a renowned bronze sculptor, David Manuel, and his wife Lee are leading a multimillion-dollar effort to bring Hot Lake Springs and some of what it represented back to life.
The project is already drawing 200 to 300 tourists a day who come through to visit Manuel's foundry, observe the restoration and see some of the artifacts.
Hot Lakes Spring was once a hotel, sanitarium, spa and among the early teaching hospitals, a self-contained city with its own bank and post office. The Mayo brothers, of Mayo Clinic fame, were frequent visitors.
Vacationers came to relax, patients to shed a variety of ills.
Hospital director Dr. W.T. Phy believed syphilis could not withstand the repeated hot sulfuric baths in the lake water (it survived just fine) and, in those pre-antibiotic days, dosed his patients accordingly. Arthritis patients were placed in a hot mud bog.
Healthier folks, such as Wild Bill Hickok and his Wild West Show, came through, too, and for decades so did the well-shod from around the world, often on the three trains a day that stopped there.
Most of the original wooden structure, built during the rough-and-tumble gold rush in 1864, burned in 1934, although the part that held the bank and post office survived.
But hard times came barreling through.
The railroad that brought in guests was rerouted, the new highway bypassed it and the Depression didn't help. The post office closed and over time, the main brick building, completed in 1908, became 65,000 square feet of not much in the middle of nowhere.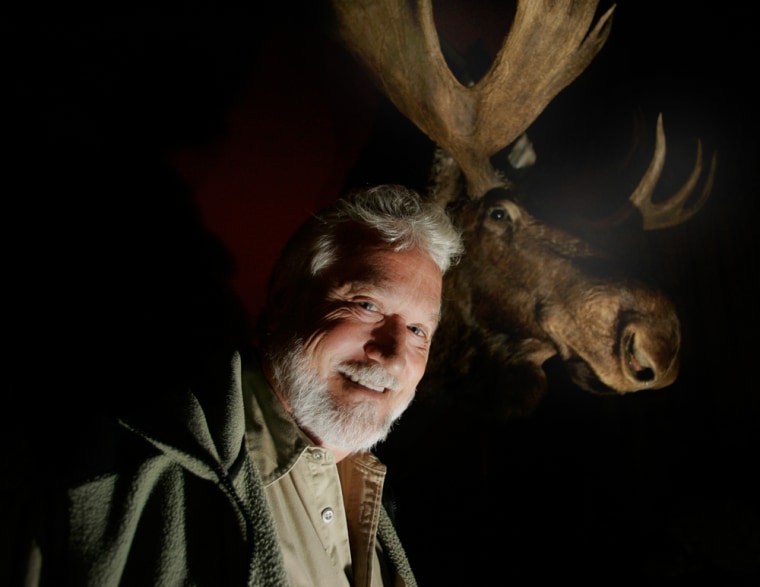 Nurses trained there during World War II. It lived various lives, as a nursing home, a nightclub and figured in other plans that somehow didn't work out.
The Manuels said they had been thinking of the old place for years, and when they bought it in 2003 it was in sorry shape.
"I remember looking straight up where the roof should have been and seeing the Big Dipper," said David Manuel, whose bronze castings of early Western life are collected worldwide.
Plans are to reopen the hotel late this year. There will be 20-25 rooms available, many of them decorated in period furniture.
Other rooms will be joined together for a museum, ballroom and theater.
Also on display will be David Manuel's collection of Indian artifacts, which he started with an arrowhead that he found as a boy in Eastern Washington, and his military memorabilia, which dates to the War of 1812. During a visit by an AP reporter, he proudly pointed out a recent acquisition: the last U.S. Army recruiting poster for cavalry troops.
The hot springs bubbles out at 208 degrees into the lake, which will be off limits to guests for insurance and other reasons. But indoor and outdoor soaking tubs are being built.
"Stick in a finger and pull out a bone," laughed Lee Manuel, looking at the hot end. It's cooler at the other end.
"People used to start at the cool end and see how close they could get to the hot parts," she said.
A daily cup of the hot sulfur-tinged water was said to be healthy if not tasty and also was piped into the rooms for heating.
The U.S. Department of Energy recognizes the place as the first in the nation to use geothermal heating on a large scale.
When the Manuels acquired the property, they found it had been vandalized, and looted of everything from molding to doorknobs. The flooring had rotted and warped. Nearly all of the 350 windows had been smashed.
But engineers assured the Manuels that the 30-inch stone foundation was there for the ages, the brick walls were intact, mostly, and from there they went to work.
A bonfire to get rid of trash burned for months and it took 70 semi truckloads to haul away more garbage, Lee Manuel said.
David Manuel's bronze foundry is operating again after being relocated here from the artsy mountain town of Joseph in northeast Oregon, where the Manuels lived before. Buyers from around the world still seek him out, with most of his pieces going for four or five figures.
On many days David Manuel works meticulously to fine-tune the clay sculptures that, after an elaborate process, will become the precast bronzes for which he is famous. His subjects have ranged from Lewis and Clark to John Wayne; many models come from old portraits of Indians and other paintings.
"These bronzes are meant to tell a story, to capture the imagination," he said.
The area oozes history of its own.
For centuries regional Indian tribes who might be enemies gathered there in peace, confident of the healing value of the water.
The Astor expedition, which founded what is now Astoria, the first permanent commercial settlement of Americans on the Pacific Coast, stopped in the vicinity in 1812 on their way home from investigating fur-trading possibilities for John Jacob Astor, and vague remnants of their camp remain.
There was a lucrative gold rush not far from the area in the 1860s and high gold prices are bringing in some people to consider opening the old mines anew.
While Hot Lake Springs will operate as a hotel now, its medical past is remembered. An early X-ray machine, once in use there, is being restored and looks like something from a Frankenstein movie. An operating room, where students observed the surgical procedures of the day, will become a library.
Some architects and builders estimated the restoration cost at $23 million. The Manuels say they can put it though for $10 million and are using proceeds from their business, tour fees and naming rights for rooms, bricks and windows and volunteers to help.
Those who paid $10,000 to name a room may decorate it any way they liked. Some are complete with washstands, brass beds and oil lamps of the past.
David Manuel said they see the project as "an opportunity to give God back the gifts he gave to us."
The 21st century seems distant from the isolated cattle country of northeast Oregon, and the old building still exudes tranquility. A faded sign that may date from the hotel's glory years seems to sum up the attitude: "Keep your voices low and be sweet."