/ Source: The Associated Press
Big black hearses carrying small wooden caskets pulled up to the mosque one by one.
As each plain box was ushered into the packed Islamic Cultural Center in the Bronx, hundreds of Muslim mourners inside and outside chanted a prayer of mourning. Onlookers from the neighborhood shed tears, fingered a rosary or read from the Bible.
Then another hearse came forward and it happened again. Nine coffins for 10 bodies, including one tiny box carrying 7-month-old twins.
Nine children and the mother of four of them were killed in the house fire that started late Wednesday and devastated an enclave of Malians just north of Yankee Stadium. Three more victims remained hospitalized. It was the city's deadliest blaze in 17 years, and a loss that touched New Yorkers whether they knew the families or not.
"They're all children," sobbed a family acquaintance, Fatoumata Sylla, as the dreadful procession passed. "They didn't do anything in life. They didn't see anything. They didn't do anything to God."
The mood was somber inside the mosque as well. Friends, family and community leaders recited prayers and cried, and some offered donations to the grief-stricken family.
Fathers comforted mourners
"It was really something. I don't know how to describe it. People crying, making prayers, giving donations," said Imam Konate Souleimane, who attended the service. He said the two fathers — Moussa Magassa, who lost five of his 11 children, and Mamadou Soumare, who lost his wife and all four children — tried to comfort the mourners.
"They came to us and said, 'Don't cry,"' the imam said.
Mayor Michael Bloomberg, Fire Commissioner Nicholas Scopetta and schools Chancellor Joel Klein attended the service, symbolizing New York's outpouring of sympathy and support for the families. Sen. Hillary Rodham Clinton and Police Commissioner Ray Kelly attended a prayer service before the funeral. Organizations have raised thousands of dollars to pay for funerals in New York and Mali and give the survivors a hand.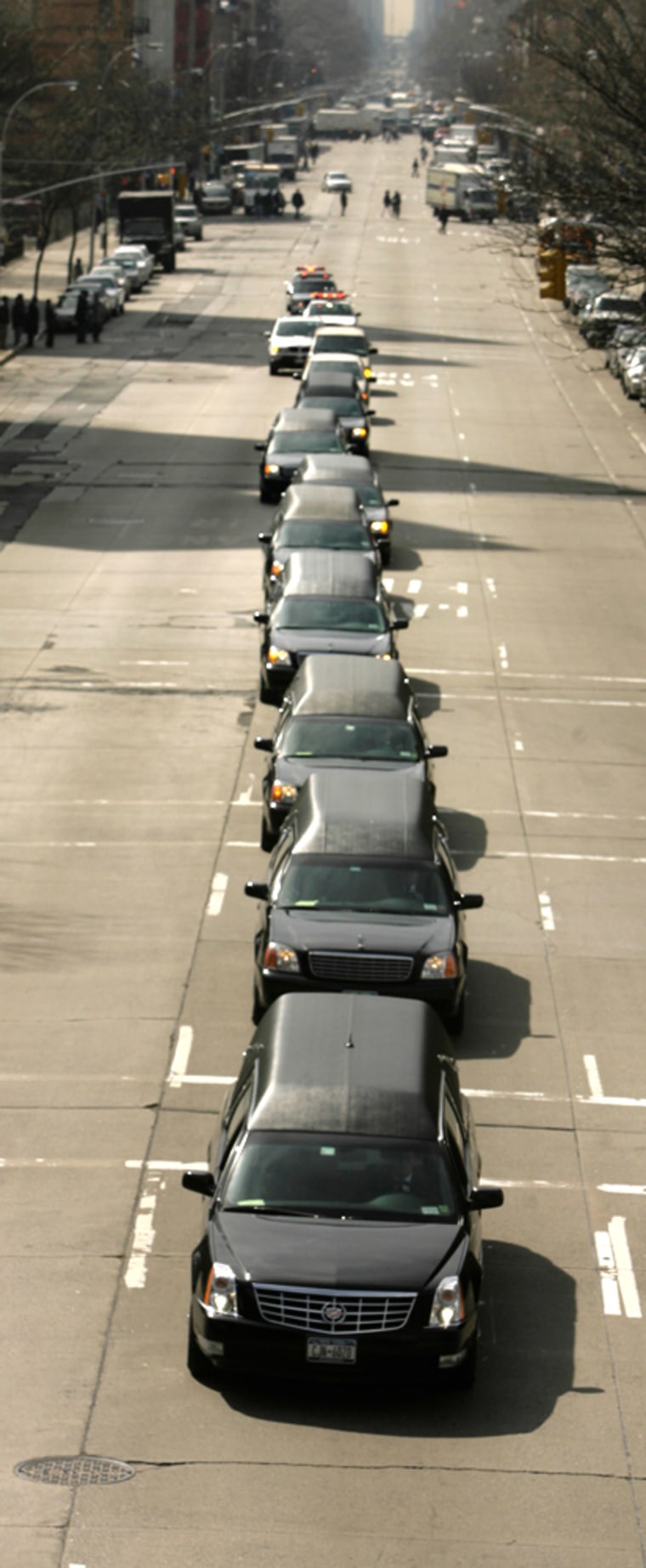 "I was home watching the news and I felt I just had to be here," said Clinton Makel, 45, who stood in a barricaded area about two blocks from the mosque. "I don't know them, but I feel like I know them. I was born and raised in the Bronx and I'm just so sad for the families."
The city may never have seen a funeral like Monday's. Hundreds of men who knew they would not get in sat on blue tarpaulins, prayer rugs or newspapers on a designated section of East 166th Street, so they could listen to the service on loudspeakers and take part. Hundreds of colorfully dressed women sat separately on the next block.
News helicopters hovered, satellite trucks raised their dishes and reporters and photographers documented the scene from a riser across the street. The long line of hearses idled.
When the first prayers were heard from inside, the mourners outside began standing, kneeling and prostrating themselves in unison, like a wave up and down 166th Street.
A Christian adds her prayer
Across the street, Norma Garcia, who lives nearby, repeatedly read Psalm 23 from a tiny white Bible. "There's a Lord up there, and he's watching everyone," she said. "I want to join my Christian prayer to the prayers inside."
Minister Kevin Muhammad, who said he represented Nation of Islam leader Louis Farrakhan, said the prevailing feeling inside was solemnity.
"I feel a sense of loss seeing small caskets," he said. "To see the baby caskets is a very solemn feeling."
It was too much for one pallbearer who helped carry the caskets back out to the hearses. Just as he passed off the wooden box carrying young Mahamadou Magassa, he let out a cry and buried his face in his hands. His fellow pallbearers embraced him and led him off, sobbing.
There was another hearse coming in.