/ Source: msnbc.com staff and news service reports
Al Gore spoke out on his signature issue Wednesday, telling Congress that the world faces "a true planetary emergency" unless it dramatically and immediately reduces emissions that most scientists tie to global warming.
In a return he described as emotional, the former vice president testified before House panels that it is not too late to deal with climate change "and we have everything we need to get started."
Gore advised lawmakers to cut carbon dioxide and other greenhouse gases 90 percent by 2050 to avert a crisis. Doing that, he said, will require a ban on any new coal-burning power plants — a major source of industrial carbon dioxide — that lack state-of-the-art controls to capture the gases.
'A sense of hope'
He said he foresees a revolution in small-scale electricity producers for replacing coal, likening the development to what the Internet has done for the exchange of information.
"There is a sense of hope in this country that this United States Congress will rise to the occasion and present meaningful solutions to this crisis," he said. "Our world faces a true planetary emergency. I know the phrase sounds shrill, and I know it's a challenge to the moral imagination."
Gore favors a "cap-and-trade" program for the U.S. economy, not just specific sectors such as electricity or manufacturing, which would set an overall limit on warming emissions but allow industry to meet the target by trading pollution allowances.
"Trust the market, make it work for us," he said.
Gore gained international recognition with his Oscar-winning documentary, "An Inconvenient Truth," as perhaps the leading spokesman on dealing with global warming. At the hearing, he was flanked by cardboard boxes that he said contained some 516,000 letters calling for congressional action to counter global warming.
Skeptics question science, costs
But several Republicans sharply questioned Gore's recommendations.
"A lot of those recommendations are more regulations and more taxation," said former Republican House Speaker Dennis Hastert, although he added that he agrees with Gore that the scientific debate on climate change is over. "I think we can find answers to use the coal energy, to use the natural gas we have."
Rep. Joe Barton, R-Texas, a former chairman of the House energy committee, questioned scientific evidence from Gore's popular film and said cutting carbon dioxide emissions would "provide little benefit at a huge cost," particularly to major coal-producing and coal-burning states.
"You're not just off a little, you're totally wrong," Barton said as he challenged Gore's conclusion that carbon dioxide emissions cause rising global temperatures. Barton and Gore's exchange grew testy at one point — Barton demanding that Gore get to the point and Gore responding that he would like time to answer without being interrupted.
"Global warming science is uneven and evolving," Barton said.
House lawmakers later heard from Bjorn Lomborg, a Danish statistician who has become a leading critic of Gore's. In his prepared testimony, Lomborg argued that "statements about the strong, ominous and immediate consequences of global warming are often wildly exaggerated."
"Climate change is not the only issue on the global agenda," he added, "and actually one of the issues where we can do the least good first."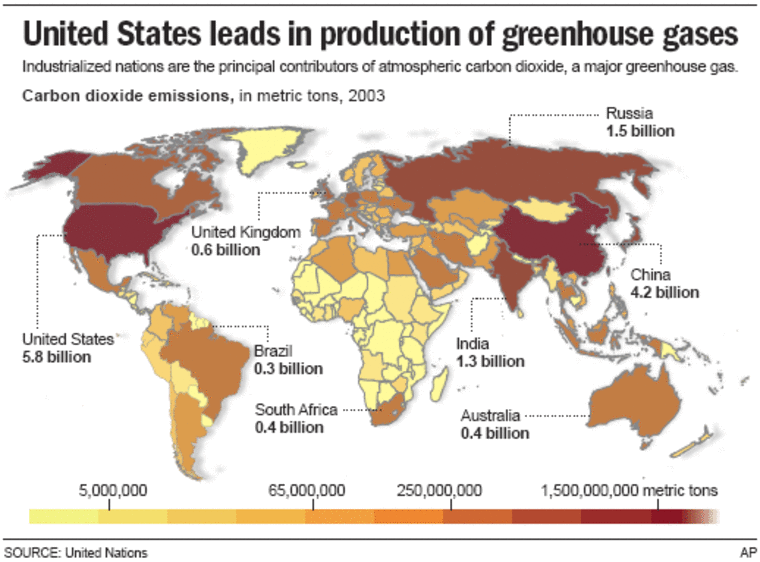 Gore said the climate issue should not be a partisan or even political issue. "I just returned from the United Kingdom, where last week the two major parties put forward their climate change platforms," he said. "The Tory and Labour parties are in vigorous competition with one another — competing to put forward the best solution to the climate crisis."
He said he saw a limited role for carbon-free nuclear power, which the Bush administration has promoted, because the plants are expensive to build and "only come in one size: extra large."
Return to the Hill
Gore's return to Congress marked the first time he had been in the Capitol since 2001, when he was the defeated Democratic nominee still presiding over the Senate in his role as vice president. The former vice president, who 20 years ago held the first hearings in Congress on global warming, appeared before a joint hearing by two House committees.
He later spoke before the Senate environment committee, which includes the current Democratic front-runner for the presidential nomination — Hillary Rodham Clinton.
Another member is its recent past chairman, Sen. James Inhofe, R-Okla., who calls global warming the biggest hoax ever perpetuated on Americans.
Inhofe pressed Gore to commit to cutting his personal home energy consumption to no more than what the average American household consumes — without paying for carbon offsets, which Inhofe dismissed as "gimmicks used by the wealthy."
Gore demurred, but later said, "We live a carbon-neutral life, senator, and both of my businesses are carbon-neutral. We buy green energy, we do not contribute to the problem that I am joining with others to solve."
Living a carbon-neutral life means calculating how much carbon you emit, cutting emissions where possible and balancing the rest by buying so-called carbon offsets, such as investments in windmills or by planting trees.
Gore has lately faced public questions about his personal "carbon footprint," especially at his large home in Tennessee. An aide noted that Gore and his wife Tipper drove to Wednesday's hearing in a black hybrid vehicle.
Wants U.S. to lead by example
Gore rejected the contention by opponents of quick action on global warming that the United States should only impose mandatory controls on greenhouse gases if China, India and other rapidly developing nations agree to do the same.
"The best way and the only way to get China and India on board is for the U.S. to demonstrate real leadership," Gore said. "As the world's largest economy and the greatest superpower, we are uniquely situated to tackle a problem of this magnitude."
Congress has nearly a dozen bills before it that call for reductions in carbon dioxide and other "greenhouse gases," including some that aim to cut such emissions by as much as 80 percent by mid-century.
Curbs weighed by executives
Gore's testimony comes a day after executives of some of the country's largest electric utilities discussed the possibility of mandatory carbon emission limits to address climate change.
But they expressed concern over the potential for huge increases in the cost of electricity, depending on how such emission limits are imposed.
Gore on Tuesday told an investors' conference that climate change and environmental sustainability should be factored into investment programs and routinely integrated into financial analysis.
"Pension funds should be joining this call," Gore told the Council of Institutional Investors, which represents $3 trillion in pension funds. He urged pension-fund managers to look beyond short-term performance and "take sustainability into account" when making investment decisions.
CEO: 'It's a business message'
Specifically, Gore suggested pension managers consider factors such as how companies treat the environment, their employees, the communities in which they operate and their corporate culture and ethics. With such an approach, he said, pension funds can be "a part of the solution" to climate change.
did endorse the notion of carbon curbs, and conference leader Jack Ehnes, CEO of the California teachers' retirement system, said Gore's thinking is much needed in politics.
"It's not just for tree-huggers in California," Ehnes said of the speech. "It's a business message. We do not have political leaders that have taken this challenge to heart. The vice president exemplifies this type of leadership."
"He's charismatic," Rob Berridge, a Boston program manager for a coalition of environmental groups and investors called Ceres, said after the speech. "Yeah, he's a sage."