/ Source: Caribbean Travel and Life
In these days of total information overload, trying to put together a just-right vacation — one precious week of escape from work and worry — can itself feel like work. Of course the Caribbean is a no-brainer for a great getaway, but which of the dozens of countries, hundreds of separate destinations and thousands of accommodations should you pick? Many places in the region offer something for everyone but, in order to take the stress out of choosing, we've collected slam-dunk ideas designed to satisfy particular desires. Simply find the category that fits what you're looking for and select your perfect vacation.
For families that stay and play together
A Caribbean vacation can be one of the most fun and memorable things a family can do together. And thanks to an increased emphasis on resort-based kids clubs and activities for all ages, it's never been easier. The following are No-Brainer picks for three distinct styles of family getaways.

Atlantis, Paradise Island, Bahamas
SeaWorld, Vegas and a beach resort awash in a 20-million-gallon marine park: Get the Griswalds together and tube the Lazy River, ride the water slides and ogle the sharks. Or sign up the wee ones for a Kids Club (available for ages 3 to 12), and let the teens go wild at Gamers Reef while Mom and Dad roll dice at the casino or get rolled in seaweed at the Mandara Spa. Enhance the No-Brainer factor by signing up for an Atlantis meal plan. Rooms from $245 per day in low season ($420 high). 800-285-2684; www.atlantis.com

St. John is a family-friendly destination with excellent snorkeling, hiking and beautiful beaches. The Westin offers a great base for exploring the island — most of which is a national park — and also provides plenty of action right at the resort: iguana feedings, kids-club sailing lessons, floating trampolines and always-popular movie nights by the pool. No-Brainer add-on: Rent a Jeep for off-campus jaunts to places like Little Cruz Bay for its restaurants and shopping. From $299 per day in low season ($479 high). 888-627-7206; www.westinresortstjohn.com
Villa Vacations
With so many Caribbean rentals available, there's a home to fit any family. You can choose a villa where you do all the shopping and cooking yourself or one fully staffed with cooks, butlers and babysitters. Villas start at around $1,000 a week for a conveniently located one-bedroom and range into the stratosphere for killer beachfront mansions. The following villa-rental agencies are one-stop shops, experts at matching you with the right home. Most agencies offer a pre-stocking service — if you go non-staffed, having at least one day of food and drinks waiting for you is a No-Brainer.
Caribbean Villas and Resorts 800-338-0987; www.caribbeanvilla.com
Destination St. John 800-562-1901; www.destinationstjohn.com
ReMax Island Properties St. Maarten/ St. Martin 866-978-5852; www.islandproperties online.comWIMCO Villas 800-449-1553; www.wimco.com
For those who desire more amour
If you want to make sparks fly, set the scene perfectly. The Caribbean does its part naturally, providing hot sun, swaying palms and sultry, starry nights. Add the seductive atmosphere created by one of these resorts, and you've reached inevitable irresistibility.
Petit St. Vincent, St. Vincent and The Grenadines
"Don't come rappin' if the red flag's flappin'" is the official policy of PSV, a 113-acre private island rimmed with two miles of sandy beach. Here you can sequester in one of the 22 stone-walled cottages and never worry about a housekeeper's knock causing cuddle-up interruptus. Simply replace the red flag with yellow whenever you need food or drinks. No-Brainer lunch special: Book a picnic on a nearby sandy spit. From $470 per day in low season ($740 high). 800-654-9326; www.psvresort.com
The Caves, Negril, Jamaica
Freudian? Yes. A little too impressed with its own trendiness? Oh, yeah. But The Caves is also undeniably one of the Caribbean's sexiest retreats, with a clifftop Jacuzzi, private dining in a candlelit grotto, an Aveda mini-spa and hot A-list guests. There's no beach, but what better metaphor for amour is there than holding hands and jumping off the cliff? The romantic room picks are One Drop (closest to the ocean, canopy bed, outside shower) and the ultra-private Bird's Nest (hand-carved king bed, inspiring ocean views). From $515 per day in low season ($765 high). 800-688-7678; www.islandoutpost.com
Coral Reef Club, Barbados
This elegant, Platinum Coast beachfront hotel has 88 rooms, but those seeking the ultimate in classic Caribbean romance need only have eyes for the five Luxury Plantation Suites. Ceiling fans spin above your balcony bar. Sip cocktails on shaded lounges or reach for them from your private plunge pool. Take them inside to the huge soaking tub or straight to the elaborately carved four-poster. Have the staff set up an intimate dinner on the bougainvillea-draped balcony. From $1,150 per day in low season ($2,410 high). 246-422-2372; www.coralreefbarbados.com
For those who go to extremes
Not satisfied with sinking into a beach chair day after day? This region offers plenty of adventure, from soft (like snorkeling and bird watching) to extreme (like dodging jaguars on weeklong jungle treks). These three countries are the kick-ass kids of the Caribbean.
Belize
Belize boasts a wide selection of surf (snorkeling, diving, fishing, kayaking) and turf (hiking, caving, canyoning, biking) activities.
Surf: The Inn at Robert's Grove is a top spot in Placencia, the jumping-off point for dives with whale sharks and trips to uninhabited cays. Seven nights all-inclusive from $1,970. 800-565-9757; www.robertsgrove.com
Turf: Ian Anderson's Caves Branch & Jungle Lodge has super-experienced guides. No-Brainers are the three- to seven-night programs that let you select from Ian's high-adventure menu. Seven nights all-inclusive from $975. 866-357-2986; www.cavesbranch.com
Dominican Republic
The D.R. is the most varied of all the Caribbean countries, with vast bays that attract humpback whales during the winter mating season and both the region's highest point (Pico Duarte: 10,416 feet) and its lowest (Lago Enriquillo: 114 feet below sea level). Iguana Mama, the crème de la adventure-crazed crème of D.R. outfitters, offers caving, hiking, biking, canyoning and eco-tours. Sign up for a weeklong adventure itinerary, which includes accommodations. Seven nights all-inclusive from $1,895. 800-849-4720; www.iguanamama.com
Dominica
On this unspoiled island you can scuba dive in a submerged caldera in the morning and then hike a topside volcano in the afternoon. Sperm whales frequent the bays, parrots and mountain chickens (giant frogs) enliven the rainforests and there are waterfalls galore. Here are two places where you can stay comfortably close to nature and get dialed into all the adventure:
Beau Rive From $123 per day in low season ($141 high). 767-445-8992; www.beaurive.com Jungle Bay From $199 in low season ($249 high). 767-446-1789; www.junglebay dominica.com
For those who think life really is a beach
Boil down the Caribbean ideal and you have the beach: powdery white sand, aquamarine water and warm sun soaking into your skin and melting away the rest of the world. Choose one of these island destinations, and you can sample the sand at a different fabulous site every day.
Anguilla
Long and lean with flowing blonde sand, Anguilla is the rising starlet among beach lovers' ultimate getaways. Get up each morning and pick a beach depending on your mood, anything from Shoal Bay East for people-watching and bar-hopping to secret Little Bay for snorkeling and picnicking on a crescent of sand just big enough for two. Top picks for beachy bases:
Carimar Beach Club on Meads Bay, from $170 per day in low season ($390 high). 264-497-6881; www.carimar.com.
Cuisinart on Rendezvous Bay, from $400 in low season ($995 high). 800-943-3210; www.cuisinartresort.com
Vieques
The U.S. Navy bogarted some of this island's best beaches for 60 years, but after a long-fought battle, they're now open to the public. Rent a Jeep and set out each day to enjoy Sun Bay (most active, with beach bars and facilities), Punta Arena (exotic), Navio Beach (secluded, wave action, cliffs and caves), Media Luna (protected, with calm water), Green Beach (good snorkeling at southern end) and others. Base at:
Hacienda Tamarindo From $125 per day through November 21. 787-741-0420; www.haciendatamarindo.comInn on the Blue Horizon From $125 in low season ($160 high). 787-741-3318; www.innonthebluehorizon.com
Antigua
The cliché about Antigua is that there's a beach for every day of the year. Race around and count them all if you want, but it's more of a No-Brainer to choose just one a day and relax.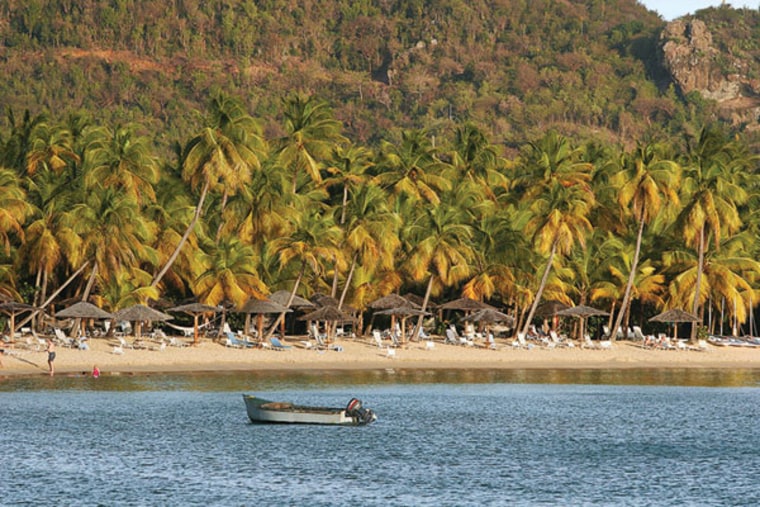 Galley Bay is where you'll find sand smoother than a silk sheet and a superb all-inclusive of the same name. From $625 per person per day in low season ($800 high). 800-858-4618; www.eliteislandresorts.com
Curtain Bluff: Another terrific base for beach lovers is this clubby all-inclusive that guards a spindly isthmus of palm-fringed sand on the island's south side. From $595 per person per day through August 25. 268-462-8400; www.curtainbluff.com
For those who want to pack light
Of course, every Caribbean vacation should include some surreptitious skinny dipping. For some, though, that's not nearly enough nakedness. If you want to go beyond the occasional au naturel episode, these are the places where you can spend your entire vacation wearing only sunscreen.
Club Orient Resort, St. Martin
This laid-back little community of the unclad lies at the far end of one of the world's truly wild and wonderful party beaches. Club Orient's 137 low-key accommodations include kitchens and air conditioning. Within the resort are bars, restaurants, a food store, a wellness center and a water-sports operation. The No-Brainer excursion here is to simply cover up a bit and wander beyond the all-bare border to sample Orient Beach's bevy of bars, restaurants, sports shacks and beach boutiques. From $276 per day in low season ($520 high). 800-690-0199; www.cluborient.com
Sorobon Beach Resort, Bonaire
On a choice piece of spectacular Lac Bay — perfect for nude snorkeling, nude windsurfing and nude kayaking — Sorobon offers naturism within a nature reserve. The resort's 29 rooms and one three-bedroom villa (all with full kitchens and air-conditioned bedrooms) provide views of the shallow, electric-blue bay and the fringing coral reef. From $162 per day in low season ($269 high). 011-599-717-8080; www.sorobonbeachresort.com
Hidden Beach Resort, Riviera Maya
What could be easier and more liberating than stepping out of bed in your birthday suit, slipping into the heated pool that laps at your door and breast stroking to the swim-up bar for a bloody mary? An hour south of Cancún, near Akumal and Riviera Maya ruins and attractions, Hidden Beach features 42 suites, all with in-room Jacuzzis, but it's definitely a No-Brainer to reserve one of the swim-up suites. With 24/7 nudability, guests can keep it all off in the pool, at the restaurant and even while they're at the disco, jiggling the night away. All-inclusive from $210 per day in low season ($240 high). 888-754-3907; www.hiddenbeachresort.com
For those who like to walk to dinner
The essential luxury for Caribbean-loving foodies is to stay in a charming little resort within walking distance of an entire collection of noteworthy restaurants. Booking a room at any of the following properties places you lip-smack in the middle of one of the region's three best dining scenes.
, St. Martin
You can't fling a crepe in Grand Case without hitting a world-class chef (who will fill it with something delicious and feed it right back to you). At the north end of town, the homey Grand Case Beach Club lets you enjoy the beach by day and stalk sumptuous meals by night. No-Brainer restaurant picks among the village's three dozen or so include: L'Auberge Gourmande, Le Pressoir, Rainbow, Le Cottage and Le California. From $135 per day in low season ($175 high). 800-344- 3016; www.grandcasebeachclub.com
Hotel Carl Gustaf, St. Barts
The hills of Gustavia make for especially good exercise after a great meal. With incredible views, sumptuous beds and private plunge pools, the "Carl" could easily be a romance No-Brainer, but a week of room service would be a waste when the town includes such bistros as Wall House, Pipiri Palace, La Mandala, Le Sapotillier and Le Select. And don't forget the Carl Gustaf itself, Gustavia's must-do sundowner spot as well as one of the island's top restaurants. From $807 per day in low season ($1,367 high). 011-590-590-29-79-00; www.hotelcarlgustaf.com
Hotel El Convento, Old San Juan, Puerto Rico
Even the Carmelite nuns who resided in El Convento back in 1651 would have a hard time resisting the earthly temptations of the hot new restaurants firing up this fascinating section of San Juan. Get your fill of Spanish colonial history — both in the hotel and all throughout Old Town — as you sample the fare at Dragonfly, Parrot Club, Trois Cent Onze, Aqua Viva, Barú, Casa Borinquen and Amadeus. From $235 per day in low season ($365 high). 800-468-2779; www.elconvento.com
For those who want it all (included)
It doesn't get more hassle-free than a stay at a resort that rolls meals, beverages, tips, entertainment and activities into one price. Today's top all-inclusives offer multiple restaurants, plenty of sports (some even include scuba diving and golf) and lots of entertainment — all enjoyed without ever whipping out your wallet.
Riu Hotels & Resorts
This European chain offers three styles of resorts in the Caribbean: Classic (Paradise Island, Jamaica, Cancún, Playa del Carmen, Dominican Republic, Cuba); the activity-oriented ClubHotels (Jamaica, Playa del Carmen, D.R.) and the more luxe Palace category (Aruba, Cancún, Playa del Carmen, D.R.). Sample rates: From $75 per person per day at Hotel RIU Naiboa, D.R. From $99 at ClubHotel RIU Tequila, Playa del Carmen, Mexico. From $321 at RIU Palace Aruba. 888-666-8816; www.riu.com
Sandals/Beaches
At the Caribbean's dozen couples-oriented Sandals (located on Antigua, Nassau, Jamaica and St. Lucia), king-size beds anchor every room, and there are as many as eight restaurants at a single resort. Beaches is the family-style brand, with four resorts (Jamaica and Turks and Caicos) where little tykes can mingle with their Sesame Street heroes while Mom and Dad sip margaritas poolside. Sample rates (two-night minimum): From $235 per person per day at Sandals Inn, Jamaica; 888-726-3257; sandals.com. From $290 at Beaches Sandy Bay, Jamaica; 888-898-3628; www.beaches.com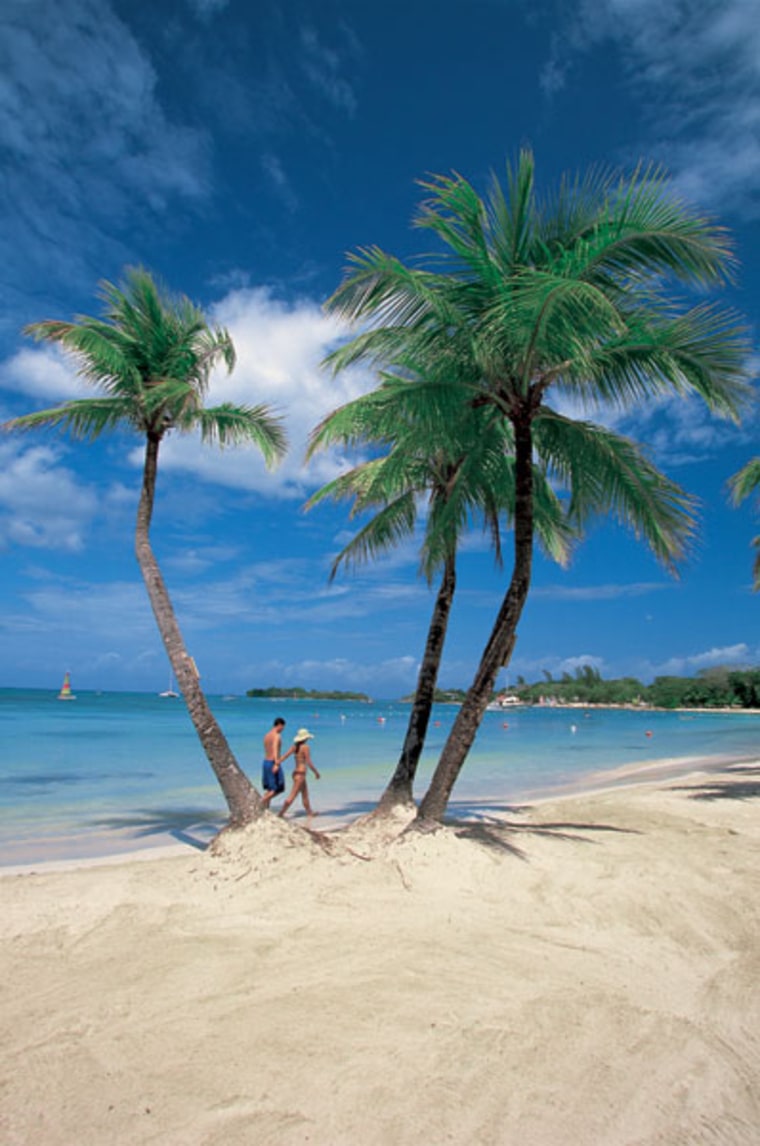 For those who dig cruise control
It's tough to beat a cruise as a No-Brainer: You unpack once and then swoop around a large chunk of the Caribbean without ever having to leave your floating resort. You may not get more than a superficial taste of the destinations, but you do get to eat like every meal is your last. The single most important choice to make is the style of ship. There are basically three kinds, and one of them should be just right.
Boutique
Your billionaire buddy invites you to sail the Caribbean on his megayacht. He also asks along about 100 of his other friends, none of whom you know. In the intimate atmosphere, though, you all get along swimmingly. What? No billionaire friend? No invite? No worries — simply book a cruise on one of these ships:
Seabourn Legend: From $2,987 per person for a seven-day cruise. 800-929-9391; www.seabourn.com

Windstar Wind Surf: From $1,749 per person for a seven-day cruise. 800-258-7245; www.windstarcruises.com
Windjammer Barefoot Legacy: From $900 per person for a seven-day cruise. 800-327-2601; www.windjammer.com
Mid-size
These boats are less about the spectacle and more about the cruise, though they're still big enough to provide passengers with a variety of dining and entertainment options. The best we've seen:
Regent Seven Seas Voyager: From $2,498 per person for a seven-night cruise. 877-505-5370; www.rssc.com Crystal Cruises Crystal Serenity: From $3,180 per person for a 10-night cruise. 888-722-0021; www.crystalcruises.com Holland America M/S Noordam: From $1,199 per person for an 11-day cruise. 877-724-5425; www.hollandamerica.com
Mega
There's an arms race to put the most outlandish thing aboard one of these spectacular megaships to entertain the 1,500-plus passengers. Already, full shopping malls, ice rinks, climbing walls, bowling alleys and wave pools have hit the high seas. Next up, NASCAR races or Bullfighting rings? Three of our favorite big ships are:
Celebrity Constellation: From $999 per person for an 11-night cruise. 877-202-4345; www.celebritycruises.com Carnival Carnival Glory: From $429 per person for a seven-day cruise. 888-CARNIVAL; carnival.com Royal Caribbean Explorer of the Seas: From $429 per person for a five-night cruise. 866-562-7625; royal caribbean.com
Caribbean Travel & Life is the magazine for anyone in search of the perfect tropical getaway. Each issue presents expert insider's advice on where to find the Caribbean's best beaches and attractions, its finest resorts and spas, liveliest beach bars and activities, and its friendliest people.