/ Source: The Associated Press
A suicide truck bomber targeted a police station in the oil-rich northern city of Kirkuk on Monday, killing at least 13 people and wounding dozens, including many children from a nearby school, police said.
The attacker rammed the truck into the concrete blast barriers protecting the back of the compound at about 11:30 a.m., detonating his explosives, which were hidden under bags of flour, local police spokesman Brig. Gen. Sarhat Qadir said.
The Rahim Awa police compound is in a predominantly Kurdish neighborhood in a northern part of the city, and other officials said U.S. troops had been visiting an Iraqi criminal investigations unit there when the blast occurred.
AP Television News footage showed one U.S. soldier seen standing nearby with a bandage around his head and blood on the front of his uniform. The U.S. command in Baghdad said it was looking into the report.
Bombings elsewhere in Iraq killed at least 11 people and wounded more than 40.
McCain visits Baghdad market
The violence came a day after Sen. John McCain led a Republican congressional delegation on a heavily guarded tour of a central Baghdad market and declared that a nearly 7-week-old security crackdown to pacify the capital is working.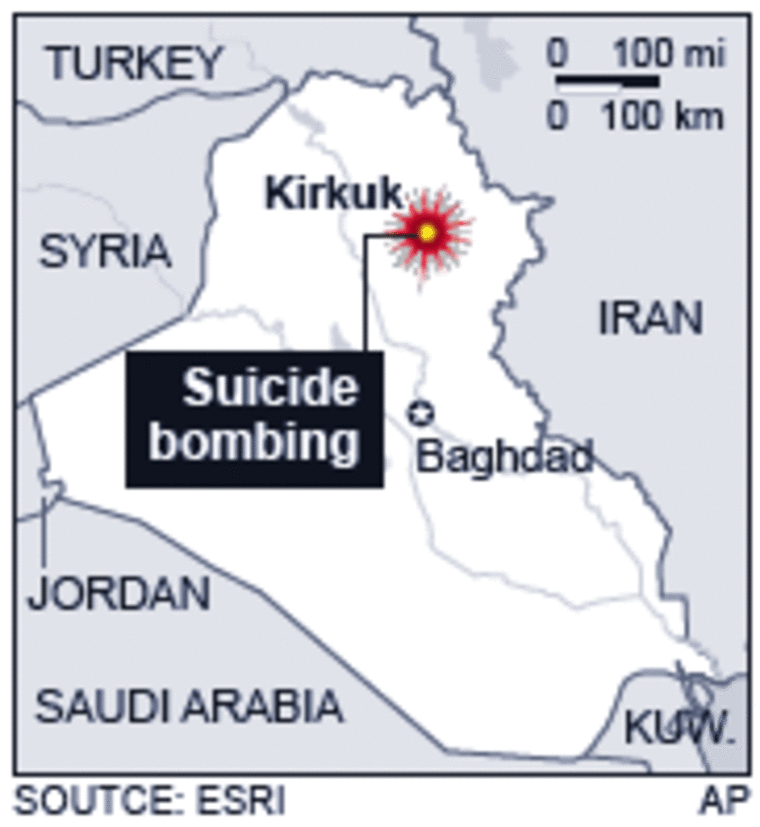 McCain, a presidential hopeful who was a prisoner of war in Vietnam, acknowledged a difficult task lies ahead in Iraq, but criticized the media for not giving Americans enough information about the recent drop in execution-style sectarian killings, the establishment of security posts throughout the city and Sunni tribal efforts against al-Qaida in the western Anbar province.
"These and other indicators are reason for cautious, very cautious optimism about the effects of the new strategy," McCain said.
While Baghdad has seen a recent dip in violence as extra U.S. and Iraqi troops have flooded the streets, other parts of Iraq — including Kirkuk — have seen a surge in attacks after Sunni and Shiite militants apparently fled the operation.
More than 600 Iraqis have been killed in sectarian violence since March 25, most in a series of high-profile suicide bombings. Among them were at least 152 people killed in a suicide truck bombing in Tal Afar — the deadliest single strike since the war began four years ago. The driver in that attack also hid the explosives under flour. Shiites, including police, went on a revenge shooting rampage afterward, killing at least 45 Sunni men.
The U.S. military also reported Sunday that six soldiers had been killed in roadside bombings over the weekend southwest of Baghdad, raising to at least 3,253 American troops who have died in Iraq since the war began in March 2003.
Children hit by blast
Qadir said at least 20 children on their way home from a nearby school were among the 13 people killed and 137 wounded in the truck bombing. The force of the blast also devastated four buildings in the area, including a municipality building.
Doctors at the hospital worked in a scene of bloody pandemonium as wounded were brought to the emergency room. There was barely room to move.
Most of those being treated appeared to be either very young children or schoolgirls, many crying with blood spattered on their clothes. Several badly mutilated dead bodies filled the back of a police pickup truck as a U.S. helicopter flew overhead.
Sarah Samad, 13, said she had just finished taking an exam and was near the school gate when the explosion occurred.
"The gate fell on my leg and broke it," she said from her hospital bed.
Shireen Kareem, a 32-year-old resident, said her children were inside the school and were not injured.
"I was horrified and frightened," she said. "I ran to the school like mad and they were lucky that they were still in school when the explosion took place."
Plan to relocate Arabs
The attack comes days after the Iraqi government endorsed plans to relocate thousands of Arabs who were moved to Kirkuk as part of Saddam Hussein's campaign to force ethnic Kurds out of the city in an effort to undo one of the former dictator's most enduring and hated policies.
Kurds are seeking to incorporate the city, 180 miles north of Baghdad, and into their nearby autonomous region. But the move has met strong opposition from Sunni Arabs who fear being isolated from Iraq's oil riches, which are concentrated in the north and the mainly Shiite south.
The ancient city of Kirkuk has a large minority of ethnic Turks as well as Christians, Shiite and Sunni Arabs, Armenians and Assyrians. The city is just south of the Kurdish autonomous zone stretching across three provinces of northeastern Iraq.
Iraq's constitution sets an end-of-the-year deadline for a referendum on Kirkuk's status. Since Saddam's fall four years ago, thousands of Kurds who once lived in the city have resettled there. It is now believed Kurds are a majority of the population and that a referendum on attaching Kirkuk to the Kurdish autonomous zone would pass easily.
A parked car exploded in a garage near a governmental property registration agency in western Baghdad, killing three people and wounding 10, police said, adding that five cars and some nearby buildings were damaged. The religiously mixed Baiyaa neighborhood has been a frequent target of suspected Sunni insurgents who are usually blamed for such bombings.
Elsewhere in Baghdad, a suicide bomber drove his car into a police checkpoint in the southern insurgent stronghold of Dora, killing four people, including two policemen, and wounding six, police said.
Withdrawal timetable
With U.S. voters increasingly impatient with the conduct of the war and the American death toll rising, Democrats in the U.S. House and Senate have pushed through funding bills with timetables for withdrawing forces. The measures need to be reconciled before they are sent to President Bush, who has promised a veto.
Sen. Lindsey Graham, a South Carolina Republican who was part of the McCain delegation, said setting a deadline would be a "huge mistake" and Bush would be right to use his veto because the security plan — to which Bush has pledged 30,000 extra American troops — was working.
In other violence Monday, according to police:
A roadside bomb killed four civilians and wounded 20 others in the Shiite town of Khalis, north of Baghdad in the volatile Diyala province.
A roadside bomb struck an Iraqi military convoy, killing one soldier and wounding seven in the Qazaniyah area northeast of Baghdad, near the Iranian border.