/ Source: The Associated Press
Authorities have torn down a stubborn couple's house after a three-year standoff in southwestern China that hindered a construction project and captivated the nation, a witness and state media said Tuesday.
Wu Ping and Yang Wu have been fighting off bulldozers in downtown Chongqing since 2004, when they were one of 280 households asked to make way for a redevelopment project in the booming southwestern city of nearly 28 million.
Their two-story brick building was clawed into dust by an earth mover as a few dozen reporters and people looked on late Monday night, said witness Zhou Shuguang, who photographed the event and posted the pictures to his blog.
The demolition took about three hours, he said.
In recent weeks, the wife, Wu, tirelessly met with domestic and foreign media to publicize their fight for better compensation. Wu said earlier that she had been offered US$258,000 in compensation or two higher floors in the planned complex — both of which she turned down because she wanted lower levels in the new building so she could run her restaurant.
The official Xinhua News Agency said Yang had been holed up in the house, surviving on deliveries of food and water, before leaving the house Monday afternoon.
The couple agreed to move into a similar sized apartment elsewhere in Chongqing, Xinhua said, but the couple could not be immediately reached to confirm the deal.
The building had been perched precariously on a small island of land surrounded by a vast construction site.
Images of the house have been plastered in newspapers for several weeks and have been the focus of editorials and cartoons. Discussions have flooded Chinese Internet chat rooms.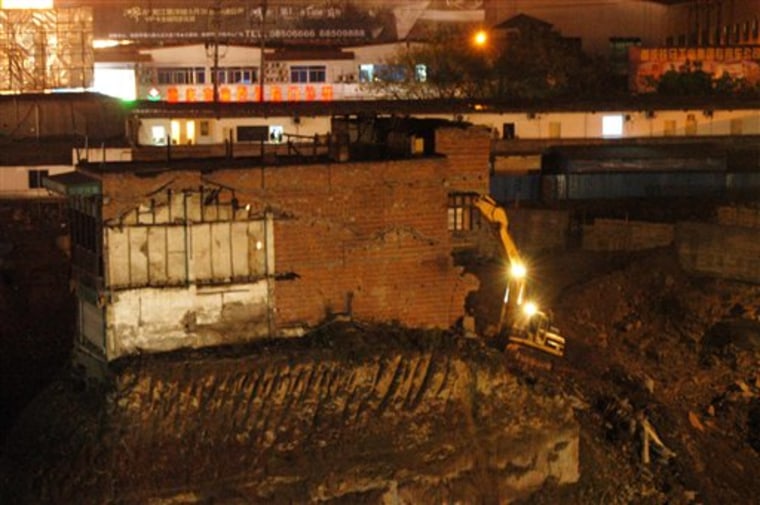 Chinese news reports and online commentators referred to the home as a "dingzihu" or "nail house," playing on a phrase for troublemakers who stick up like nails and refuse to go along with government policies.
Property disputes and illegal land grabs have accelerated in recent years as China's economy expands at double-digit rates and farmland is gobbled up for industrial parks and skyscrapers.
Government officials often have sided with developers, touching off riots and protests.