/ Source: msnbc.com and NBC News
Residents along the Gulf Coast, still rebuilding from the devastation of Hurricane Katrina, were told Tuesday to brace for another difficult year after forecasters predicted 17 named storms this season, including five major hurricanes.
The Tropical Meteorology Project at Colorado State University projected that there was a 74 percent chance that at least one major hurricane would hit the U.S. coast this season.
The Atlantic hurricane season, which runs from June 1 to Nov. 30, averages 9½ named storms, with 2.3 of them developing into intense hurricanes. Federal government forecasters plan to release their prediction in late May.
The Colorado State team also predicted a busy hurricane season last year, which largely failed to materialize. Warm air driven by El Niño winds both arrived later and dissipated earlier than expected, essentially cutting off the fuel for hurricanes.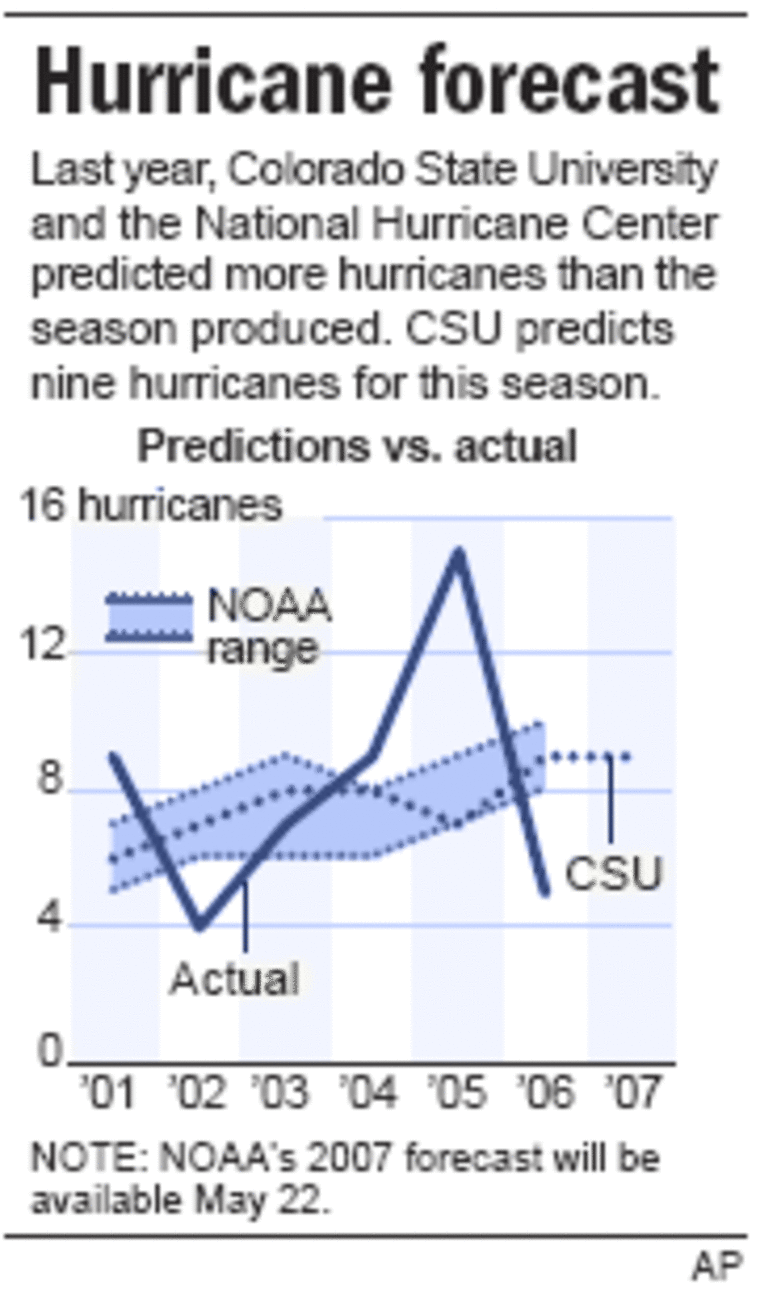 Gary Archibald, a forecaster with NBC WeatherPlus, said Dr. William Gray and his team of forecasters at the Tropical Meteorology Project were unlikely to get it wrong two years in a row.
"Dr. Gray is one of the leading forecasters in the world," he said.
Archibald said the formation of La Niña winds over the Pacific was a bad sign. La Niña is a cooling of the mid-Pacific equatorial region; when those cool winds begin to sweep across the country and meet warm air from the Atlantic, the recipe for a series of hurricanes is in place.
"The ingredients are there" for a dangerous season, Archibald said. "The Pacific La Niña is starting to form, and in the Atlantic, we're looking at very warm temperatures over the Atlantic and Caribbean."
'We don't worry about it'
The prediction is almost identical to one released last month by Tropical Storm Risk, a London-based group, which also forecast 17 tropical storms, nine of which would strengthen into hurricanes, four of those major ones.
Along the Gulf Coast, especially in Louisiana and Mississippi, where Katrina devastated New Orleans and parts of the Mississippi Delta in 2005, residents greeted the news with stoicism.
"If you live on the coast or near the ocean, sometimes you accept the perils of the sea," said Walter Blessey of Biloxi, whose home was submerged by Katrina and sustained more than a half-million dollars in damage.
Earl and Beverly Hammond said they respected the predictions but could not let them slow work on rebuilding after Katrina. A year and a half later, they are still living in a trailer and, like thousands of others along the Gulf Coast, will keep on working right through the hurricane season.
"We don't worry about it, no," Earl Hammond said. "We've been here basically 40 years — kids all born and raised. This is home."