/ Source: The Associated Press
On a recent business trip to San Diego, Kurt Barrett took his family to Sea World.
Between the banquet dinners and panel discussions on agricultural policy, he also took his 5-month-old daughter swimming for the first time in the hotel pool. Another day, they strolled through the humid botanical gardens in Balboa Park.
"It was like being at home. I got done with work, then enjoyed spending time with my wife and child," said Barrett, a 30-year-old general manager for a rice distributor in Williams, Calif.
"Work is very important, but there has to be a balance," Barrett said.
Traveling for work once meant sacrificing precious time away from home. But as the American workplace becomes more flexible about letting employees juggle their duties with family life, people like Barrett are finding it easier to bring their spouse and kids wherever their jobs may take them.
According to the National Business Travel Association, 62 percent of U.S. business travelers said they add a leisure component to at least one business trip per year. Among those travelers, two-thirds say they bring a family member or friend with them.
Pushing the trend is the growing number of single parents, women in executive ranks, two-income families, and those simply looking to save a buck by turning company-paid trips into working vacations. People are having kids later in life too, meaning they're more likely to be comfortable enough in their careers to blend work and family.
That blurring between office and family life represents a sea change from a generation or two ago, when children were told bothering their parents with a phone call at work could get mom or dad in trouble.
"That's not the case today. There's a realization that work has encroached so much on private time, that there needs to be some give and take," said Nancy Ahlrichs, president of EOC Strategies, a human resources consulting firm in Indianapolis.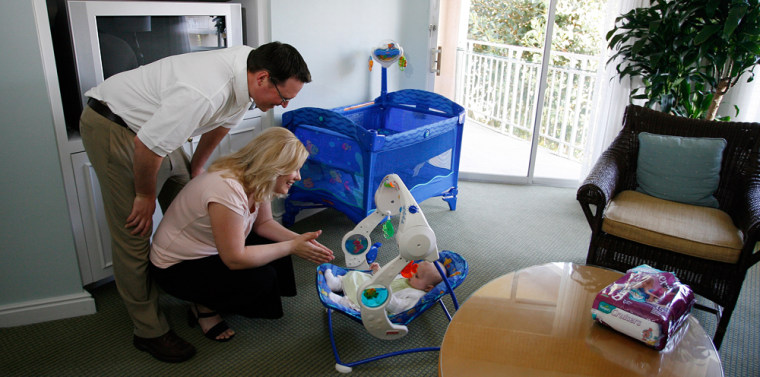 In fact, many business conventions today court attendees by trumpeting baby-sitting services and family outings. The trend became more pronounced after the Sept. 11 terrorist attacks, as the industry struggled to recover by offering more incentives to get people on the road again.
Smart conference planners realized a good vacation spot could spur attendance, Ahlrichs said.
Hotels are stepping up family friendly services too, at least in part to cater to the changing convention business — a big moneymaker for the industry.
When the Barretts arrived at the Loews Hotel in San Diego, they found waiting in their suite a crib, baby swing and CD full of lullabies for their infant daughter. The gear was made available through the hotel's partnership with Fisher Price Inc., launched this year.
"When you have very young kids, they require a tremendous amount of gear you have to bring along," said Emily Goldfischer, a spokeswoman for the New York-based hotel chain. "Here, they have a place to leave an infant in a swing or a play pen — they don't have to worry about bringing all that along."
The hotel, which generates about half its sales through conventions, also contracts with a baby-sitting agency and serves baby food at its restaurants. At check in, teens get backpacks filled with a water bottle and brochures. Younger kids are given a toy.
At Walt Disney Parks and Resorts in Orlando, Fla., kids can even enjoy a mock banquet with Disney characters while their parents attend the grown-up version in an adjoining hall.
The company, which began dramatically expanding its convention business in the 1990s, now has six convention hotels at Disney World. That growth is being fueled by employees who increasingly see business trips as "opportunities to bring the family along," said George Aguel, senior vice president for Walt Disney Parks and Resorts.
"Everyone feels time starved, and we're only continuing to see that growing," Aguel said.
Even Hyatt launched a kids' menu last year. Parents can also check kids into "Camp Hyatt," where children might make adobe art or go "coconut bowling," depending on the locale. The camp is often filled at the Hyatt resort just outside Austin, where many business conferences are held, said Scott Seed, a Hyatt Resorts spokesman.
Policies on bringing family on business trips vary from company to company, said Caleb Tiller, spokesman for the National Business Travel Association, based in Alexandria, Va.
Some companies encourage it — even helping find accommodations for the family — as a way to keep employees happy and productive.
Others might allow it, but require employees to sign waivers releasing the company from liability in case anyone is injured during the trip, Tiller said. Many smaller companies may not have policies.
But however welcoming and open a company may seem about family matters, it's always a good idea to let the boss know your plans ahead of time, said Peter Post, director of the Emily Post Institute and author of "Etiquette Advantage in Business."
"If you do it surreptitiously, and the boss hears about it — now all of a sudden you have to explain not only why you did it, but also why you didn't tell them," he said.
Setting boundaries between family and work on business trips is critical, Post said. Bringing a 7 year old into the conference room, for example, is never a good idea.
For Kurt Barrett, bringing his daughter to San Diego was easy, since his wife could watch her while he attended work functions. The conference even provided tickets to Sea World and organized family friendly events like picnics and volleyball games.
The trip went so smoothly, the Barretts intend to bring their daughter along on Kurt's business trips as often as possible.
"It's a way to expose her to new experiences while keeping the family together," Kurt Barrett said.
And his wife, Deeanna Barrett, a 29-year-old part-time special education teacher, doesn't mind tagging along for the trips either.
"The next major conference is going to be in the Bahamas," she said. "I told him he needs to talk to the company about that one."