/ Source: The Associated Press
U.S. factories saw a disappointing increase in new orders, while the service sector grew at its slowest pace in nearly four years — fresh signs companies are behaving cautiously amid the economic slowdown.
New orders placed with U.S. factories rose by 1 percent in February, the Commerce Department reported Wednesday.
It was a lackluster showing, although it did mark an improvement from the jarring 5.7 percent plunge in new orders reported in January, a figure that had contributed to a Wall Street swoon in late February when the report was released.
Economists were expecting a bigger, 1.9 percent increase for February. Weakness in demand for construction machinery, primary metals including steel, and electrical equipment tempered gains elsewhere including cars and other transportation equipment, computers, chemical products and clothing.
In another report, the Institute for Supply Management reported that its index of U.S. service sector activity clocked in at 52.4 in March. That was down from 54.3 in February and was the lowest reading since April 2003. That performance also disappointed analysts, who were expecting a stronger reading of 54.7 for March.
Readings above 50 indicate expansion, while readings below that threshold indicate contraction.
The service sector report raised concerns that problems in housing are starting to bleed over to other parts of the economy.
"The unexpected slowing in the service sector in March suggests that the housing slump is starting to spread beyond its borders," said Sal Guatieri, economist at BMO Capital Markets Economics.
On Wall Street, investors took the reports in stride. The Dow Jones industrials were up around 26 points in trading just past noon.
In the factory orders report, new orders excluding transportation equipment, where demand can swing widely from month to month, dipped by 0.4 percent in February, the second straight monthly decline.
Adam York, economic analyst at Wachovia, pointed to this figure as showing "underlying weakness among the nation's manufacturers."
Orders for big-ticket "durable" goods, expected to last at least three years, rose by 1.7 percent in February, following a 8.8 percent drop the month before.
New bookings for primary metals, which includes steel, dropped by 3.8 percent, the most since October 2004. Electrical equipment, appliances and components fell 5.8 percent, the most since August. On the other hand, computers and components rose by 4.5 percent, the most since November. Orders for automobiles went up 1.1 percent, the best showing since December.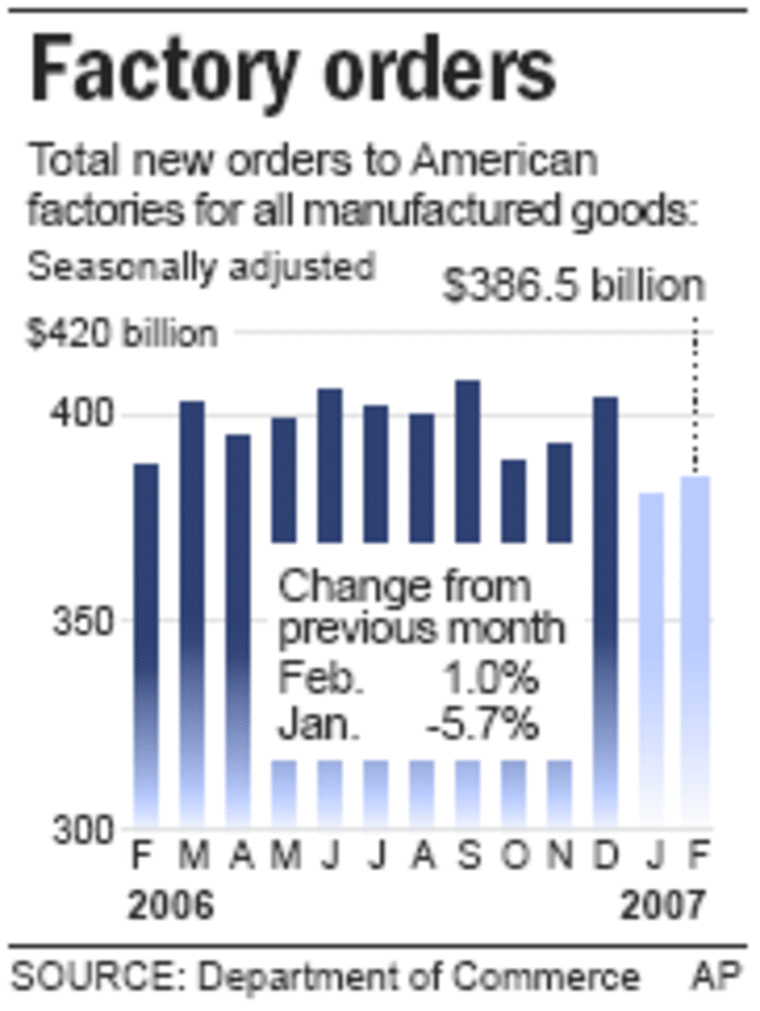 Demand for "nondurables," such as food and chemicals, edged up 0.2 percent in February, compared with a 1.7 percent decline in January.
The economy, which grew at a sluggish 2.5 percent pace in the final quarter of last year, is expected to stay in a soft patch, reflecting fallout from the troubled housing market. Some economists have downgraded their forecasts for the recently ended January-to-March quarter and are expecting economic growth to clock in just under a 2 percent pace.
Even so, Federal Reserve Chairman Ben Bernanke and most other economists don't believe the economy will fall into a recession this year.
That being said, Bernanke said one of the things the Fed will be watching closely is business investment, a key ingredient to the economy's good health. This investment has been weak and if it takes an unexpected turn for the worse, that could have adverse implications for the overall economy.
Earlier this week, the Institute for Supply Management reported that manufacturing activity in March expanded at a slower than expected pace, while businesses coped with a big jump in the prices for raw materials.
With mediocre economic growth projected and inflation still higher than Fed officials would like, analysts expect the Federal Reserve will keep interest rates steady for a while. The Fed last month left a key interest rate unchanged at 5.25 percent, where it hasn't budged since August. Before that, the Fed had steadily boosted rates for two years to fend off inflation.