/ Source: Islands Magazine
"If I can accomplish this, I shall be the lion of the day," wrote missionary Thomas Baker, bound for the mountains of Viti Levu, Fiji, in 1867. A Methodist minister from pastoral Sussex, England, Baker was an unlikely pioneer as he set off to teach cannibals an alternative dietary program, a venture that makes today's thrill-seekers seem as daring as dirt.
Tales of epic surf and stellar diving had long placed the Fiji Islands on my shortlist, but when I discovered that the main island also offered white-water kayaking, it was time to pack. Now journeying into the Namosi Highlands of southern Viti Levu with a small band of paddlers and guides, my goal is to kayak a stretch of the Wainikoroiluva River, "the river that strips villages away" (an unfortunate name, which may explain why it's shortened to 'Luva by the locals).

Suiniika, who grew up on the river and knows it intimately, tells me about the missionary while on our drive to the river. I've never been comfortable with cannibalism and, as a confirmed vegetarian, I admire Baker's gumption. My mission, however, is embarrassingly less pragmatic. I will experience both sides of the island: I'll have a rugged adventure and make it back to my beach-side resort in time for happy hour.
The mountain region of Viti Levu, Fiji's largest coral-ringed oasis, rises more than 4,000 feet from sea level in lush relief. Our small van grinds along a ruddy snake of road, carving up to Nakavika, a collection of 60 wooden and tin homes and a couple dozen thatched huts, one of seven villages along the river. Adre, our Rivers Fiji guide, preps us on local etiquette as we don sulus (sarongs) over our clothes and remove our hats before exiting the vehicle. Paramount among our instructions, however, is this: Never, ever, touch the chief's head; it is a grave sign of disrespect. And in order to access the 'Luva, we must obtain permission from Chief Leo Naikasau.
Stepping into the monarch's humble abode, my eyes take a second to adjust to the dim light. Eclectic posters and old photos grace the walls; the centerpiece is a shelf displaying a rugby trophy and a weathered ball. A policeman for 17 years in Fiji's capital city of Suva, the chief was also an avid sportsman before an injury ended his play. We sit in a semicircle, and Adre recites Fijian accolades of honor toward the chief in a ritual of respect while preparing kava, the sedative, root-derived elixir we brought. The familiarity between our guide and Chief Naikasau is understood once it is explained that Adre is his eldest son, a chieftain-in-waiting. One by one, Adre hands out bowls of kava; each recipient claps once before downing the beige brew and claps three times again after swallowing.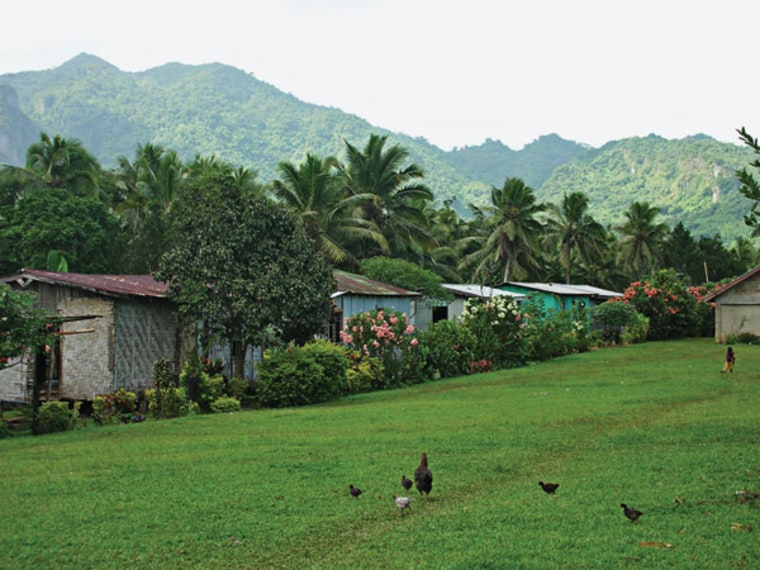 During our brief visit in his home, my eyes drift to the chief's head. Cannibalistic Fijians believed eating the brain transferred the victim's intelligence and might, so it was usually reserved as a delicacy for those of prominence. A chief's head was therefore viewed as a vault of immeasurable energy and value. Just a few generations back, it would be a death sentence to touch the potentate's pate, so when it is my turn to greet the diminutive leader, I carefully keep my gestures to a minimum. Upon introduction, Chief Naikasau whispers greetings in English, though it is his warm grin and thoughtful eyes that most sincerely communicate welcome as we grasp hands.
Upon leaving our gracious host, the air is stirred by the hands of waving villagers, and we reciprocate, saying, "Vinaka!" (Fijian for "thank you") before descending down a rain-slick trail to the 'Luva's edge. We slip into waiting kayaks and, like multi-colored flotsam, are swept downstream. The character of a river morphs, depending on the time of year, rainfall, and numerous other variables that can turn the most placid stream into a torrent of churning chaos. This wasn't one of those days. I look back to see a comedic logjam of paddlers, a few standing up in the heart of the "white water," others engaged in a splash fight. We continue downstream, flanked by hillsides of dense foliage, and paddle to the rhythmic refrain of exotic birds and river stones tumbling in the current. My thoughts revert to the past, and I imagine the gaze of unseen warriors lying in ambush. I glance at our party, determining who would have been a prize entree, until a paddle's playful spray snaps me back from mental theatrics.
After two hours, our sensory-rich meandering reaches a crescendo when a narrow passage of limestone opens, revealing a rainbow-garnished swimming hole and waterfall. The guides unpack and spread out a lunch of sandwich fixings and cookies. I could have spent the whole day here, but our leisurely pace has already put us behind schedule.
Instead we expedite our jungle cruise and, finally encountering some rough water, I begin following Adre's path. Funneled by the current into a tight corner, I careen off an oversized boulder, aim for the center of the turbulence and dig hard with my blade. Adre dances around the rocks and through to a calm eddy. A few bounces later, I'm paddling alongside him as he smiles approvingly.
My brush with royalty is proving decidedly better than Thomas Baker's — Adre's regal gentility would have served the missionary well. The most commonly accepted version of Baker's fate, I've learned, is that his comb caught the eye of the chief of Nabutautau, who promptly confiscated it to wear on his head. Unaware of the no-touching policy, Baker plucked it back from the ruler, whereupon the missionary and his party were immediately killed and ingested. The region has been weighted by remorse ever since: In 2003, the village of Nabutautau and the Fijian government located Baker's descendants in Queensland, Australia, and brought them over in an expression of retroactive penitence. Fijian culture has indeed transformed from warlike and feared to among the friendliest in the Pacific islands. Now, as I paddle by humble villages, I'm met with genuine smiles as inhabitants stop tending their gardens or fishing to wave enthusiastically.
After four miles, I manage to navigate through a final patch of rough water without incident. Flush with a sense of accomplishment, I spot two young boys on a long, wooden raft. They're pushing upstream with a makeshift staff over the very rapids we have just descended. I am immediately self-conscious, looking down at my life jacket, helmet and expensive neoprene river shoes. In bare feet and shorts, they seem to stare disapprovingly. (Purists. Every sport has them.) But this is Fiji, and moments later they break out in grins and yell a greeting, "Bula!" as we cross paths at my journey's end. "Bula, vinaka!" I shout back, grateful for the chance to feel welcome in their highland home.
Each issue of ISLANDS Magazine explores the most beautiful island destinations in the world, from tropical island outposts to the sophisticated gems of the Mediterranean. Our top-rate photographers and writers discover the quiet beaches, boutique hotels, and unique cultural experiences that make island travel unique.