/ Source: The Associated Press
When a third suspect was caught Friday in a bank robbery investigation that led to the fatal shooting of an FBI agent, he had a request for officers: "Just shoot me."
Francisco Herrera-Genao, 22, was tired and cold, half-naked, and caked with mud and twigs after a night in the woods. He was arrested after trying to carjack a woman driving to work, authorities said.
Genao had managed to elude a 300-officer manhunt for almost a day after gunfire erupted outside a bank that authorities suspected was about to be robbed in Readington, in north-central New Jersey.
The shooting began when FBI agents confronted three men. Agent Barry Lee Bush, 52, was killed in the gunfire, and the FBI said he may have been hit by shots from another agent.
Two other suspects were arrested shortly after the shooting. Herrera-Genao was found Friday, a few miles from the bank.
The three men were expected to appear Monday in federal court in Newark.
Wilfredo Berrios, 28, and Michael Cruz, 21, both of New Brunswick, will be charged with attempted armed robbery, federal prosecutors said. Herrera-Genao was expected to face similar charges.
It was not immediately clear if the men had attorneys. Telephone listings for the suspects could not be located.
Attempted carjacking
Authorities said Herrera-Genao was caught Friday after approaching the woman in the car as she prepared to leave home.
"He started hitting on my window, trying to get in my car," Beverly Hardon said in a quivering voice. She sped off — "I went so fast up that driveway," she said. Hardon then drove about a quarter-mile before pulling over to call police.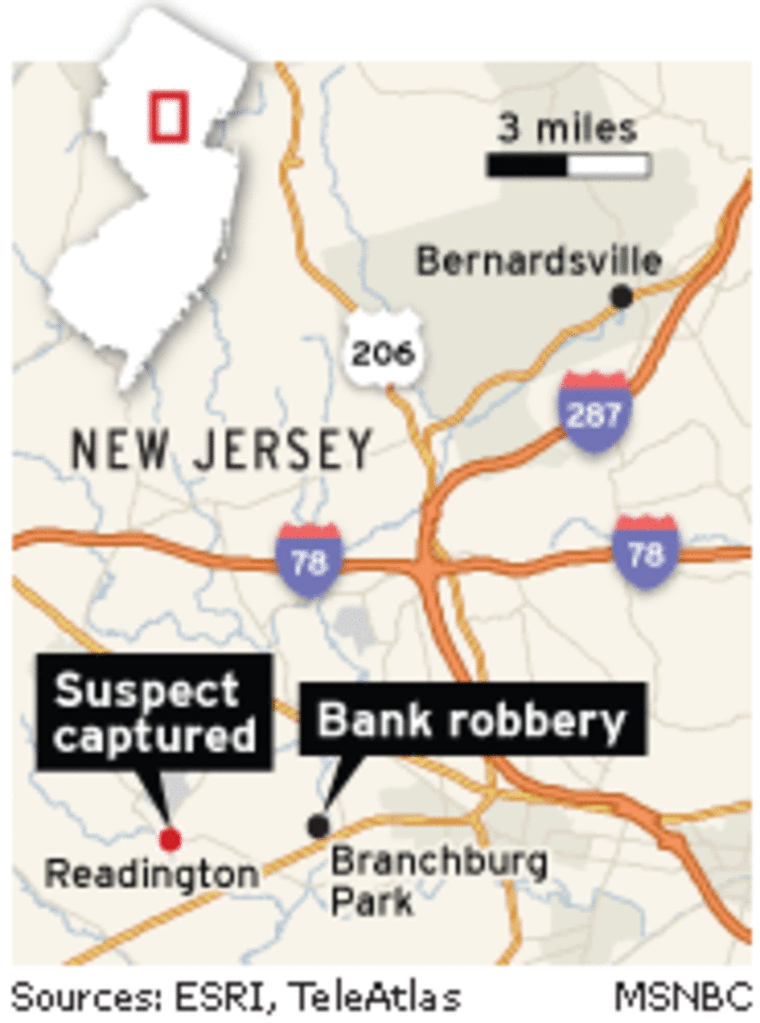 Police dogs quickly flushed him out of the woods, authorities said.
"Just shoot me. Just kill me," a shoeless, shirtless Herrera-Genao told the state trooper who approached him, according to State Police Superintendent Rick Fuentes.
Suspects had been tracked
An FBI task force had been tracking Herrera-Genao and the other two men for weeks following a string of bank heists.
Pedro Ruiz, acting agent in charge of the FBI's Newark office, said the suspects captured Thursday had two assault rifles and a handgun with them but did not fire when Bush and the other agents confronted them outside the PNC Bank branch.
Bush, assigned to the FBI's Newark office, had been searching for suspects in at least four bank robberies. In two of the robberies, the suspects had fired assault weapons while inside the bank, the agency said.
Ruiz said he did not yet know how many shots were fired Thursday and declined to elaborate on what led the agents to open fire. He also declined to discuss the bank robbery investigation.