/ Source: The Associated Press
Drivers may find gasoline a little cheaper this summer compared to last, despite a 64-cent-a-gallon jump since January.
The Energy Department said Tuesday that the recent sharp rise in gasoline costs is likely to slow in the coming weeks with prices averaging $2.81 a gallon over the vacation driving season, about 3 cents lower than last spring and summer.
But the Energy Information Administration forecast is anything but assured.
Only a month ago, the agency said it believed the cost of regular-grade gasoline would peak in June, averaging $2.67 for the month, a price already eclipsed last week.
The latest forecast calls for prices to peak with an average $2.87 a gallon for the month of May, then decline. Last summer's peak was an average of $2.98 for the month of July.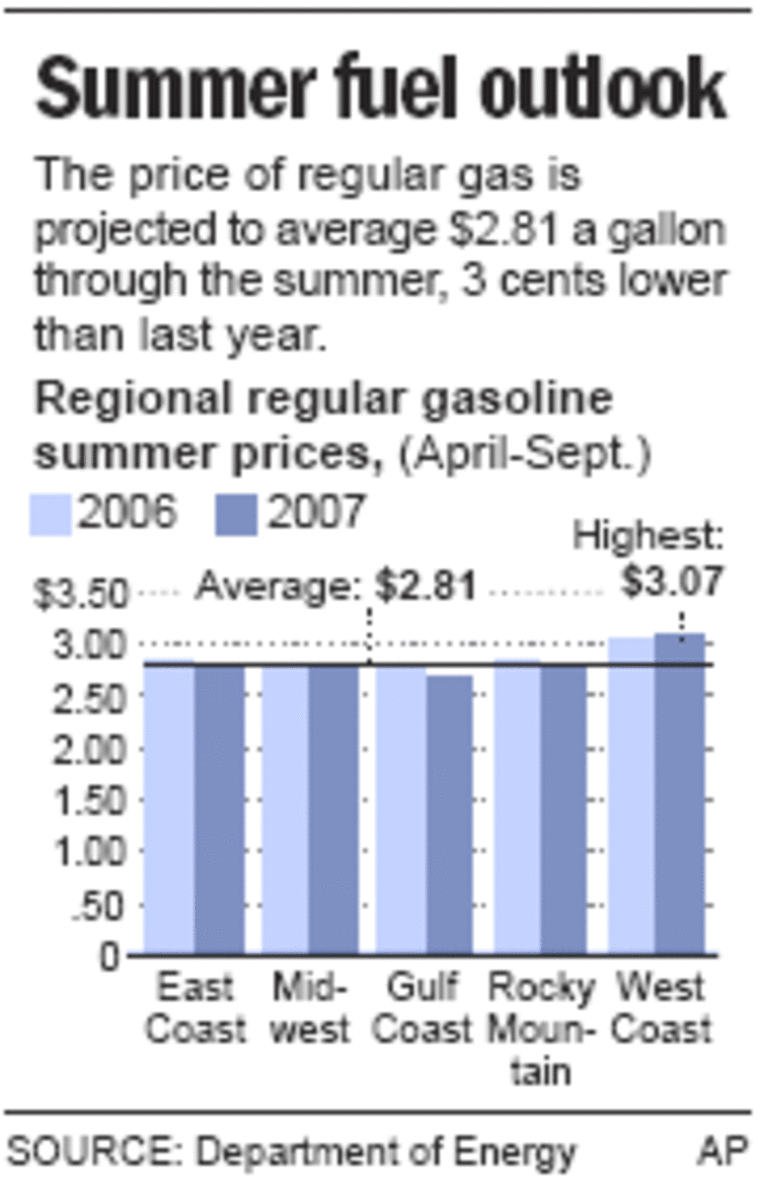 "We think the forecast is about on track," said Geoff Sundstrom, a spokesman for the American Automobile Association. He said based on current market trends he doesn't see another summer of $3 gasoline nationwide.
Prices have soared beyond $3 dollar in each of the last two summers: During Hurricane Katrina in 2005 that disrupted Gulf Coast supplies and last July when the Israeli invasion of Lebanon caused crude prices to spike to $76 dollar a barrel with $3-plus gasoline quick to follow.
The forecast assumes no new international crisis this summer.
Since January, the price of regular grade gasoline has gone from a weekly average of $2.16 a gallon to $2.80 last week. Prices across much of the West Coast have been over $3 a gallon.
Gasoline prices normally increase in advance of the April-to-September heavy driving season, but this time the price climb came shockingly early — in the dead of winter.
The government attributed the unusual early price surge to higher crude oil prices, unplanned refinery outages, declining imports from Europe and an increase in demand.
"Although gasoline prices began their seasonal increase about a month earlier than usual, the rapid rate of price increase is projected to slow over the next few months," said the energy agency.
Despite the higher prices, motorists show no signs that they're staying off the roads.
The forecast said motorists are expected to use nearly 400 million gallons of gasoline from April to September, a 1.2 percent increase over the same months last year.
"Demand for fuel is strong. We've not seen a reduction in fuel use," said Sundstrom. Nor have there been gasoline shortages as imports make up the shortfall in domestic refinery output.
The Triple-A won't make its formal prediction of summer travel until next month. But Sundstrom said it appears that people seem to be adapting to the higher prices.
"One has to ponder if $3 a gallon is the new threshold to pain," said Sundstrom.
That may be the case among many vacationers, according to a survey of 2,518 owners of RVs, travel trailers, boats and motorcycles by Nationwide Mutual Insurance Co.
Nearly seven out of ten of the survey's respondents "say they will not change their vacation plans because of high (fuel) prices," according to the Columbus, Ohio-based insurer.
The government report said it expects crude oil prices to average $65 a barrel over the summer because of "tight oil markets and continued international uncertainty" including tensions involving Iran.
Crude oil for May delivery rose 38 cents Tuesday to settle at $61.89 on the New York Mercantile Exchange after sliding nearly $3 on Monday.
Meanwhile, high gasoline costs — and an anticipation of large profit figures from major oil companies — has already spurred talk in Congress about price gouging.
Legislation sponsored by 86 House members would establish the first federal law against price gouging and impose criminal penalties and fines of up to $150 million for companies and $2 million on individuals.
The American Council for Capital Formation, a business advocacy group, said this week the law would cause gasoline shortages as retailers choose to shut down instead of risking prosecution whenever prices spike sharply.
Rep. Bart Stupak, D-Mich., a principal sponsor of the bill, promised to continue to push for the legislation and said Tuesday he was not surprised at the criticism from an organization that "receives hundreds of thousands of dollars from Big Oil."
The government forecast also:
Said ethanol production is expected to average 399,000 barrels a day this summer, an increase of nearly 28 percent from last summer as more plants opened to produce the gasoline substitute. Congress has required ethanol, made from corn, be blended with the gasoline. Another 80 new plants and plant expansions are in the works.
A colder-than-normal first quarter has set the stage for more natural gas use this year with prices likely to average $7.83 per thousand cubic feet, about 13 percent more than last summer.
Electricity prices are expected to increase 3 percent on average, although price hikes could be substantially greater on some states or regions where there are structural changes expected in electricity markets.