/ Source: a href="http://www.washingtonpost.com/wp-srv/front.htm" linktype="External" resizable="true" status="true" scrollbars="true">The Washington Post</a
The ding-dong from the neo-Gothic church next door signals to Wu Yuqing that it's time to wake up. On her way to the grocery store each day, she walks past the Cob Gate Fish & Chip shop and bronze statues of Winston Churchill, Florence Nightingale and William Shakespeare. Tall men decked out in the red uniforms of the Queens Guard nod hello.
The place looks a lot like a small town on the Thames River, but Wu's new home is actually in a suburb of Shanghai.
As China's modernization continues to pull hundreds of millions of people from farms to cities and suburbs, a construction boom has given rise to a vast landscape of foreign-looking settlements. These real estate developments are the latest manifestation of the technique that has fueled China's economic boom: making copies.
In Nanjing, there are Balinese retreats and Italian villas. In the southeastern city of Hangzhou, there are Venice and Zurich. In downtown Beijing, everything is about Manhattan, with Soho, Central Park and Park Avenue.
"Many people in China today associate the exotic with wealth. They buy into these developments to differentiate themselves from ordinary people," said Tino Wan, a manager of ERA Real Estate in Shanghai.
Shanghai's plan is among the most ambitious, calling for a ring of satellite developments modeled after different parts of Europe, including German, Czech, Spanish and Scandanavian districts, in addition to the one that looks like London, known as Thames Town.
Between now and 2015, about half the world's new construction will take place in China, with as much as 6 billion square feet of space expected to be added each year. All over the country, block-like concrete edifices and empty fields are giving way to flashy architectural developments that promise to give the new middle class a taste of places most of them have never seen.
'Self-colonization'
Some traditionalists, however, have lamented the trend, blaming it for the destruction of older, Chinese-style homes and attacking it as a form of "self-colonization."
Yu Renze, 74, a retired government administrator from Shanghai, said she didn't not understand the appeal of the Western-style developments and that she would not allow her family to live in them even if someone gave her a house. "We're not foreigners," she said.
But Ren Bing, general manager of Venice Aquatic City in Hangzhou, said these theme complexes should not be disparaged. "Even many Americans in America also prefer to buy non-American things," Bing said. "It doesn't mean people are denying traditions their ancestors have passed down."
Indeed, Wu said she has no desire to leave her country even though she likes the comfort and ambience of her new four-bedroom townhouse. "It's like I'm living abroad, but it's still China and everyone still speaks Chinese," said Wu, 45, an investor.
If not for the street signs with Chinese characters in Venice Aquatic City, it would be difficult to place where in the world you were exactly. Gondolas ply canals just below Hu Jun's new apartment. Her view includes porticos with flowers and half-moon bridges. "St. Mark's Plaza" is a five-minute stroll away.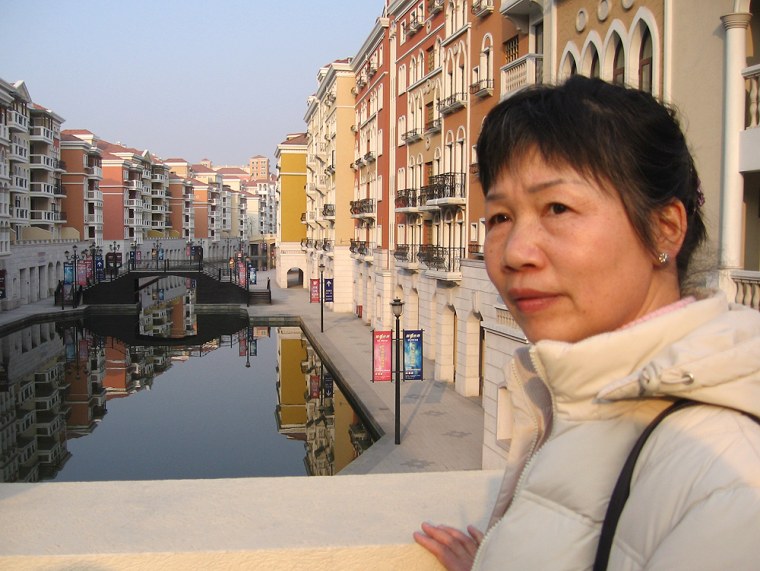 In all, the eight-square-mile Venice Aquatic City will house 4,500 residents in villas, townhouses and high-rises.
Hu Jun, 53, a retired accountant, saw an advertisement in the local paper and immediately ran to the sales office. "It's just like being abroad, like living in Venice," Hu said. "I haven't been to Venice. I really want to go. I have seen it on TV."
She closed on a $50,000 two-bedroom, one-bath apartment within a week.
Six of her friends have also purchased apartments in the compound, Hu said. "To buy here is to go to a higher-level class."
'Fairy tale desires'
Bing, the property's general manager, said he and his team hoped to create the flavor of a small European town -- Venice was the main model of course, but he said the community also drew ideas from Dijon, France, and Heidelberg, Germany.
"For regular people, this development fulfills their fairy tale desires," he said.
James Ho, director of Henghe Real Estate, which developed the downtown area of Thames Town, also talks about efforts to create an escape. Shanghai's Thames Town is not an exact replica of anything in Britain but features a mishmash of hundreds of years of architecture, from Gothic to Tudor.
"At the beginning we were afraid to build such a classic project," Ho said. "So we paid a lot of attention to detail."
Some buildings were built and razed and then built again because they did not look authentic enough. Workers took three trips to Britain to learn different roof tiling, stone molding and other techniques. In the end, they were so skilled at old techniques, Ho said, that the team was asked to help work on a new Thames Town-like development -- in Britain.
Despite developers' efforts to recreate another time and place, the complexes are dotted with weird incongruities.
Take the names, for instance.
In the Venice Aquatic City complex is the luxurious First World Hotel. Among the most exclusive properties on the outskirts of Shanghai is Rancho Santa Fe, which is filled with Southern California Mission-style villas.
It might sound pretty fancy to Chinese ears, but many Americans will recognize the name as the location of the Heaven's Gate mass suicide in 1997, during which 39 men and women killed themselves based on the belief that they would be able to ascend to a higher plane of existence by joining a spacecraft trailing behind the Hale-Bopp comet.
Then there's the marketing.
Imitation; a form of flattery
At the GoyaArt Spanish-style complex in Xiaoshan, billboards feature a Chinese twist on Thomas Jefferson's famous words: "All Men Are Created Equal, They Have Unalienable Rights. In GoyaArt Every Household 100% Can View the QianTang River."
The model apartments are hip -- with silver appliances and modular furniture. They are decorated with porcelain jars labeled "Rainy Day Fund," "Party Fund" . . . and another one for a homeowner saving up for breast implants. Thames Town has found itself embroiled in controversy. Shop owners in Britain contend the development has stolen names and details from their establishments. The owner of the Rock Point Inn and the Cobb Gate Fish Bar in Lyme Regis has complained that the Rock Point Inn and Cob Gate Fish & Chip shop in Shanghai look like someone cloned her businesses.
John Lu, a real estate agent with ERA, repeated the adage that imitation should be considered flattery. Even so, he said, most of his customers neither recognize nor care whether the details are perfect.
"Ninety-nine of 100 Chinese will tell you they don't know Italian from Spanish from French," Lu said. "They just know it costs a lot and it's different -- so it's good."
Researcher Ai Ghee Ong contributed to this report.