Amid continued signs of deterioration in the nation's mortgage market, a Congressional panel Wednesday forecast a sharp rise in housing foreclosures, and several Democratic lawmakers called for a federal bailout for borrowers who are at risk of losing their homes
As msnbc.com reported Monday, state and federal regulators are now looking into a pattern of questionable lending practices and outright fraud that has already sparked a wave of criminal and civil actions against various players in the $10 trillion market for residential mortgages.
As hundreds of billions of dollars worth of loans sold to so-called "subprime" borrowers — historically those with shaky credit histories — are now "resetting" to higher monthly payments, many of these borrowers are facing default. And as lenders foreclose on these loans, homes are re-sold quickly, creating further downward pressure on housing prices. Median home prices this year are expected to post their first year-over-year decline in decade, a real estate trade group said Wednesday.
On Wednesday, the Joint Economic Committee of Congress provided a detailed report on the impact of those foreclosures on local communities — some of which are getting hit harder than others, according to the report.
Areas expected to be hardest hit include Atlanta, Indianapolis, Denver, Dallas and Detroit. In the latter city, one of every 21 mortgages foreclosed last year, according to the report, which used statistics from RealtyTrac's foreclosure database.
At a press conference held to present the findings, Sen. Charles Schumer (D-N.Y.) said the U.S. government should offer hundreds of millions of dollars to help troubled borrowers avoid losing their homes.
"The federal government can send in an infusion of (money) to prevent foreclosure," said Schumer.
Schumer was joined by Democratic senators Sen. Robert Menendez (D-N.J.) and Sen. Sherrod Brown (D-Ohio).
"All three of us are on the banking committee ... We will be proposing significant amounts of dollars to go here and do this. Could not tell you how much, but in the hundreds of millions of dollars for sure. Maybe more than that," Schumer said.
There are already signs that the turmoil in the mortgage market is spreading to lenders who deal with borrowers with better credit than subprime credit, the so-called "Alt-A" market. One Alt-A lender, American Home Mortgage Investment Corp. of Melville, N.Y., announced late last week that it was having trouble selling its mortgages into the secondary market and would have to cut its earnings forecast for the quarter and the year.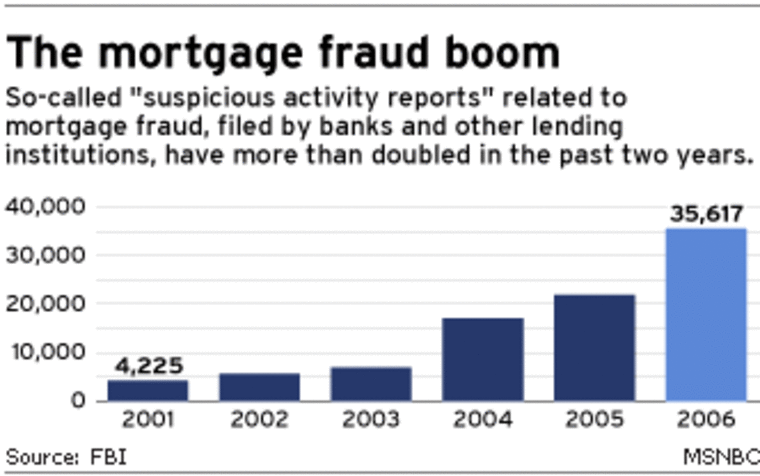 As the trouble spreads beyond the subprime market, and lenders come under further financial pressures, a tightening of credit and a drop in the availability of loans for new buyers could further depress the housing market.
Last year, more than 1.2 million foreclosure filings nationwide were recorded by RealtyTrac, a Web site that compiles default notices, auction sales and bank repossessions. That's up 42 percent from 2005. Based on filings for the first two months of 2007, RealtyTrac's CEO James J. Saccacio forecast a 33 percent rise in foreclosures this year.
These statistics represent the end of a process that is costing many borrowers their homes. A rise in delinquency rates — the number of borrowers who are falling behind in their payments — is a harbinger of more foreclosures to come. From a low in 2005, the mortgage delinquency rate has been climbing steadily and is expected to continue to rise through 2007, according to CreditForecast.com, a joint venture of moodys.com and credit agency Equifax.
Amid the troubling news, the National Association of Realtors on Wednesday said it expects the national median price for existing homes to drop 0.7 percent this year. It would be the first decline since the trade group began keeping records in the late 1960s.
The group also lowered its 2007 sales forecast for new and existing homes. Tighter lending standards and the continued fallout from the subprime mortgage market are to blame, NAR spokesman Walter Molony said in an interview.
The Congressional report Wednesday estimates the cost of each foreclosure — to homeowners, loan servicers, lenders, and local governments — at up to $80,000. The report said that, by spending money now, the federal government can prevent wider economic impact form an increase in foreclosures. 
"We have to move quickly because the trend line goes way up in terms of the number of foreclosures," said Schumer.
Schumer, who said he planned to introduce legislation soon, declined to detail a specific proposal. But he said the federal government should provide support to national and state programs that are set up to help borrowers restructure troubled loans.
As Congress looks at ways to ease the impact of the rising foreclosure rate, state and federal regulators and prosecutors are looking to unravel the causes of the subprime mortgage collapse. Many borrowers simply got in over their heads. But as msnbc.com reported Monday, a relatively small group of bad actors in the mortgage lending business has unleashed a wave of fraud and predatory lending over the past several years, crushing the finances of victims of schemes and abusive practices that have cost them their homes.
It's not clear just how widely such lending abuses spread during the height of the housing boom. Because mortgage brokers are regulated state by state, there are no federal statistics on fraud and abusive practice in the mortgage industry. But the number of so-called suspicious activity reports related to mortgage fraud, filed by banks and other lending institutions, more than doubled between 2004 and 2006, according to the FBI, which investigates a variety of financial crimes.