/ Source: The Associated Press
India successfully test fired a new missile capable of carrying nuclear warheads across much of Asia and the Middle East, a defense ministry spokesman said Thursday.
"The entire test had text book precision," ministry spokesman Sitanshu Kar said. A test firing of the Agni III missile last July failed when it plunged into the Bay of Bengal short of its target.
India's current crop of missiles are mostly intended for confronting neighboring archrival Pakistan. The Agni III, in contrast, is India's longest-range missile, designed to reach 1,900 miles — putting China's major cities well into range, as well as targets deep in the Middle East.
India's Defense Minister A. K. Anthony congratulated defense scientists on the successful launch of the missile, a ministry press statement said.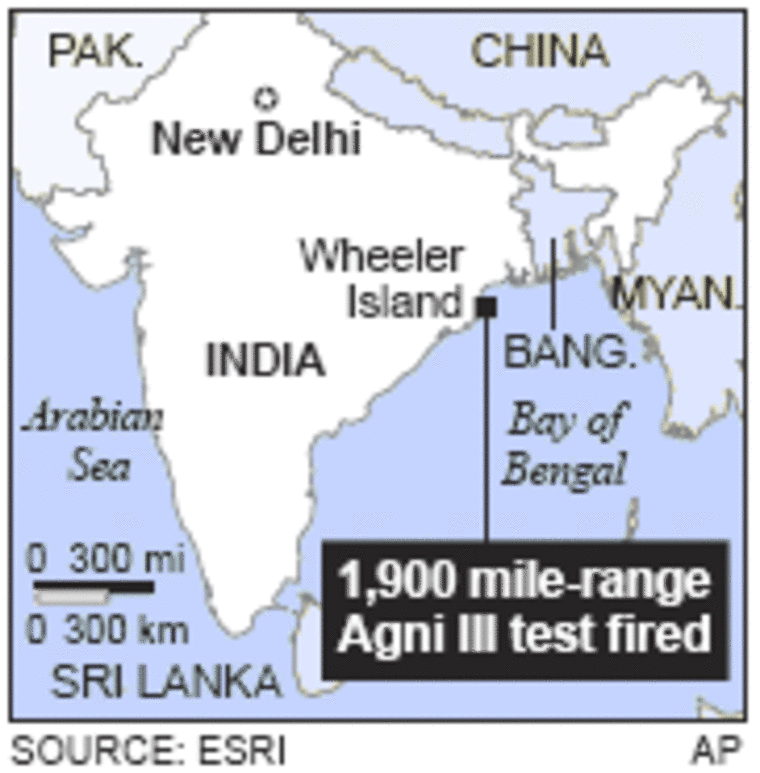 "India has matured in the missile technology area and was definitely at par with many other developed countries," the release added.
The missile was launched from Wheeler Island off the eastern state of Orissa and is also said to be capable of carrying up to a 300-kiloton nuclear warhead.
Pakistan notified
India's missile program, together with its nuclear program and drive for a permanent seat on the United Nations Security Council, is part of its ongoing efforts to establish itself as a world power.
India's homegrown missile arsenal already includes the short-range Prithvi ballistic missile, the medium-range Akash, the anti-tank Nag and the supersonic Brahmos missile, developed jointly with Russia.
Pakistan had been notified about the missile test, Kar said.
India and Pakistan usually notify each other ahead of such missile launches, in keeping with an agreement between the two nations. India and Pakistan have fought three wars since they gained independence from Britain in 1947.