/ Source: The Associated Press
Despite being denied a permit by police to buy a handgun last month, Anthony LaCalamita III had no trouble buying a shotgun a few weeks later.
Police say the accountant bought the 12-gauge shotgun Friday — the day after he was fired — and used it Monday to shoot three people at his former office in a Detroit suburb, killing a secretary and wounding two executives.
LaCalamita, 38, was able to buy the shotgun because Michigan, like all but four states, doesn't require a permit to buy a shotgun or rifle. The state is one of only 12 states that require background checks for handgun buyers, but those buying shotguns or rifles need only pass an FBI criminal background check.
The discrepency is a legal loophole that needs to be closed, say gun control advocates like Paul Helmke, president of the Brady Campaign to Prevent Gun Violence.
"The bottom line is, we make it awfully easy in this country to get weapons," Helmke said.
Only 15 states do their own background checks on long gun buyers, while 26 do their own checks on people buying handguns, according to the Brady Campaign.
Helmke said more states should do background checks because they have better access to criminal databases than federal authorities do and state checks are often more thorough.
No mental health check
Despite what his estranged wife's attorney said is a history of depression and mental health problems, there was apparently nothing in LaCalamita's FBI background check that prevented him from buying the shotgun. It's left up to applicants to admit on their FBI background check form if they have psychological problems.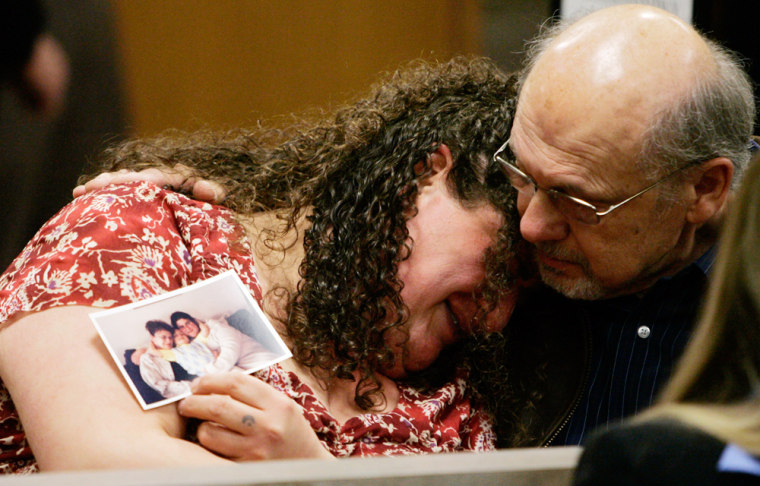 When LaCalamita requested a handgun permit last month from the Troy Police Department, the check was much more extensive.
Department spokesman Lt. Gerry Scherlinck said he couldn't comment on why the department chief turned down LaCalamita's request for a handgun permit. But he said the department looks at records that go beyond arrests or convictions.
"Theoretically, you could have a clear criminal history but still have contacts with law enforcement that would not rise to the level of an arrest or conviction," Scherlinck said. A police chief "can use those contacts to deny a permit whether or not those involved arrests that might show up on a criminal history."
LaCalamita was arraigned Wednesday on one count of first-degree murder, two counts of intent to commit murder, three counts of possessing a firearm in the commission of a felony, and one count of fleeing and eluding police. A not guilty plea was entered for LaCalamita by the judge.
Police say LaCalamita walked into his former office as employees were scrambling to beat the approaching federal tax deadline and opened fire with the shotgun.