/ Source: The Associated Press
Wholesale prices shot up by 1 percent in March, mostly reflecting more expensive gasoline and food.
The sizable increase in the Producer Price Index, which measures the costs of goods before they reach stores shelves, came after a 1.3 percent spike in February, the Labor Department reported Friday.
When volatile energy and food prices are removed, however, all other prices were flat in March, suggesting that inflation is not spreading throughout a wider range of goods in the economy. That marked an improvement from February, when these so-called "core" prices rose by a sharp 0.4 percent.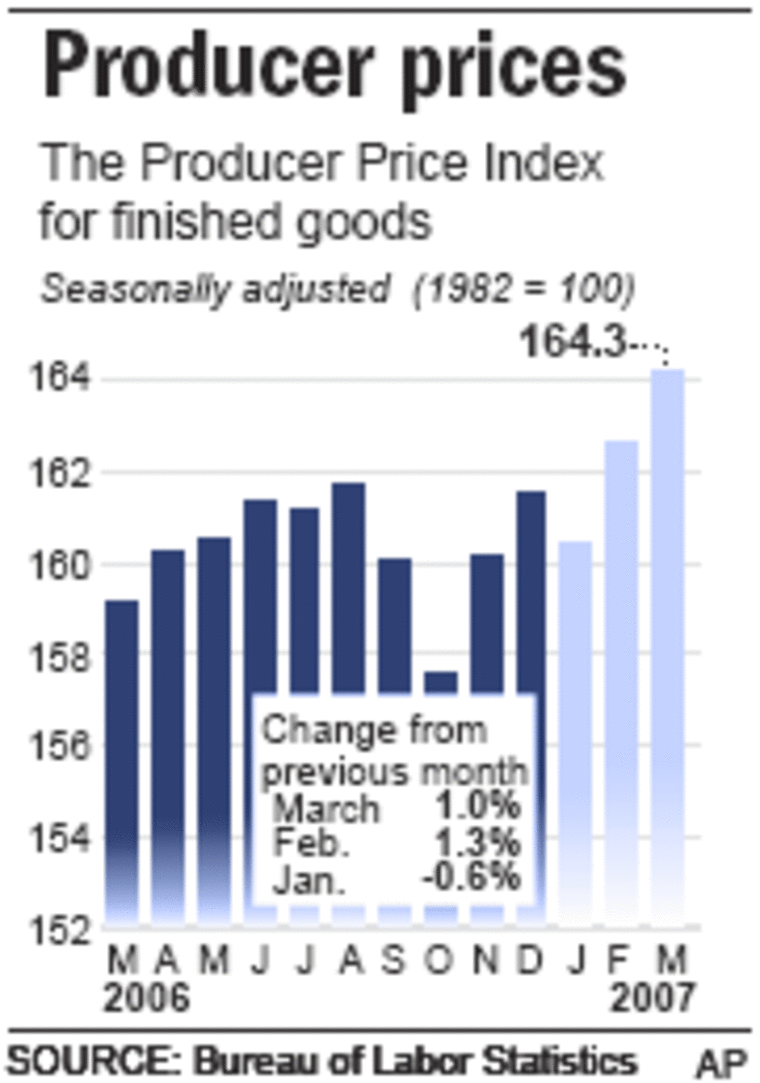 The pickup in overall wholesale inflation was worse than the 0.7 percent increase economists were expecting. On the other hand, the flat reading on core prices was better. Analysts were forecasting a 0.2 percent rise there.
From the Federal Reserve's perspective, the biggest risk facing the economy right now is that inflation doesn't recede as policymakers expect. The Fed cares so much about inflation because when it starts spiraling it can be hard — and painful — to control. Inflation eats away at workers' paychecks and people's investments and can put a squeeze on companies' profits.
The Fed hasn't budged a key interest rate since August. Before that it had steadily boosted rates for two years to fend off inflation. The Fed hasn't ruled out another rate increase if inflation were to show signs of worsening.
Although the Fed watches a variety of inflation barometers, it is especially interested in the behavior of "core" prices — those that exclude energy and food, which tend to swing widely from month to month. The good behavior of core prices in March suggested that inflation is not in danger of spreading throughout the economy. It also suggested that companies are acting with restraint in passing along their higher fuel costs in the prices they charge wholesalers.
The report showed that all energy prices rose by 3.6 percent in March, the most since November. Gasoline prices jumped by 8.7 percent, also the highest since November. Residential natural gas prices increased 3.3 percent. Diesel fuel prices shot up 8.8 percent.
Food prices in March rose by 1.4 percent, following a sharp 1.9 percent increase the month before. Last month's gain reflected rising prices for vegetables, beef and veal, dairy products and processed young chickens, among other things.
In other categories, computer prices sank by 2.6 percent last month. Light truck prices dipped 1.2 percent. Car prices increased 0.2 percent.