While the cell phone industry awaits the release of Apple's iPhone, Samsung has come up with an ingenious design for an all-in-one, wireless device. And although being called two-faced is not usually complementary, in this case, it's an apt description for the company's new handset.
Samsung's UpStage, marketed by Sprint, features a cell phone display and dial pad on one side; on the other, there's a larger screen with controls for the built-in MP3 music player.
Everything about the UpStage is cool. The device itself is small and sleek — 1.73 by 4.07 by 0.37 inches and only 2.57 ounces. The phone side has a 1.4-inch TFT display and the music player has a 2.1-inch TFT display. It operates on the Sprint CDMA and high-speed EVDO networks.
The handset's Lithium ion battery is good for up to 2.5 hours but that's not even half the story. The UpStage comes with a good looking faux-leather carrying case with a large, built-in second battery inside. The phone and the case combine for a whopping 6.3 hours of talk time. 
The number of features included is somewhat staggering: advanced stereo Bluetooth, a 1.3-MP camera with 5x zoom, SMS voice and text messaging, PictBridge (to print images on a compatible printer), enhanced voice recognition, speech dictation and voice memo capabilities.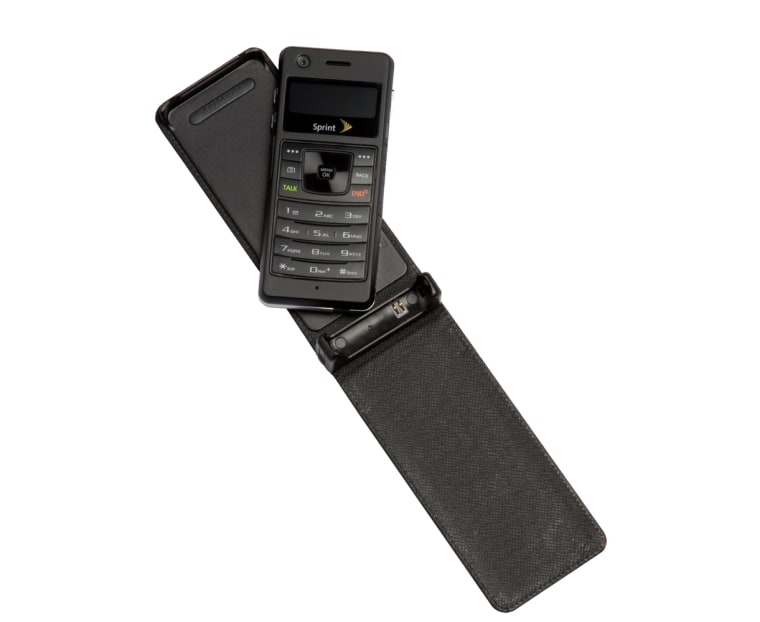 Then, there are the built-in entertainment and music features. The MP3 music player is linked to the internal microSD card slot (64MB card provided). You can plug in a pair of stereo earphones (3.5mm jack) via the enclosed adapter. You've got the ability to buy/download music files from the Sprint Music Store, watch Sprint TV and On Demand content (which includes news, sports, weather and entertainment) and stream music with access to Sirius, VH1, MTV and Sprint Internet radio stations.
Actually using the double-sided handset is an interesting experience. Making and receiving phone calls is pretty straightforward. Changing from the phone to the music player (or vice versa) is accomplished by pressing a small FLIP button on the side panel. Turning one side on turns off the display on the other side.
The phone side works, well, like a 21st Century cell phone should. People heard me when I called. I heard them too. I appreciate phones that work when you need them. For the record, not all do.
The UpStage's high-speed data capabilities are terrific. It's nice to see Web pages load wirelessly and very quickly on a cell phone.  Phonebook and calendar functions are on the basic side (more like a cell phone than a smartphone).
While the phone has real phone-dialing buttons and controls, the music player side has a touch-sensitive pad to handle all the features. I found these music player touch buttons are somewhat vague and difficult to control. They are especially annoying because you need to use them to control all of the phone's internal settings. I personally prefer real buttons to virtual controls.
You control the music for the phone via Sprint's Music Manager Software (for Windows PCs, CD included). The newly released Windows Vista refused to install on my computer (the Web installer failed in numerous tries) but the Windows XP version installed perfectly on my XP laptop.
You can download songs via the Music Manager software or directly onto the phone. Songs cost 99 cents (plus tax) for both a phone (very compressed file) and PC (less compressed MP3) download of the music file. By the way, that's 99 cents for subscribers with the Sprint Power Vision data plan. Sprint Music Store users are not subscribed to a Power Vision plan will pay $2.50 per full-track download (and data transfer fees may also apply.)  

Tiny phone file downloads sound OK on the phone's tiny speaker. The larger downloaded files sound OK on my computer. I also transferred a few large MP3 files from CDs I have burned. They sound even better than the downloaded songs. The only annoying fault I could find with handset's music playback is that there is an unexpectedly long pause (5-6 seconds) between songs.
On the other hand, the Music Manager software automatically found all the ripped music files on my computer and easily allowed me to synchronize those songs to the phone.  And I have to admit that it was fun to listen to the music — even using the phone's built-in mini-speaker. The UpStage turned out to be a neat little package for carrying everywhere you go.
The big question, though, is how the UpStart will compare to the iPhone. That's difficult to determine until the final version of the Apple phone is released. I will say that the Samsung is very competitive. I like its size, shape and functionality.
Plus, despite what I said about the Samsung's music player controls, the UpStage has physical buttons rather than iPhone's software-only system. We'll have to wait and see what it's like having to constantly put your fingers on a phone's screen to control all of its functions. 
Then again, I'm guessing that Apple will come up with a clever way of overcoming any and all obstacles to combine a iPod and a smart phone. We'll see soon enough.
The Samsung UpStage is sold by Sprint for $149 with a two-year service agreement. A $50 service credit will be available with new activations when you purchase the phone on Sprint's Website.