/ Source: The Associated Press
A few weeks after Chrysler Group's German parent put the company up for sale on Feb. 14, dealers reported to Chrysler executives that customers were wondering if their cars would still be covered by warranties.
Chrysler's sales plummeted 8.3 percent in February from the same month in 2006, and the company's top sales executive attributed much of the decline to consumer uncertainty about Chrysler's future.
"After the announcement on the 14th, there was definitely an impact on sales," Steven Landry, Chrysler's vice president for sales and field operations, said in an interview with The Associated Press.
Several industry analysts say continued publicity about DaimlerChrysler AG possibly selling off Chrysler undoubtedly will hurt the company in showrooms, especially in the Midwest where Chrysler has more facilities and gets more news coverage as the bidding process continues. Many wonder if Chrysler can recover as long as its future ownership is unknown.
"An automobile is a big-ticket purchase," said Joe Barker, senior manager of global sales analysis for CSM Worldwide, an automotive forecasting firm in Northville. "Some consumers may be wary about investing in a brand that has an uncertain future."
Chrysler started the year with a decent January, when sales rose 1 percent from the same month a year ago, even though overall U.S. auto sales were down more than 4 percent.
Then came the announcement that DaimlerChrysler was considering all options for its troubled U.S. unit. Also on Feb. 14, Chrysler announced a restructuring plan that will shed 13,000 jobs.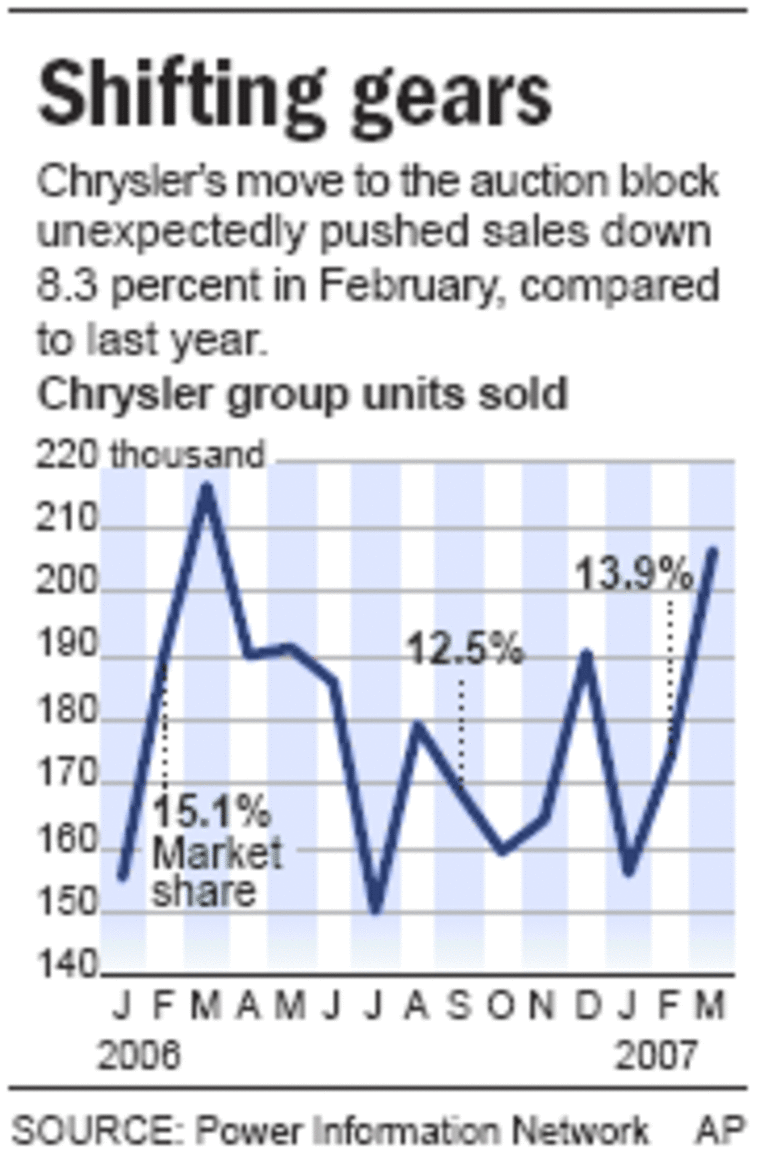 General Motors Corp. was reportedly interested in making a bid for Chrysler, but recently the focus has been on Canadian auto parts supplier Magna International Inc. and two private equity groups, Cerberus Capital Management LP and a consortium of investors led by Blackstone Group.
Magna chief Frank Stronach told Canada's Globe and Mail newspaper earlier this week the company is in talks with the Canada's Onex Corp. conglomerate about teaming up on a bid.
Billionaire investor Kirk Kerkorian, who tried to take control of Chrysler in the 1990s, has made a $4.5 billion bid. DaimlerChrysler, however, reportedly is meeting with the private equity firms but has not set up a similar meeting with Kerkorian's Tracinda Corp.
Although Daimler-Benz AG paid $36 billion for Chrysler in 1998, industry analysts have placed its value at anywhere from nothing to $13.7 billion.
While the financial studies continue, Landry says March sales are a sign that Chrysler has weathered the initial shock of the sale announcement. Its vehicle sales were down 4.6 percent for the month, but he said Chrysler beat internal goals by 1 percent — even though March 2006 was the top sales month of the year and the best March in four years.
Chrysler's sales were down around 4 percent for the first quarter compared to the year-ago period, but Landry expects improvement in April and May.
"The initial hurdle, maybe, is covered," he said.
March sales were buoyed by some of the company's new models and promotions that boosted truck and minivan sales, he said.
The month was good enough to stop the questions about whether the company would honor its warranties, he said. In a conference call with dealers in early April, the issue never came up, Landry said, adding that the company intends to be around for many years and warranties will remain intact.
When the possible sale was announced, Tom Wilson figured it would keep people away from the showroom at Keffer Chrysler-Jeep in Charlotte, N.C., even though he's far from Chrysler's Auburn Hills headquarters.
But Wilson, the dealership's general manager, said he hasn't heard any talk about the bidding for Chrysler from customers. Even though his sales are off a little from last year, Wilson blames it more on great rebates in 2006 compared with incentives of 2007.
"It's really kind of a nonissue," Wilson said of the sale talk. "I just can't really worry about it. There's nothing we can do about it from our end. We've just got to take what we've got and deal with it."
Barker and other analysts say that with four new models this year that didn't exist early in 2006, Chrysler should see its sales rise. New this year are the Jeep Compass small crossover vehicle and the Chrysler Aspen, Dodge Nitro and Jeep Patriot sport utility vehicles.
"Normally with four incremental products, even with just average performance out of existing vehicles, typically you'll see a year-over-year increase, but that's not the case at Chrysler Group," he said.
Tom Libby, J.D. Power and Associates' senior director of industry analysis, said that while none of Chrysler Group's new products are all-stars, some, like the Nitro and new four-door Jeep Wrangler are performing well, and the company could rebound once the sale talk ends.
"There's no question they have to get this whole issue with the ownership taken care of as soon as possible," he said. "They need to get this over with so they can refocus on the basics of the business."