/ Source: The Associated Press
One of the most ambitious plans in the U.S. to protect marine life was approved Friday when a state panel voted to ban or restrict fishing across more than 200 square miles of water off Central California.
The Fish and Game Commission unanimously designated 29 marine preserves between Santa Barbara and Half Moon Bay, 13 of which would be off-limits to all fishing, commercial and recreational. Deep water fishing would be prohibited in the rest.
The plan is the first piece envisioned in a statewide network of similarly protected areas. Commissioners and environmental groups praised its passage at a meeting in Bodega Bay as a landmark for ocean conservation.
"This is big. This is a watershed transformation of how states restore and protect the oceans for future generations," said Ocean Conservancy vice president Warner Chabot. "No other state is close to this."
Representatives from the fishing industry and sport fishing fans said the regulations went too far, encompassing areas where fish species are not at risk and posing severe economic hardships for coastal communities.
"There is no question there is a pretty significant economic consequence to what the state is doing," said Steve Scheiblauer, harbormaster for the city of Monterey.
Scheiblauer predicted that 30 of the 100 commercial fishing boats that operate out of Monterey harbor would leave in search of more promising waters, meaning less of the fresh local fish that draws tourists.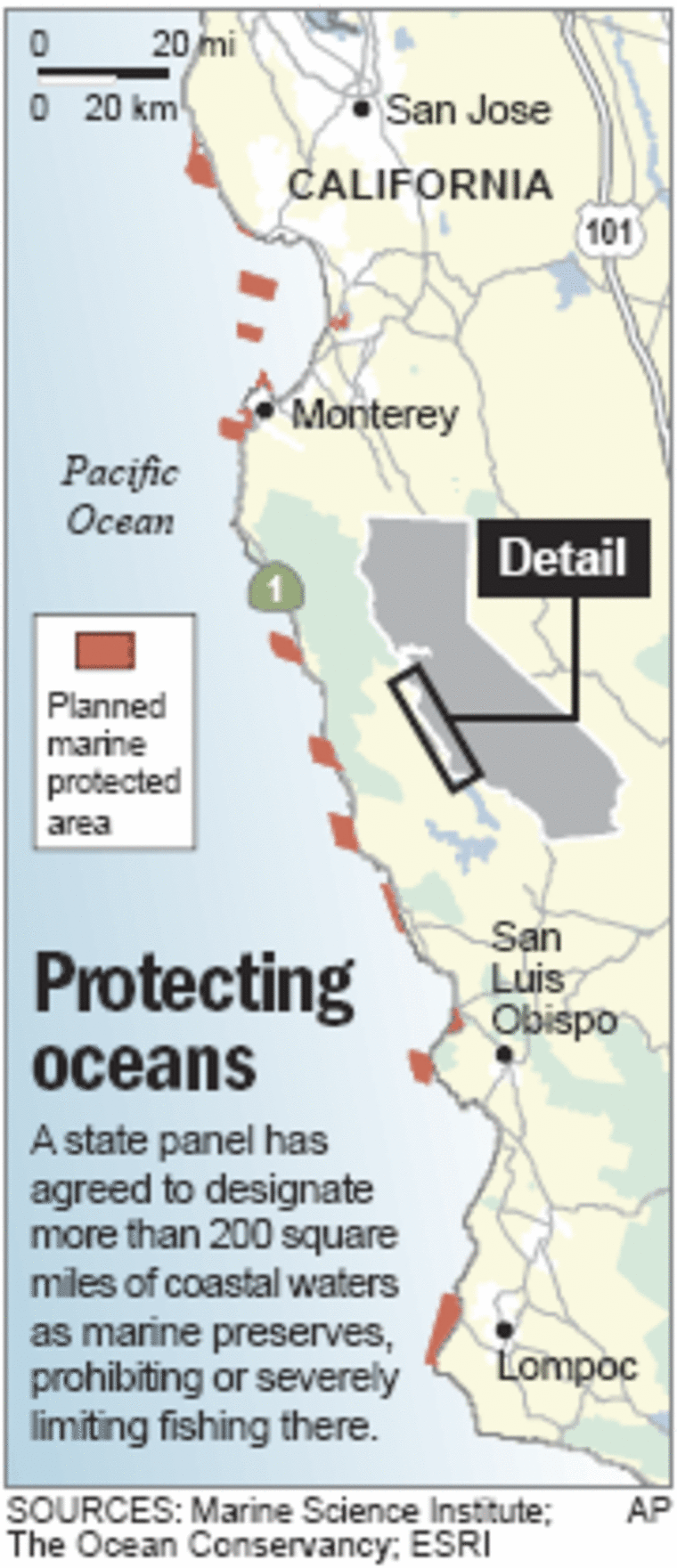 The regulations, expected to go into effect this summer, were designed to maintain the diversity of a marine population that includes mammals such as otters and whales, crustaceans like crabs and abalone, and migrating Coho salmon and steelhead trout.
While California already has 80 coastal reserves, including a dozen in territory covered by the new rules, the new designations offer greater protection, said John Ugoretz, an environmental program manager with the Department of Fish and Game.
"The existing 80 areas, while providing appearance of protection, are all very small and all basically allow all types of fishing to occur," Ugoretz said.
By contrast, only trolling for fish near the ocean's surface will be allowed in the conservation areas where fishing still will be allowed when the plan goes into effect, he said.
The Fish and Game Commission initially approved the regulations in August, but continued to take testimony from fishermen and environmentalists until minutes before voting.
The only change commissioners made since August was deciding that kelp harvesting could continue until leases expire.
The California Department of Fish and Game already has identified waters between Half Moon Bay and Point Arena in Mendocino County as the next part of the state where protected marine areas will be proposed.