/ Source: msnbc.com contributor
The backpacker motto of 'leave no trace' has moved beyond the mountain slope and into your clothes.
Outdoor companies, taking to heart their customers' love for the environment, are increasingly churning out more green gear designed to use organic and recycled materials, less packaging and more energy-efficient manufacturing. Credit consumer — and corporate — concerns over global warming and the impact of production on the Earth and worker health.
"Consumers are demanding it," said Megan Davis, spokeswoman for the Outdoor Industry Association in Boulder, Colo. "Green is certainly hip but consumers are starting to look a little bit more carefully at what they're buying."
Eco-clothing is a hot topic in fashion circles as well as the outdoor industry. Rock star Bono started a new eco-friendly clothing line with his wife, Ali Hewson, and designer Rogan Gregory, and sustainability was a big theme of the recent London Fashion Week. But while the fashion industry is just beginning to raise its environmental consciousness, green clothing already has made major inroads in the outdoor category.
Patagonia pioneered the greening of outdoor apparel when it introduced fleece clothing made  of recycled soda bottles a decade ago. Today, Timberland, the $1.6 billion outdoor company, has come out with the equivalent of nutritional labels for its shoes that tell what's inside — from recycled rubber to energy used in production.

"There's a growing competitive advantage for companies that take on environmental issues in a very real way and talking to consumers about it," said Betsy Blaisdell, Timberland's manager of environmental stewardship.

Two types of Timberland hiking sneakers now bear the nutritional label, and by 2009, the label will be added to all 1,400 Timberland shoe styles, said Blaisdell. Timberland is now working with other brands to create a similar industry-wide label.

That's welcome news to some consumers, including Poppy Nguyen, 26, an Oakland, Calif., real estate agent. She carefully considers the environmental and social impacts of her purchases when shopping her clothes and shoes.

"Everything should have some sort of label that tells what is in it," said Nguyen. "We should know where things come from. I'm totally into voting with my dollars."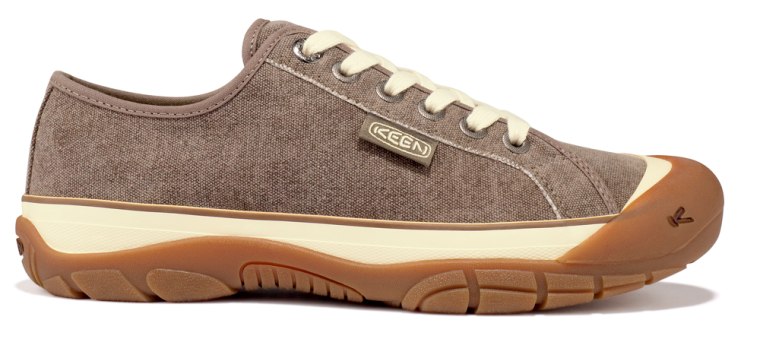 Companies recognize that mindset among consumers, and they are quickly churning out new product lines. This spring, Keen, the Portland, Ore., shoemaker, introduced the Ventura, a $60 sneaker that uses recycled aluminum eyelets, non-synthetic and biodegradable rubber and natural water-based glues instead of traditional adhesives deemed more toxic. The company will next roll out a hemp version of its Newport sandal and a "Hybrid.Transport" line of bags and backpacks that use aluminum buckles made from flattened factory shoe molds and zipper pulltabs made from leftover sandal trimmings.
In outdoor apparel, organic cotton and fast-growing plants like bamboo, hemp and soy are emerging as popular alternatives to traditional cotton fiber. The reasoning: one cotton t-shirt made from traditional cotton requires one-third of a pound of chemicals, which can seep into the ground and have been linked to cancer, according to the nonprofit trade group Organic Exchange. Sales of organic cotton are projected to hit $2.8 billion next year, up from $583 million today, due in part to widespread adoption by brands like Nike and Patagonia, according to the group.


Seattle apparel company Kavu introduced a new line of bamboo, soy and hemp shirts, pullovers and pants priced between $30 and $60 each. Half of Kavu's clothes are now made of these alternative materials. Bamboo clothing feels much like linen but also has natural antibacterial and antimicrobial qualities that prevent odor.
Sustainable materials get even more esoteric from there. Try GoLite-brand backpacking shirts made from coconut shells discarded by restaurants and food manufacturers. The carbon absorbs odor sometimes for days of wearing on the mountain. GoLite, based in Boulder, Colo., sells the shirts for $30.
Consumers can even find socks made of corn in some REI outlets and 75 other retail shops nationwide. The Teko-brand hiking and running socks rely on a renewable resource and offer U.S. farmers one more buyer for their kernels, said Jim Heiden, president of Boulder, Colo.-based Teko.

The corn socks feel as soft as cotton, but they stay drier, he said. Priced at $10.95 to $13.95 a pair, they sell for about 20 percent more than mainstream socks. Even so, Heiden said people are often willing to pay slightly more knowing their purchase is good for the environment. "People love what we're doing," he said. "And they love the socks."