They came to Blacksburg, Va., from all over the country — and all over the world. They came to study, and they came to teach. They had plans. They had friends. They had families.
As the list of confirmed victims in Monday's massacre on the Virginia Tech campus grew, so too did the number of stories about the individuals who fell victim to the gunman, 23-year-old Seung-Hui Cho of Centreville, Va.
There were stories of heroism. Students of Liviu Librescu,an engineering science and mechanics lecturer, say he blocked the door of his classroom with his body to protect those inside. Librescu, 76, was a Holocaust survivor.
Ryan Clark, a popular and gregarious member of the Marching Virginians band, was just weeks away from graduation. A resident adviser on the fourth floor of the West Ambler Johnston dorm, Clark came to the aid of a student the morning of April 16. It cost him his life.
Students told of teachers who inspired them. Neighbors spoke of children they'd seen grow up and leave for college, lives filled with promise.
Kevin Granata was one of the top five biomechanics researchers in the country working on movement dynamics in cerebral palsy. He coached his children in many sports and extracurricular activities.
Reema Samaha, a freshman who performed with the school's Contemporary Dance Ensemble, was shot dead in French class.
Juan Ramon Ortiz, from Puerto Rico, decorated his parents' one-story concrete house each Christmas. A neighbor heard Ortiz's mother scream when she learned of her son's death.
Here are the faces, the names and the stories of some of those killed Monday. Many of the stories about the victims have come from MSNBC.com readers.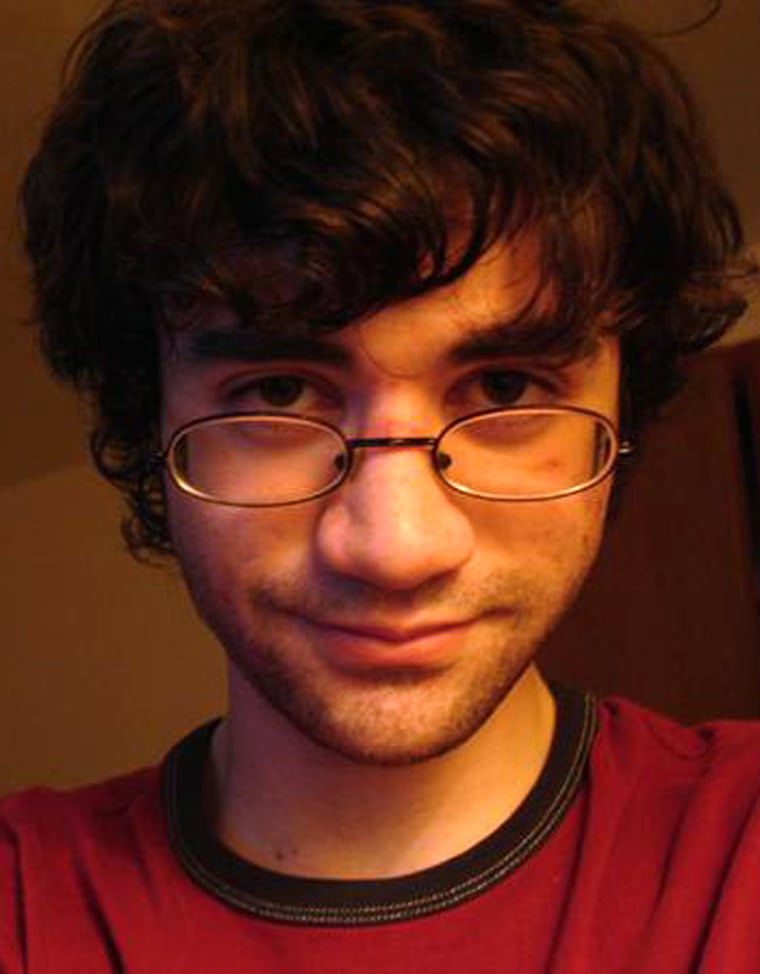 Ross Abdallah Alameddine, 20, of Saugus, Mass. He was a sophomore English major who was gunned down in French class.
Alameddine's mother, Lynnette Alameddine, said Tuesday that she was "trying to get through the day here."
"Horrifying, really horrifying. I'm just trying to keep it together," she said.
Alameddine was a graduate of Austin Preparatory School in Reading, Mass.
Friends created a memorial page on Facebook.com that described Alameddine as "an intelligent, funny, easy going guy."
"You're such an amazing kid, Ross," wrote Zach Allen, who also attended Austin Prep, according to his profile. "You always made me smile, and you always knew the right thing to do or say to cheer anyone up."
Lynnette Alameddine said she was outraged by how the events were handled. "It happened in the morning, and I did not hear (about Ross's death) until a quarter to 11 at night," she said. "That was outrageous. Two kids died, and then they shoot a whole bunch of them, including my son."
---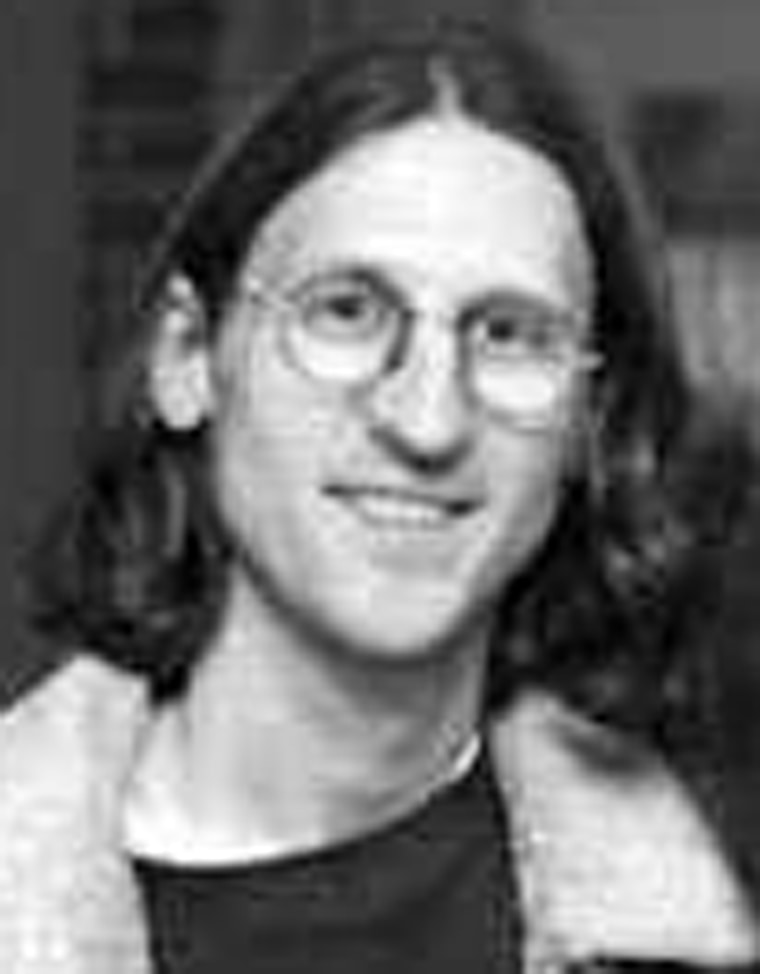 Christopher James Bishop, 35, was an instructor in German and German literature.
Bishop decided which German-language students at Virginia Tech could attend the Darmstadt Technology University to improve their German.
"He would teach them German in Blacksburg, and he would decide which students were able to study" abroad, Darmstadt spokesman Lars Rosumek said.
The German school set up a book of condolences for students, staff and faculty to sign, along with information about the Virginia shootings.
"Of course many persons knew him personally and are deeply, deeply shocked about his death," Rosumek said.
An anonymous poster to MSNBC.com wrote that Bishop would meet students weekly at one of the two German restaurants in town "to practice speaking German and making friends." 
"And every Wednesday possible, rain or shine, he was there," the poster wrote.
Bishop earned bachelor's and master's degrees in German from the University of Georgia and was a Fulbright scholar at Christian-Albrechts University in Kiel, Germany.
According to his Web site, http://www.memory39.com/, Bishop spent four years living in Germany, where he "spent most of his time learning the language, teaching English, drinking large quantities of wheat beer, and wooing a certain fraulein."
The "fraulein" was Bishop's wife, Stephanie Hofer, who also teaches in Virginia Tech's German program.
From 2000 to 2005, Bishop was an academic technology liaison at the University of North Carolina at Chapel Hill, according to WRAL TV.
At Virginia Tech, he also taught classes via the Faculty Development Institute on different computer programs and the use of blogs and other online tools in higher education, WRAL said.
---
Brian Bluhm, 25, was a graduate student in water resources.
Born in Iowa and raised in Detroit,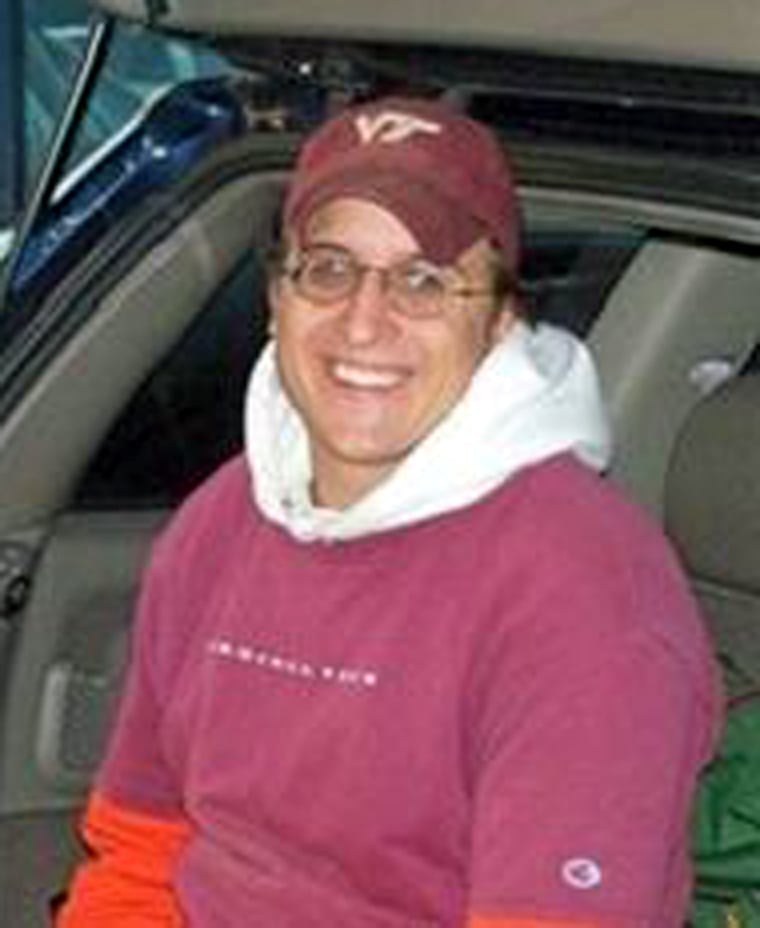 Bluhm was an ardent fan of the Detroit Tigers Major League Baseball team, which announced his death before Tuesday's game against Kansas City.
"He went to a game last weekend and saw them win, and I'm glad he did," said Bluhm's close friend Michael Marshall of Richmond, Va.
He received his undergraduate degree in civil engineering at Virginia Tech and was getting ready to defend his thesis. He already had accepted a job in Baltimore, Marshall said.
Bluhm moved to Louisville, Ky., before heading to Virginia. His parents moved to Winchester while he was in school, so Blacksburg became his real home, Marshall said.
Bluhm also loved Virginia Tech's Hokies football team, and a close group of friends often traveled to away games.
But Marshall said it was his faith and work with the Baptist Collegiate Ministries that his friend loved most. "Brian was a Christian, and first and foremost that's what he would want to be remembered as," he said.
---
Ryan Clark, 22, from Martinez, Ga., a biology, English and psychology major. He was a resident adviser on the fourth floor of the dorm where the rampage began.
Just a month from graduation, he was a member of the Marching Virginians Band and intended to pursue a Ph.D. in psychology. Called "Stack" by his friends, Clark carried a 4.0 grade-point average, said Vernon Collins, coroner in Columbia County, Ga.
"He was just one of the greatest people you could possibly know," Gregory Walton, a friend who graduated last year, said as he fought tears. "He was always smiling, always laughing. I don't think I ever saw him mad in the five years I knew him."
Arielle Perlmutter posted on MSNBC.com that she had been friends with Ryan for a decade. "Ryan and I worked at Camp Big Heart, a camp for children and adults with special needs for part of every summer since I was in high school," she posted. "Ryan was one of the most amazing, loving and caring young men I have ever met. He went into every day of camp, trying as it could be, with a smile and a open mind. I rarely, in the years I knew Ryan, saw him frown.
"Ryan directed the music/dance program at camp and brought cheer to all the campers around him. He was constantly smiling and dancing, signing and cheering. The campers would gather around Ryan and hug him. We have a picture of a year that Ryan was at camp on his birthday. All of the campers were surrounding him, hugging him, and all you could see of him was his head sticking out above the crowd. They all loved 'Mr. Ryan'. Camp will never be the same and we will all bear the scar of this tragedy for many years to come.  Ryan will never be forgotten, and always be missed."
Perlmutter, 27 and a teacher in Buford, Ga., later told MSNBC.com that Clark had always wanted to work with kids. "We'd joked about him coming to work at my school, so that we'd be closer."
"I don't think there's enough words to explain how you feel when someone passes," she said. "But he was one step above a lot of people."
---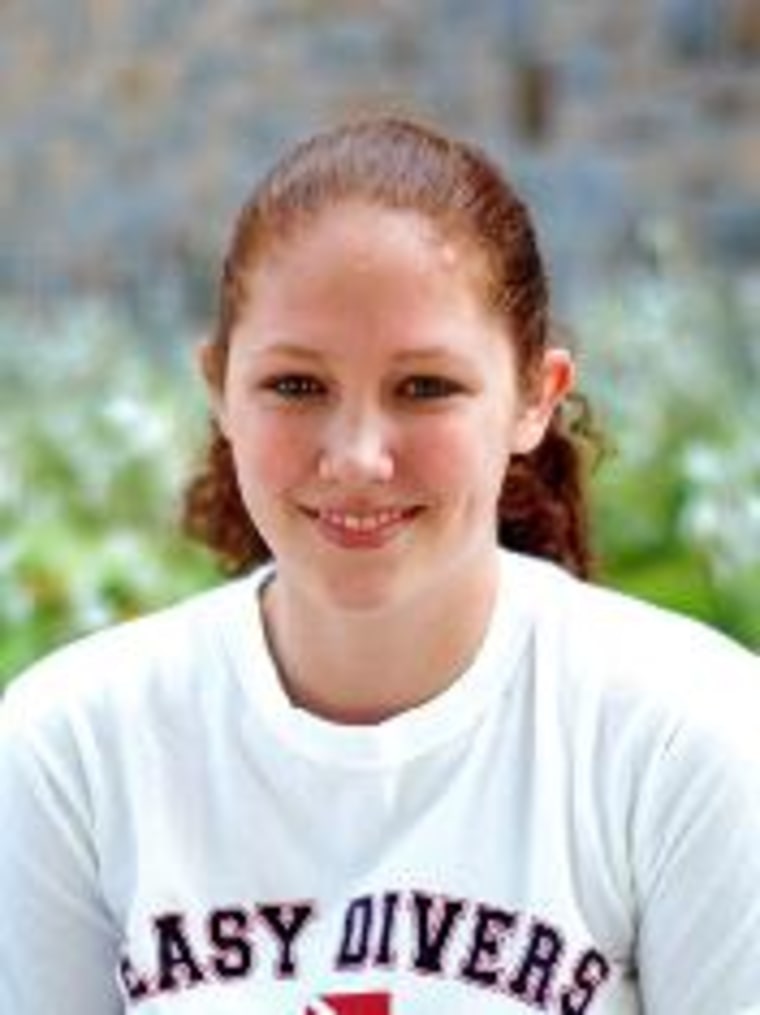 Cloyd, from Blacksburg, was so inspired by an Appalachian service project that helped rehabilitate homes that she and her mother started a similar program in their native Illinois town, her former pastor said.
The Cloyds were active members of the First United Methodist Church in Champaign, Ill., before moving to Blacksburg in 2005, the Rev. Terry Harter said. The family moved when Cloyd's father, C. Bryan Cloyd, took a job in the accounting department at Virginia Tech, Harter said.
Harter, whose church held a prayer service for the family Tuesday night, described Cloyd as a "very delightful, intelligent, warm young lady" and an athlete who played basketball and volleyball in high school.
But it was the mission trips to Appalachia that showed just how caring and faithful she was, he said. "It made an important impact on her life, that's the kind of person she was," he said.
---
Jocelyne Couture-Nowak, age unknown, a French language teacher who was instrumental in the creation of the first French school in a town in Nova Scotia, Canada.
She lived there in the 1990s with her husband, Jerzy Nowak, the head of the horticulture department at Virginia Tech.
Richard Landry, a spokesman with the francophone school board in Truro, Nova Scotia, said Couture-Nowak was one of three mothers who pushed for the founding of the Ecole acadienne de Truro in 1997.
"It was very important for her daughters to be taught in French," said Rejean Sirois, who worked with her in establishing the school.
Elizabeth Taggart, of Reston, Va., posted to MSNBC.com that she had stayed in touch with her freshman French teacher despite switching to Spanish last semester.
"My Spanish class was in the classroom in Norris right after hers at 10:10," said Taggart. "She and I had reconnected this semester since I would always arrive early to keep up with my French."
Taggart remembers her former teacher as "one of the most caring, loving teachers I have met on our campus, an incredible professor and woman."
Mariangela Linoci, who also wrote in to MSNBC.com, had this to say about her former teacher: "The very last day of class she met us at the Cranwell Center, she wore her cooking apron and prepared crepes for everybody!"
"I want to believe she's somewhere safe now, with all the other victims." she said.
---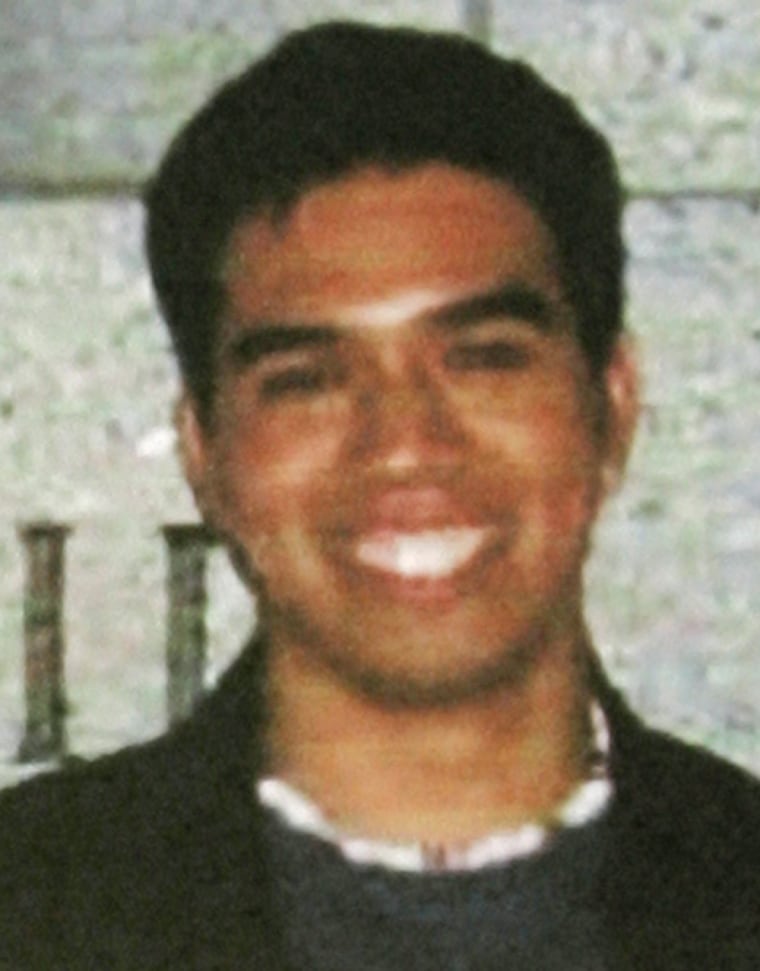 "[Daniel] was very close to his mother," an anonymous poster from Woodbridge, Va., wrote to MSNBC.com. "Every time she came to my house, she would tell me stories of how well he was doing in VTech and how proud she was of her son."
He was also a member of Peru's swim team.
His father, Flavio Perez, spoke of the death earlier to RPP radio in Peru.
He lives in Peru and said he was trying to obtain a humanitarian visa from the U.S. Consulate. He is separated from Cueva, who said she had lived in the United States for six years.
A spokesman at the U.S. Embassy in Lima said the student's father "will receive all the attention possible when he applies" for the visa.
---
Kevin Granata, 45, an engineering science and mechanics professor who was married and had three children. He had served in the military and later conducted orthopedic research in hospitals before going to Virginia Tech, where he and his students researched muscle and reflex response and robotics.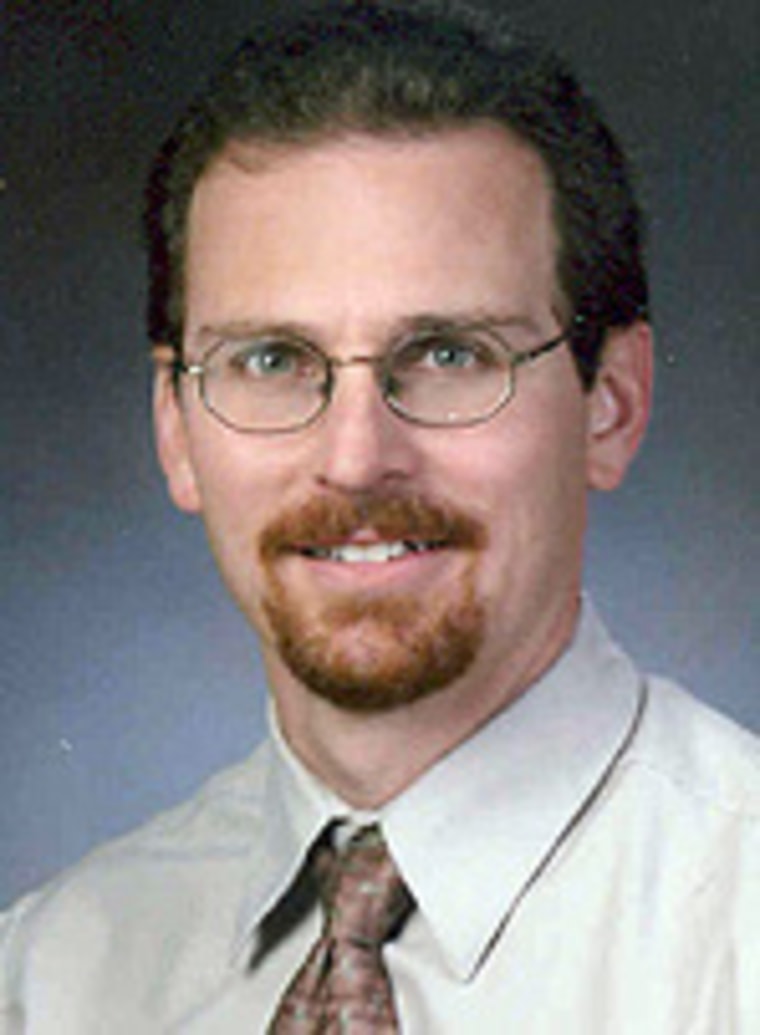 Department chief Ishwar Puri said Granata was one of the top five biomechanics researchers in the country, working on movement dynamics in cerebral palsy.
Engineering professor Demetri Telionis said Granata was successful, but also kind. "With so many research projects and graduate students, he still found time to spend with his family and he coached his children in many sports and extracurricular activities," Telionis said. "He was a wonderful family man. We will all miss him dearly."
Granata was known worldwide for his research into how muscles accomplish complicated movements, said Stefan Duma, another engineering professor.
"He liked to ask the big questions," Duma said. "When we had students defending their Ph.D., and he kept asking 'Did we have the total solution?' He was really interested in whether we answered the big questions. That's really a sign of a great scientist."
Matthew Gwaltney, 24, was on the brink of finishing his graduate degree and was planning to return to his hometown for a new job and to be near his parents.
He was a master's student in civil and environmental engineering and was attending Virginia Tech on a fellowship, his father, Greg Gwaltney, said from his home in Chester, near Richmond.
"Matt came home Thursday night. He had an interview in Richmond Friday morning, and we got to have dinner with him," said Linda Gwaltney, his stepmother. "He went back to school Friday after his interview."
It was the last time they saw their only child.
Gwaltney had been his high school newspaper's sports editor and was named "Best guy to take home to your parents," his high school principal, Robert Stansberry, said.
At Virginia Tech, where he also earned his undergraduate degree, his favorite place was Cassell Coliseum, his parents said.
"He went to every women's and men's basketball game, and went to every football game," Linda Gwaltney said. "If there was a football game, we knew he wasn't coming home that weekend."
---
Caitlin Hammaren, 19, of Westtown, N.Y., was a sophomore majoring in international studies and French, according to officials at her former school district.
"She was just one of the most outstanding young individuals that I've had the privilege of working with in my 31 years as an educator," said John Latini, principal of Minisink Valley High School, where she graduated in 2005. "Caitlin was a leader among our students."
Minisink Valley students and teachers shared their grief Tuesday at a counseling center set up in the school, Latini said.
Vanessa Oravec posted on MSNBC.com that Hammaren was her dorm resident adviser. "She was the nicest person I have ever met," Oravec wrote.
"She would do anything for you at the drop of a hat without any questions. She was always there to help you, or just talk. Late night she would stop in and say hi whenever she could. She was always dedicated to helping her friends and the community."
---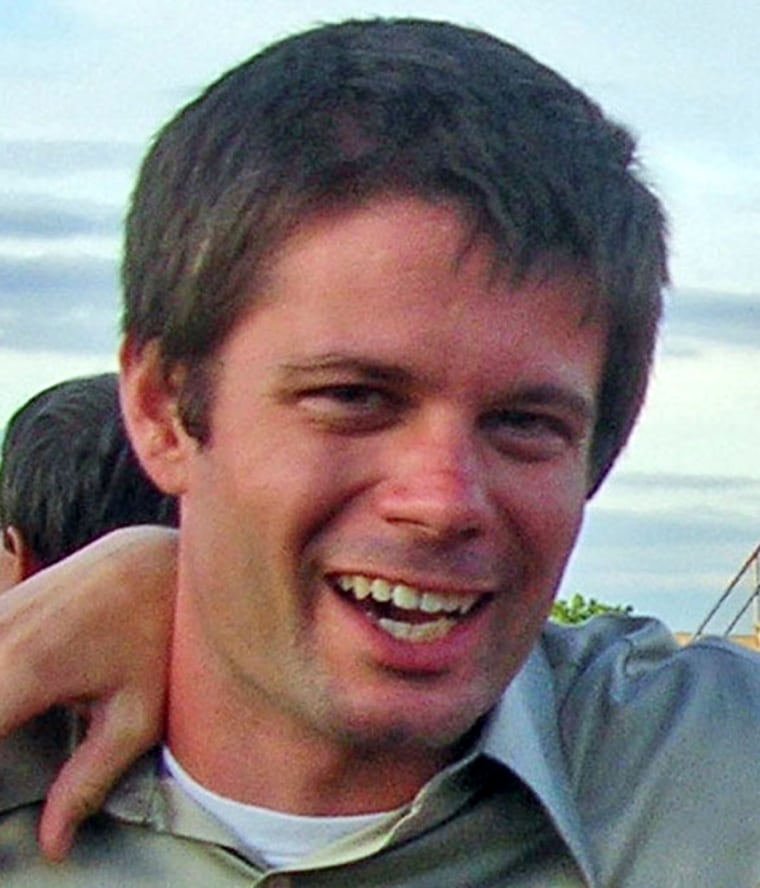 Jeremy Herbstritt, 27, of Bellefonte, Pa., loved to chat, so much so that high school classmates voted him "Most Talkative."
A graduate student in engineering, he had two undergraduate degrees from Penn State, one in biochemistry and molecular biology from 2003, and another in civil engineering from 2006.
"Talkie, talkie, talkie, everybody likes to talk," read the description in the Bellefonte High School yearbook of the 1998 graduate. Below was a picture of Herbstritt, with a sly grin, talking on a pay phone.
He grew up on a small farm just outside the central Pennsylvania borough of Bellefonte, where his father, Michael, raised steers and sheep.
His career goal was to be a civil engineer, and he talked of getting into environmental work after school.
"He liked to work on machinery, take a lot of stuff apart and fixed it," said the victim's grandfather Thomas Herbstritt, of St. Marys. "He was a studious kid."
"He was a wonderful student and person, and will be greatly missed," Amy Sten posted on MSNBC.com, identifying herself as a former teacher of Herbstritt's.
----
Rachael Hill, 18, of Richmond, Va., a freshman studying biology. She had graduated from Grove Avenue Christian School.
Hill, an only child, was popular and funny, had a penchant for shoes and was competitive on the volleyball court.
"Rachael was a very bright, articulate, intelligent, beautiful, confident, poised young woman. She had a tremendous future in front of her," said Clay Fogler, administrator for the Grove Avenue school. "Obviously, the Lord had other plans for her."
Her father, Guy Hill, said Tuesday the family was too distraught to talk about Hill. "We just need some time here," he said tearfully.
---
Emily Jane Hilscher, 19, from Woodville, Va., according to family friend John McCarthy. She was a freshman majoring in animal and poultry sciences. "Emily was a beautiful, talented, sweet kid who had a world of potential," he told MSNBC.com.
McCarthy said Hilscher lived on the same dorm floor as victim Ryan Clark.
Hilscher was also known for her love of animals. "She worked at a veterinarian's office and cared about them her whole life," said McCarthy.
A friend, Will Nachless, 19, said Hilscher "was always very friendly. Before I even knew her I thought she was very outgoing, friendly and helpful, and she was great in chemistry."
---
Jarrett Lane, 22, from Narrows, Va., a senior majoring in civil engineering who was valedictorian of his high school class.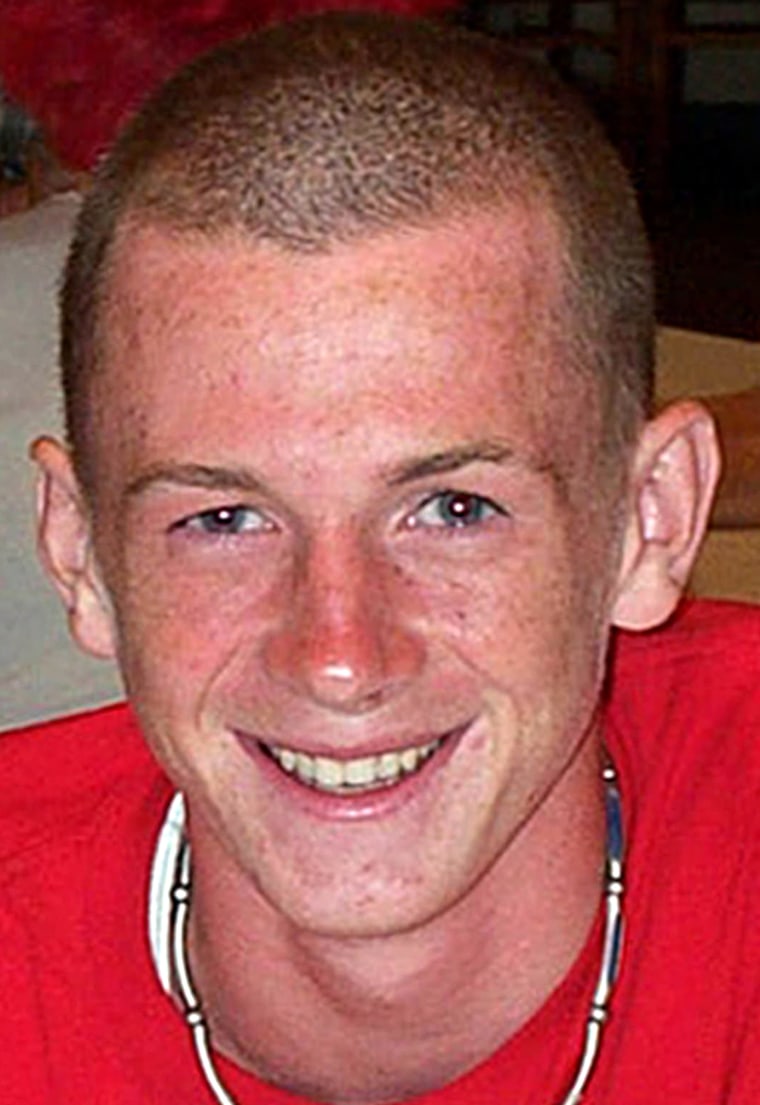 Lane played the trombone, ran track, and played football and basketball at Narrows High School. "We're just kind of binding together as a family," Principal Robert Stump said.
Lane's brother-in-law Daniel Farrell called Lane fun-loving and "full of spirit."
"He had a caring heart and was a friend to everyone he met," Farrell said. "We are leaning on God's grace in these trying hours."
In a posting on MSNBC.com, Jessica Green wrote that "the small but very close community of Narrows, VA lost a dear friend and an amazing guy. Jarrett Lane was a very humble and down-to-earth guy and there couldn't have been any sweeter person to have a conversation with. Our small town is feeling the effects of this heinous crime that took place just 20 minutes away."
---
Matthew La Porte, 20, from Dumont, N.J., a sophomore attending Virginia Tech on an Air Force ROTC scholarship. He also belonged to the school's Corps of Cadets and was considering majoring in political science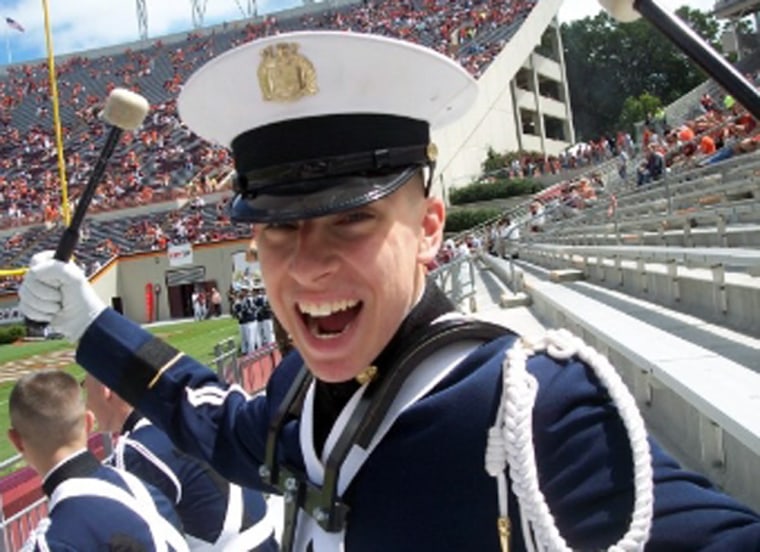 "Matthew was an exemplary student at Carson Long whose love of music and fellow cadets were an inspiration to all on campus," Carson Long said in a statement.
La Porte graduated third in his high school class and was also drum major for the school's drum and bugle corps during his senior year.
"Matthew was one of those elite cadets who went above and beyond the call of duty during his tenure as a cadet in Air Force ROTC at Virginia Tech," an anonymous poster wrote to MSNBC.com. "His memory too, will remain in my heart forever.
---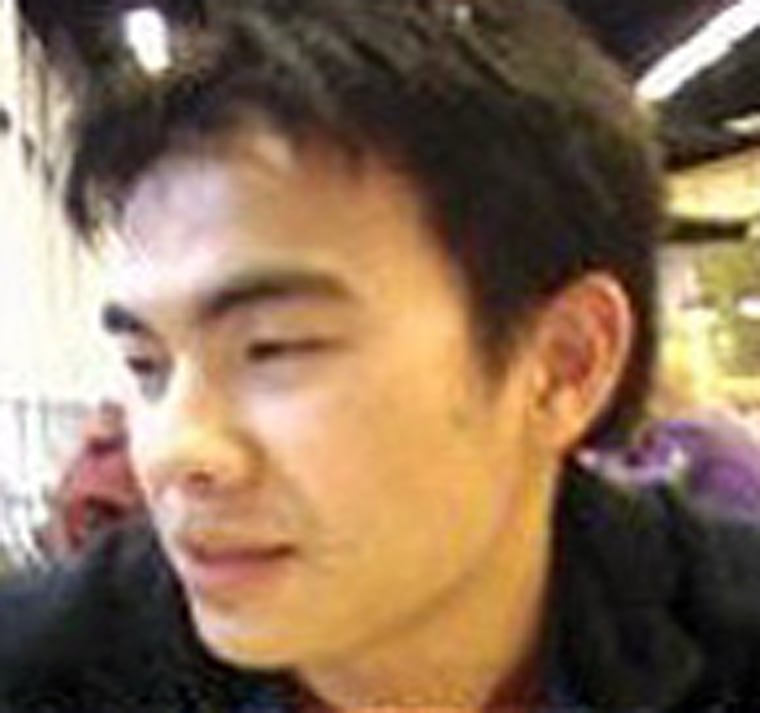 Henry Lee, 20, of Roanoke, Va., a freshman also known as Henh Ly. He was the ninth of 10 siblings whose family fled to the United States from Vietnam, arriving in Roanoke in 1994.
Friends described  the computer engineering major as a serious student who wasn't necessarily a serious person.
A Virginia Tech classmate who lived in Lee's hall, Nathan Spady, described Lee as "an extremely bubbly guy, always ready to go."
"I knew Henh for five brief years but each moment that I had the privilege of spending with him will remain in my heart forever," Samantha Smith of Roanoke wrote in to MSNBC.com. "He was a brilliant student in the International Baccalaureatte program at William Fleming High School, a member of the French National Honor Society, a member of the BETA Club, a son, a brother, a friend, and so many other things to me and the people who knew him."
"Last spring he asked us all to go to Applebee's with him so that we could celebrate him gaining his citizenship," she added. "I look back on our Senior Awards Ceremony. "Henh kept receiving so many awards that they told him to just sit on stage. He laughed, embarrassed that they would even suggest such a thing. At our graduation, when he spoke for his Saludatorian speech he said, 'If I can do it, everyone can do it.'
"When I think of Henh I think of his smile," Smith wrote. "I hope that his smile will live on within the hearts of all those who knew him. He was amazing. He was Henh."
Friends continued to post hundreds of messages and remembrances on Lee's Facebook.com page since he was shot to death, knowing he would never get to view them.
"Remember how you used to freak out when I hugged you all the time?" one read. "I'm not so sorry for that anymore."
William Fleming High School planned a memorial service for Lee on Sunday. Lee was the school's salutatorian in 2006, and brought many in the audience to tears with his story about his family's journey to America, principal Susan Lawyer Willis said.
---
Liviu Librescu, 76, an engineering science and mechanics lecturer. Born in Romania, he survived the Nazi Holocaust and emigrated to Israel in 1978 before moving to Virginia in 1985.
An Israeli citizen, he had taught at Virginia Tech for 20 years and was internationally known for his work in aeronautical engineering.
"His research has enabled better aircraft, superior composite materials, and more robust aerospace structures," said Ishwar Puri, the head of the engineering science and mechanics department.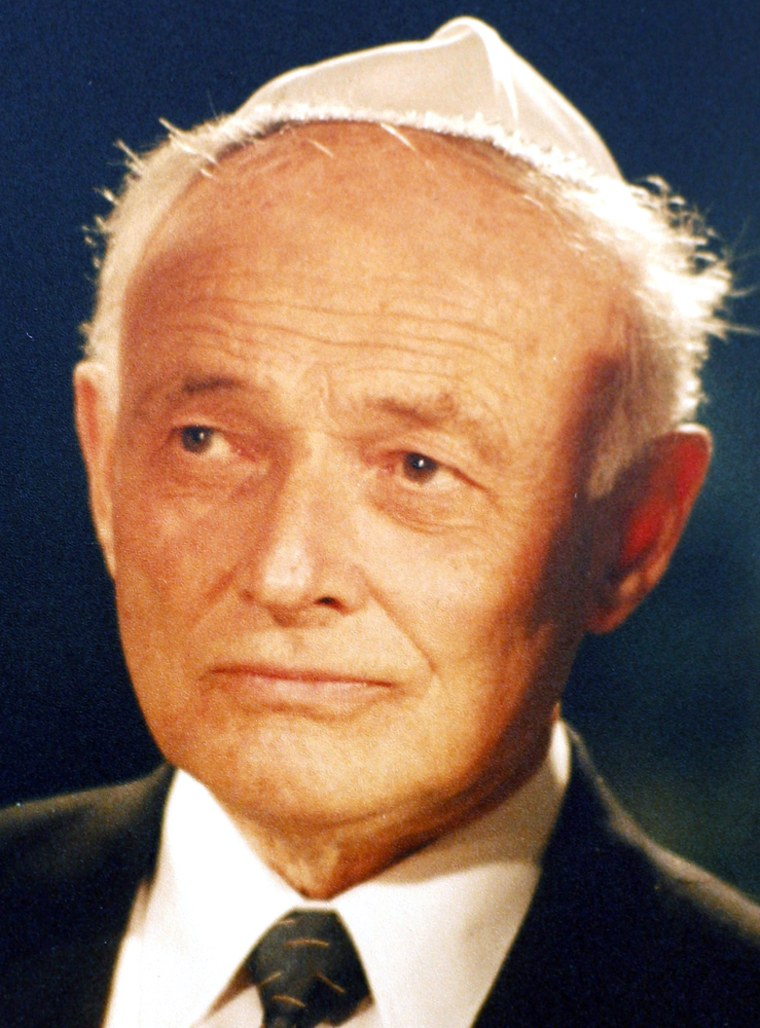 Librescu's son, Joe, said his father's students sent e-mails detailing how the professor saved their lives by blocking the doorway of his classroom from the approaching gunman before he was fatally shot.
"My father blocked the doorway with his body and asked the students to flee," Joe Librescu said from his home outside Tel Aviv, Israel. "Students started opening windows and jumping out."
---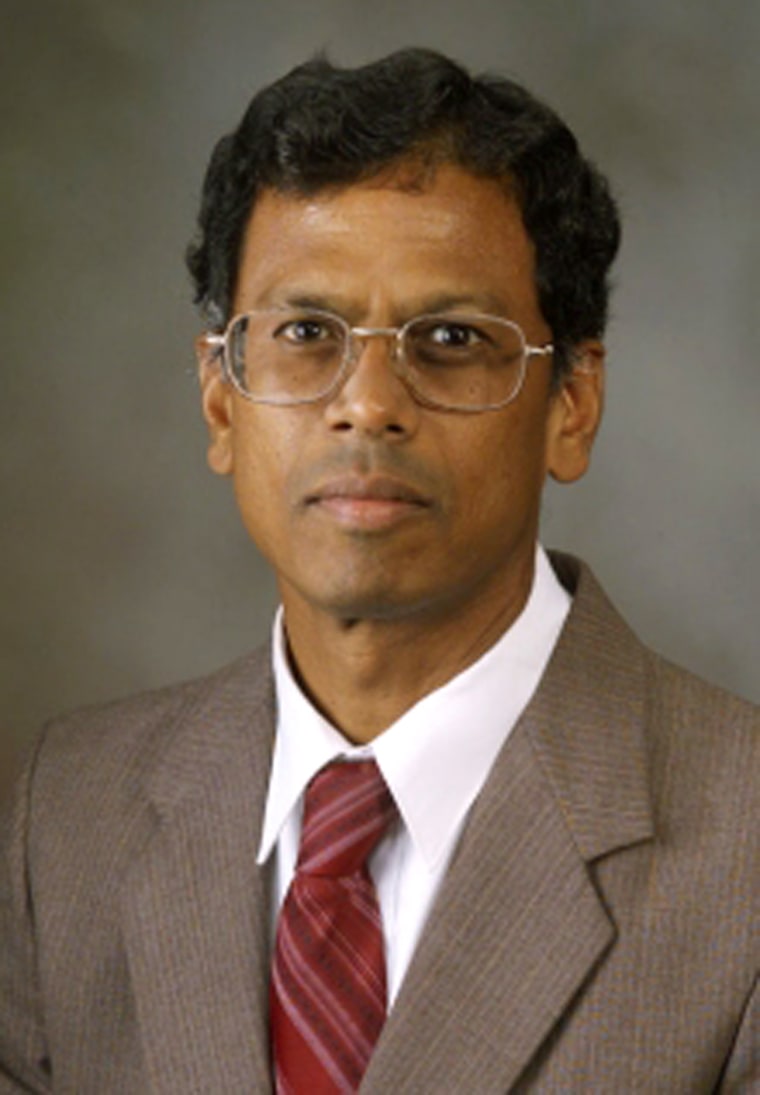 "We all feel like we have had an electric shock, we do not know what to do," his brother G.V. Palanivel told the NDTV news channel in India. "He has been a driving force for all of us, the guiding force."
Loganathan, who was born in the southern Indian city of Chennai, had been at Virginia Tech since 1982.
Married with two daughters, he won several awards, including the university's prestigious Wine Award for Excellence in Teaching.
Loganathan had served on the faculty senate and was an adviser to about 75 undergraduate students.
"Dr. G.V. Loganathan was my favorite professor and was my graduate advisor when I was a civil engineering student at Virginia Tech in the late 80's and early 90's," Glenda La Rue said in a posting on MSNBC.com. "Dr. Loganathan was an excellent teacher and mentor ... I will always remember him for his kind heart and patience he displayed towards me and his other students. He truly had a passion for teaching and getting to know his advisees. He was a primary reason that I chose to pursue a career in the engineering specialty of water resources and I credit much of my success to him. He will be missed greatly."
---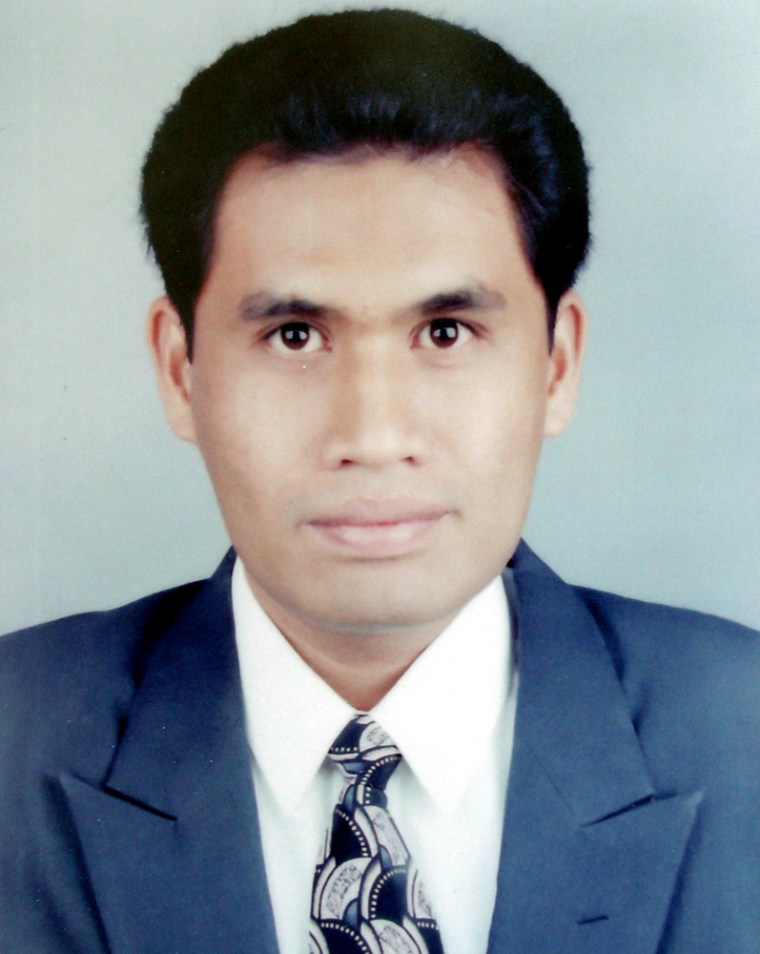 Partahi Lombantoruan, 34, of Indonesia, was a civil engineering doctoral student. He had been studying at Virginia Tech for three years, said his father, Tohom Lumbantoruan.
Lumbantoruan's family said they sold off property and cars to pay his tuition and that his goal was to become a teacher in the United States.
"We tried everything to completely finance his studies in the United States," said his father. "We only wanted him to succeed in his studies, but ... he met a tragic fate."
His stepmother, Sugiyarti, said he had called almost daily to talk to the family. In their last conversation he had asked for the latest news on Indonesian politics.
"Why can people bring guns to campus?" she asked, weeping. "How is it possible that so many innocent people could be killed? How could it happen?"
An aunt, Christina Panjaitan, said her nephew was hardworking, intelligent and never complained. "He told me he wanted to teach in America," she said.
Family members were planning a public burial in the Indonesian capital, Jakarta.

---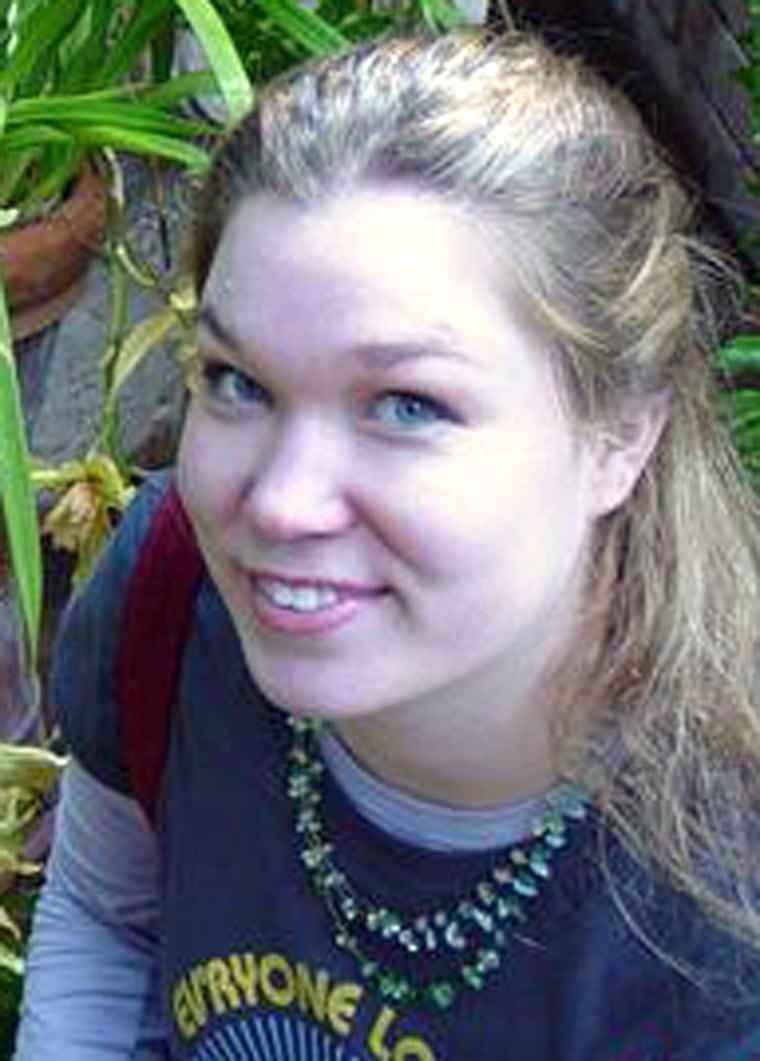 On her MySpace page, McCain listed "the love of my life" as Jesus Christ.
Her family said McCain became a Christian some time ago.
"Her life since that time has been filled with His love that continued to overflow to touch everyone who knew her," the family said in a statement.
Her uncle Jeff Elliott told The Oklahoman newspaper that she was an avid reader, was learning German and had almost mastered Latin. She had been home-schooled, he said, and had worked at a department store for about a year to save money for college.
She spent several years of her childhood in Oklahoma, but her father's Navy career also took the family to Florida, Texas and then to Virginia.
"Lauren had such a sweet innocent heart," Jeanne Meadows, who attended church with McCain, wrote to MSNBC.com. "I can bet you at the last moment of her life she was most likely praying for the gunman and forgiving him."

---
,22, of Lincoln, R.I., was a graduate student in environmental engineering. He also played guitar and wrote his own songs, which he posted on a Web site, www.residenthippy.com.
Friend Steve Craveiro described him as smart, responsible and a hard worker, someone who never got into trouble.
"He would come home from school over the summer and talk about projects, about building bridges and stuff like that," Craveiro said. "He loved his family. He was pretty much destined to be extremely successful. He just didn't deserve to have happen what happened."
O'Neil graduated in 2002 from Lincoln High School and graduated from Lafayette College in Easton, Pa., before heading to Virginia Tech, where he was also a teaching assistant, Craveiro said.
A Lafayette publication said that while there O'Neil was vice president of the Arts Society. His high school yearbook noted he was on the cross country and outdoor track teams, the drama club and the National Honor Society, according to the Providence Journal.
---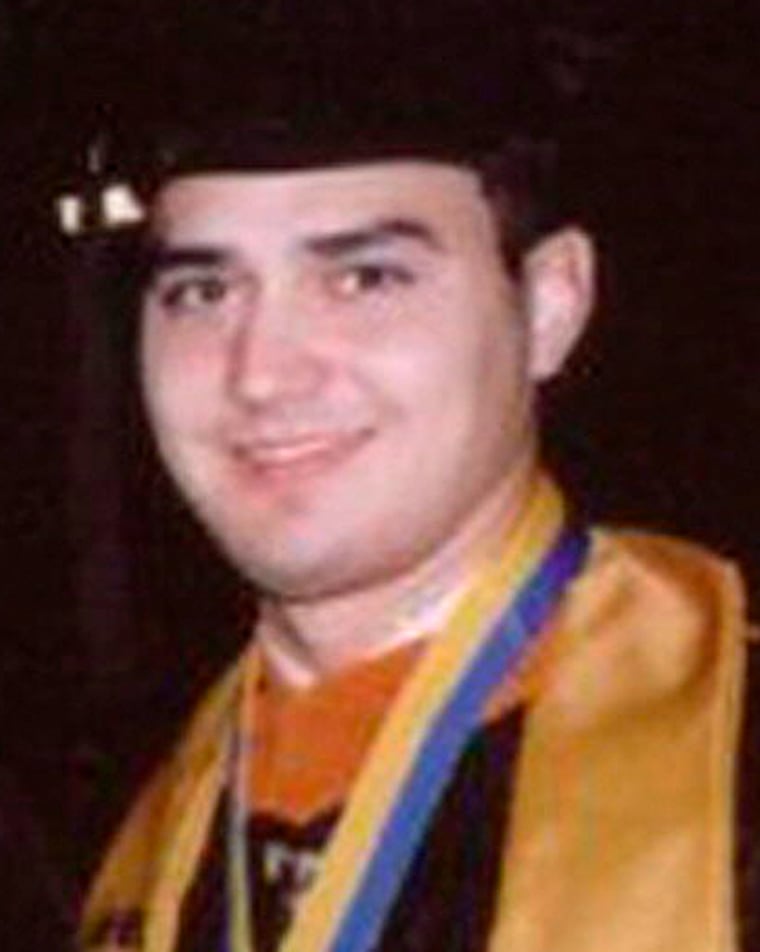 Ortiz graduated magna cum laude from the Polytechnic University of San Juan, Puerto Rico, and arrived at Virginia Tech last August. He was married to a fellow student pursuing a teaching career, and they had planned to have a child soon.
"He was an extraordinary son," his father, Juan Ramon, said. "On his wedding day, I told him ... what I felt in my heart, I thanked him for being my son, it was special."
Ortiz was also in a band with his father and other relatives. "He loved salsa dancing," his father said.
The family's neighbors remembered Ortiz as a quiet, dedicated son who decorated his parents' one-story concrete house each Christmas.
Marilys Alvarez, 22, heard Ortiz's mother scream from the house next door when she learned of her son's death. Alvarez said she had wanted to study in the United States, but was now reconsidering. "Here the violence is bad, but you don't see that," she said. "It's really sad. You can't go anywhere now."
---
Minal Panchal, 26, a first-year building science student from Mumbai, India.
She wanted to be an architect like her father, who died four years ago.
Panchal was very keen to go to the United States for postgraduate studies and thrilled when she gained admission last year, said Chetna Parekh, a friend who lives in the bustling middle-class Mumbai neighborhood of Borivali, where Panchal lived before coming to Virginia Tech.
"She was a brilliant student and very hardworking. She was focused on getting her degree and doing well."
Panchal was worried about her mother, Hansa, living alone and wanted her to come to the U.S., neighbor Jayshree Ajmane said. Hansa left earlier this month for New Jersey, where her sister and brother-in-law live.
Ajmane called Panchal a bright, polite girl who would help the neighborhood children with their schoolwork.

---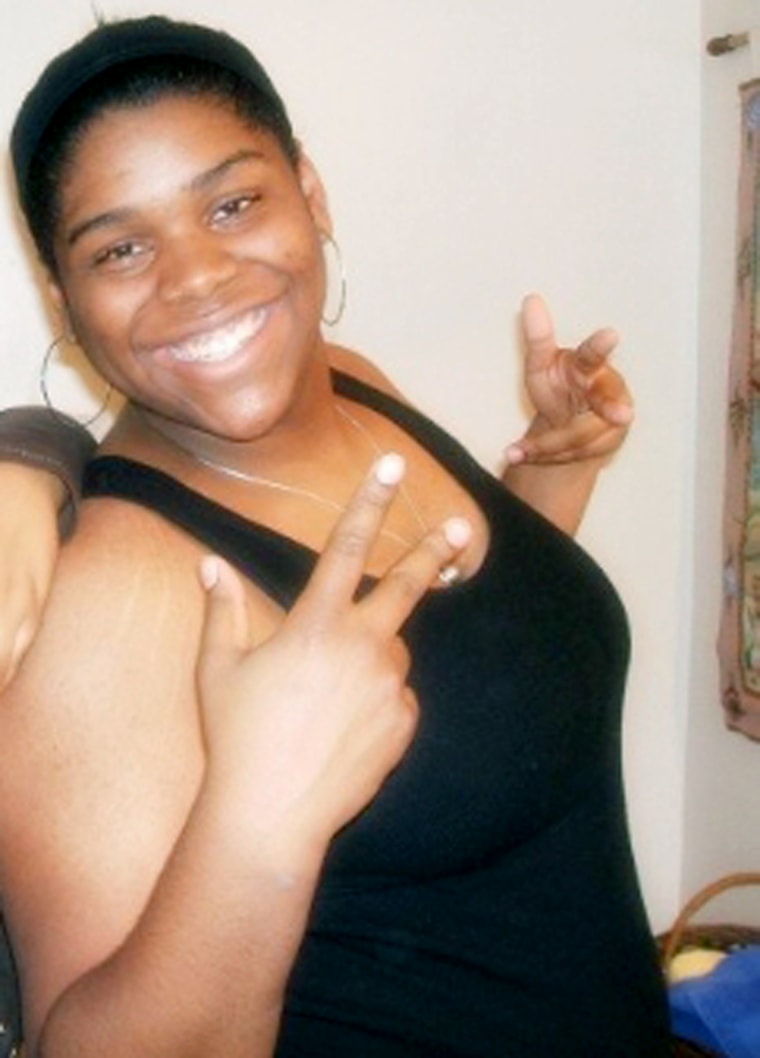 It was not known if Cho knew the victims.
Peterson was 6-foot-1 and played center for the high school's girls basketball team, helping lead it to a district championship.
"She could do a layup on anyone," said Anna Richter, a high school teammate.
She recalled how Peterson's parents attended nearly every game and were among the most enthusiastic fans.
Pat Deegan, Peterson's high school coach, said he couldn't remember a better leader.
"She was just a super child," William Lloyd, Erin's godfather, told the Washington City Paper.
"Her and her dad, man, you couldn't separate them. He lost a child from cancer — a daughter, 8 years old. A week later, (Erin) was born."
Lloyd said that Erin and her father, Grafton Peterson, did part ways on one thing: pro football allegiances. "She was a Redskin," he said. "He was a Cowboy."
---
Michael Pohle, 23, of Flemington, N.J., was expected to graduate in a few weeks with a degree in biological sciences, said Craig Blanton, Hunterdon Central's vice principal during the 2002 school year, when Pohle graduated.
"He had a bunch of job interviews and was all set to start his post-college life," Blanton told The Star-Ledger of Newark.
At the high school, Pohle played on the football and lacrosse teams.
One of his old lacrosse coaches, Bob Shroeder, described him as "a good kid who did everything that good kids do."
"He tried to please," Shroeder told the newspaper. "He was just a great kid."

---
, 23, was a graduate student from Middletown, N.J.
She was an "exceptional student academically and personally," said Saied Mostaghimi, chairman of the biological systems and engineering department where Pryde was seeking her master's degree.
"She was the nicest person you ever met," Mostaghimi told The Star-Ledger of Newark.
Last summer, Pryde had traveled to Ecuador to research water quality issues with a professor. She planned to return this summer for follow-up work, Mostaghimi said.
A 2001 graduate of Middletown North High School, Pryde was on the school's swim team and played softball in two town leagues.
Her hometown has been touched by tragedy before, losing 37 current and former residents in the Sept. 11, 2001, terrorist attacks.
"The town pulls together in these situations. Everything that we can do for this family, we'll see what can be done," Middletown Mayor Gerard P. Scharfenberger said.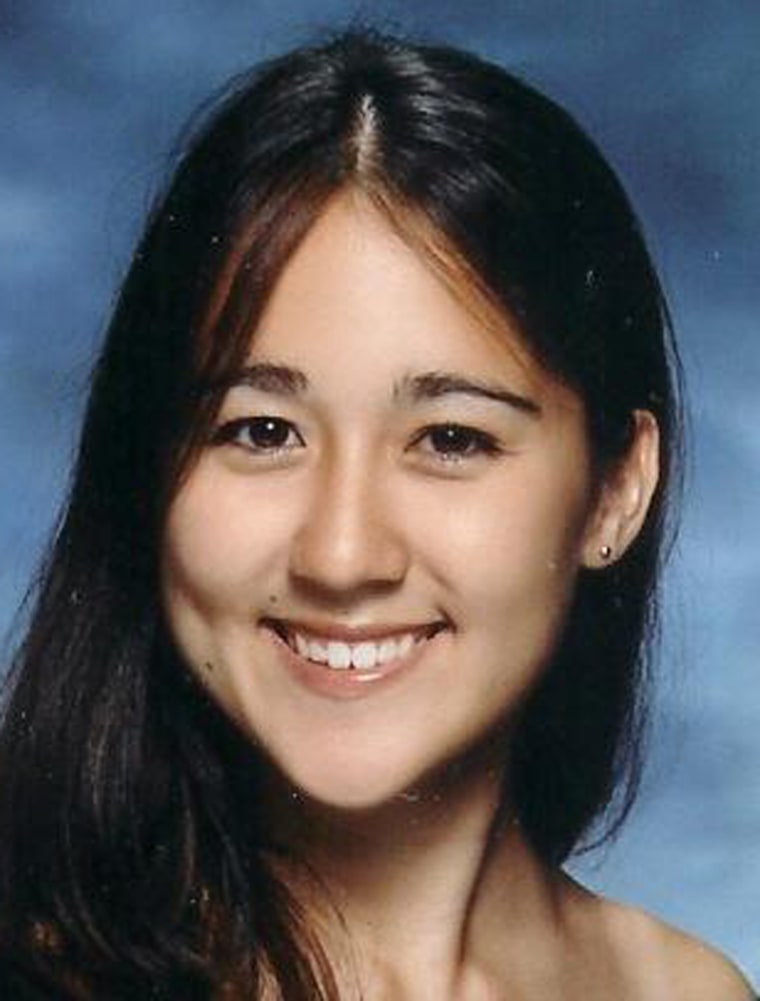 Read considered a handful of colleges, including nearby George Mason University, before choosing Tech. It was a popular destination among her Annandale High School classmates, Kuppinger said.
She had yet to declare a major.
"I think she wanted to try to spread her wings," said Kuppinger, whose niece had struggled adjusting to Virginia Tech's large campus. She'd recently begun making friends and looking into a sorority.
Kuppinger said the family started calling Read as news reports surfaced.
"After three or four hours passed and she hadn't picked up her cell phone or answered her e-mail ... we did get concerned," Kuppinger said. "We honestly thought she would pop up."
Julia Singer, who attended Annandale High School with Read, wrote this to MSNBC.com: "I remember telling her 'I just know you're going to be that girl at our ten-year reunion; the one the girls want to be and guys want to be with,'" she said.
"'I expect you to show us all up, Mary Read.'"
---
Reema Samaha, 18, from Centreville, Va., a freshman who performed with the school's Contemporary Dance Ensemble. Her brother Omar, a Virginia Tech graduate, told NBC's TODAY show that she was shot dead while in French class.
Their father, Joe Samaha, told "Dateline NBC" that "she was a beautiful person and that's what I'll remember her as. We've lost a very talented beautiful young lady who was growing here at the university. Her heart was in dance and theater and she belonged to a contemporary dance ensemble here and she loved that very much."
Katerina Rodgaard, in a posting to MSNBC.com, said she had been a dance instructor to Samaha. "I will never forget her constant smile," she wrote. "So much positive energy. She was such a beautiful dancer as well. ... We were all like a family and she will be missed dearly. She loved being in dance class and I was so proud to hear that she continued her dancing in college. So young, so beautiful and so talented. I'm still in shock."
Samaha had recently taken up belly dancing, a nod to her family's roots in Lebanon, where the Samahas visited each summer.
"She was just beautiful and when you watched her, I thought she was one of the most gorgeous girls in the world, inside and out," said Lauren Walters, a former classmate of Samaha's who now attends Clemson University
Samaha and another victim, Erin Peterson, graduated from Westfield High in Chantilly, Va., in 2006, three years after the alleged gunman, Seung-Hui Cho, graduated from the same school. It was not clear if they knew each other.
---
, 32, of Zagazig, Egypt, was a doctoral student in civil engineering.
Shaalan was married and the father of a 1-year-old son, according to the Muslim Students Association at Virginia Tech.
"He was the simplest and nicest guy I ever knew. We would be studying for our exams and he would go buy a cake and make tea for us," Fahad Pasha, Waleed's roommate, said on the association's Web site.
The Egyptian Foreign Ministry said in a statement Wednesday that the Egyptian embassy in Washington was taking steps to fly his body home.
---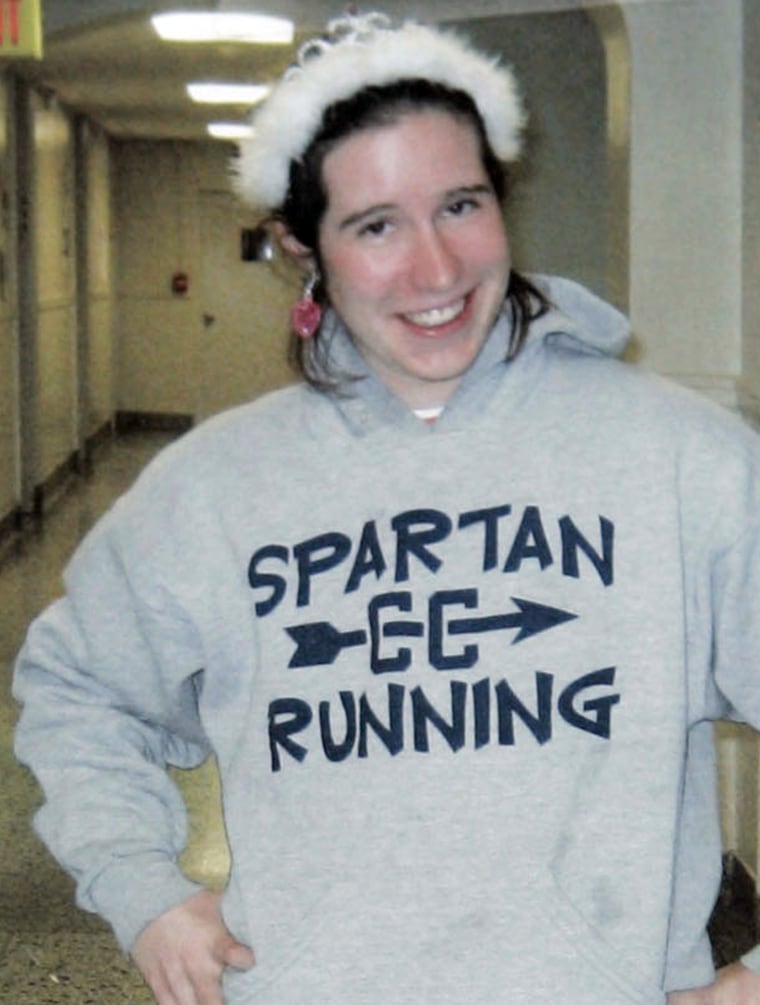 "She had a lot of friends, and was a very outgoing person," recalled friend Ann Marks, who worked with Sherman in the cafeteria.
An avid traveler, she was headed to Russia this summer to study, said her grandmother, Gerry Adams.
Sherman had visited Boston and London with her mother; she visited her grandparents in Kennewick, Wash., last month for spring break, Adams said.
Sherman — who was named after her grandfather, Leslie — loved reading and socializing with her "gaggle" of more than 15 cousins spread out at colleges across the country, Adams said.
She text-messaged one of them the evening before she died.
"She was so happy. Life was going so well for her," said Adams, who described the family as "just beside themselves" with grief.

---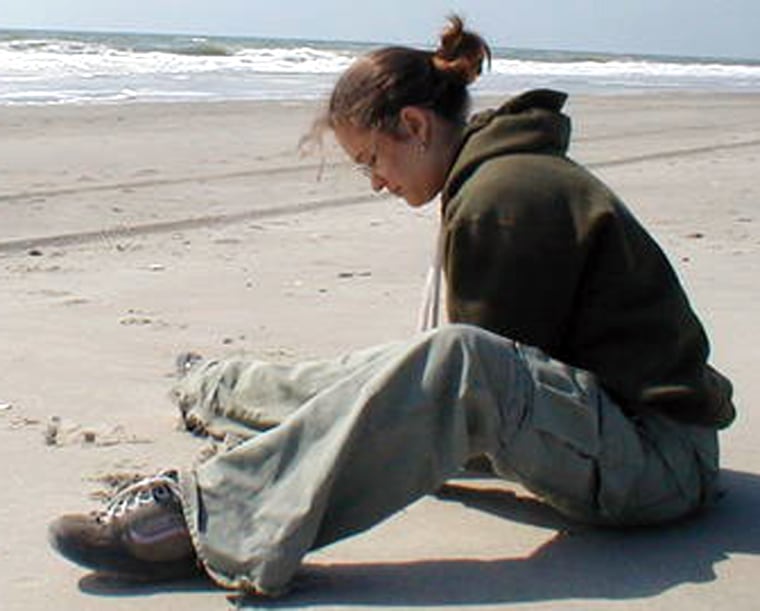 Turner had finished her required credits and was preparing for her May graduation but took German as an elective, said her father, Paul Turner. She was shot in the German class.
"She was very excited — she was very excited about school in general," her father said.
An anonymous poster told MSNBC.com that she had been a classmate of Turner's at James Madison High School in Vienna. "She was at the top of our class and did really well in school ... Vienna is a very close, tight-knit community and I know those from our graduating class of 2003 and all other JMHS students past and present are grieving from this tragic loss of life."
Turner was accepted by a handful of high-profile schools, including Johns Hopkins University in Baltimore. But she was determined to be a Virginia Tech Hokie, her father said.
"We tried to convince her to go elsewhere. When you get accepted to Johns Hopkins, it's a very prestigious school," he said. "But no, she wanted to go to Virginia Tech."
Turner recently helped found a chapter of Alpha Omega Epsilon, a sorority for women in engineering. She had accepted a chemical engineering job with W.L. Gore & Associates in Elkton, Md.
"It's a terrible loss," her father said Wednesday, weeping. "I cannot understand the legislators in this country, not putting in laws that protect people."
---
, 20, of Carrollton, Va., was a junior majoring in international studies and German. White graduated from Smithfield High School in 2004, according to The Virginian-Pilot in Norfolk.
White worked at a YMCA as a lifeguard and was an honor student in high school, the newspaper reported.
Laurie Guiffre wrote to MSNBC.com that she had grown up with White, remembering her friend as a person of great character with a genuine love for animals.
"I keep trying to come to terms with the fact that she is no longer here and I will never see her again." Guiffre wrote.
Another childhood friend, Michelle Clay, of Toccoa Falls, Ga., recalled that "[Nicole] was one my four best friends, and we all shared everything."
"I never imagined she would be gone in the blink of an eye."
---
Information has been compiled from The Associated Press, NBC News, CollegeMedia.com (the Virginia Tech student newspaper), reader submissions to MSNBC.com, and other media outlets.