John Sayles has worked for Stanley Consultants in Muscatine, Iowa, for more than 40 years doing engineering and environmental planning for communities but at age 73 he's still not ready to clean out his desk and head for the golf course.
"I'm having too much fun," he says about his decision not to retire at 65.
Sayles was given the option by his company to phase into his retirement when he was ready, and that meant going to a four-day week at age 69 in 2003, then scaling back his hours in subsequent years. He now works one day a week on average, but often puts in 40-hour workweeks depending on the project.
"I would recommend it to anybody," says Sayles about his non-retirement plan. "It keeps your hands in it, keeps you young and moving."
It appears more and more of the 60-plus crowd wants to keep moving as well, with 25 percent of this population working in 2006, up from 20 percent just 10 years ago, according to the  Bureau of Labor Statistics. When you break down the numbers, 52.5 percent of 60-to-65 year old workers were still employed last year, up from 45.8 percent in 1996; and individuals aged 65 and older are also staying employed longer, with about 15.4 percent in the labor force in 2006, a rise from 12.1 percent in 1996.
For much of the 20th century there was a trend towards early retirement among older workers, according to a March 2007 report for the Center for Retirement Research at Boston College written by Leora Friedberg, an assistant professor of economics at the University of Virginia.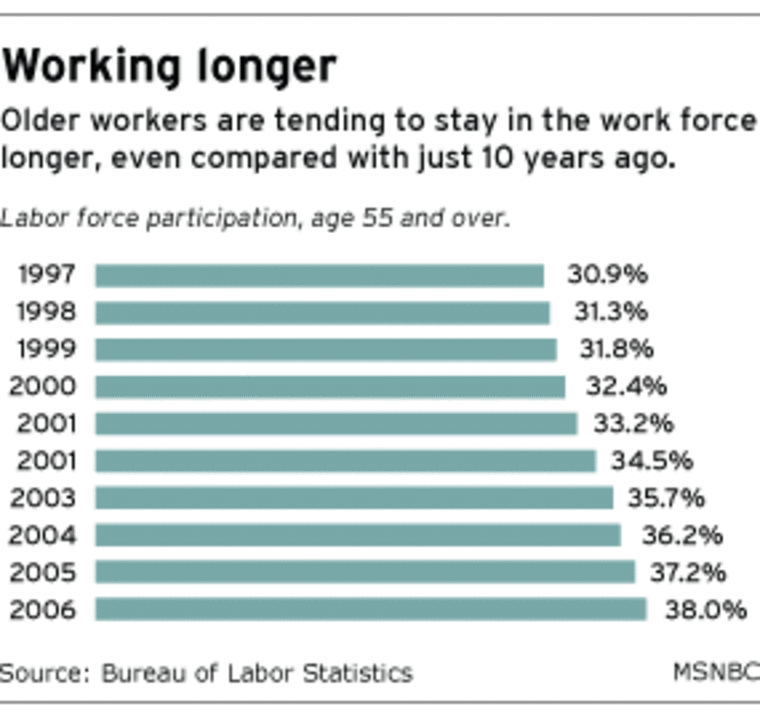 But Friedberg points out a change: "The trend towards earlier retirement has not just leveled off, but has apparently reversed." She attributes the reversal to a number of factors, including everything from rising costs of health and long-term care to general economic uncertainty surrounding the retirement years for seniors. And people are living longer, healthier lives, making working into the late 60s and 70s a more realistic option for many.
But not surprisingly, it may all come down to the money. And that's why a new pension law that kicked in this year may add more fuel to the phased-retirement fire.
In the past, many individuals opted to retire even though they weren't ready because they wanted to begin receiving pension benefits from their employers, which in many cases started only when the worker hit a certain age, typically 62 to 65, and couldn't be paid out unless the employee left their job. But the newly minted Pension Protection Act allows older workers the option of staying on the books while also getting their pension checks.
"Even though IRS regulations for implementing the Pension Protection Act have yet to be defined, the new law helps to make phased retirement a viable option for employers who want to capitalize on mature talent," according to a report released last month by The Conference Board, a business research organization. "As the U.S. work force grows older, and life expectancy continues to rise, the play book for retirement is being rewritten."
Phased retirement can be anything from working full-time to full retirement, but few companies have implemented formalized programs for their retirees for fear of breaking existing pension laws. "Up until now," the report adds, "employers were not allowed to pay retirement benefits from such a plan—as either a pension or lump-sum payment—until an employee had terminated employment or had reached the plan's normal retirement age."    
Kyle Brown, retirement counsel for consulting firm Watson Wyatt Worldwide, says companies have yet to jump on the bandwagon and begin developing phased retirement programs such as the formal one offered at Stanley Consultants, but he expects to see many firms come on board once the new law is clarified.
Besides the law, he says, companies will be motivated to start their own phased retirement plans because of basic economics. "The percentage of workers over 55 in the next five to 10 years is going to increase dramatically. If employers ignore older workers, they do so at their peril."
Indeed, Stanley Consultants sees value in its older workers, says Gregs Thomopulos, president and CEO of the firm, because there's a dearth of experienced engineers in his industry. "If we have people that are in good health and they are willing to work, we try to accommodate their needs," he explains.
About 75 percent of Stanley Consultants retirees take advantage of the phased retirement program, which is tailored to each individual employee.
"In many cases, the member will begin to work reduced hours for a period of time prior to retirement, then continue to work in some capacity following the retirement date, often for many years," says Mary Jo Finchum, a spokeswoman for the firm.  "The standing joke is that the company will host the member's retirement party on Friday, only for the member to return to work in a new capacity the following Monday."
Many economists predict there will be a skilled labor shortage in the years ahead, so what better answer than already-skilled seniors?
While it makes sense for the economy at large, there are lots of things you need to keep in mind when pondering whether to quickly or slowly head over to the big comfy rocking chair.
"Most employees do not have a good understanding of loss of benefits upon retirement, like life insurance, or additional costs to the retiree to keep benefits in place," says Darrin Farrow, president of Pension Builders and Consultants.
He recommends employees organize a conference call with their financial adviser, if they have one, and their firm's benefits department, "to fully understand options before any decisions are made."
"Most decisions are binding and cannot be changed once elected and retirement has commenced," he says. "In many instances, I have seen people seeking advice after they have made benefit elections they didn't fully understand, only to find they made the wrong decision and cannot go back."
Bob Skladany, vice president of RetirementJobs.com, an online jobs site for people over 50, says there are three key issues: Financial, health and social.
Ask yourself, he advises, "Can I afford to stop working?" Look at your post-work income —Social Security, pension, personal savings, etc. With the number of traditional pensions declining, many individuals will have to rely on other forms of income in order to make ends meet.
The second factor to consider is health insurance. If you decide to retire at age 62 and your company doesn't offer retirement benefits, which is typically the case, you'll be on your own buying expensive insurance on the open market until you're eligible for Medicare at 65.
"We find a lot of people making retirement decision around the availability of heath care coverage," Skladany explains, and that means staying with an employer mainly because they can't afford insurance, or relying on a spouse's coverage.
If money and health insurance are not an issue, social and emotional fulfillment then comes into play, he adds. "Lots of people want to stay with their companies, and still others change careers. You've got the school librarian who is now working for Borders doing a bit lighter duty, and no one is throwing paper balls at her."
So let's say you decide to keep the daily grind and want to phase into retirement. Skladany suggests approaching your boss or human resource manager and proposing a plan for how you can stay employed but scale back on the hours or workload. Your firm doesn't have to have a formal phased-retirement plan in place: You can help your employer craft a one-off kind of program or establish something for a group of aging workers.
But beware you don't get pegged a slacker. If you suggest scaling back your hours and you still haven't reached the retirement age of 65, making such a suggestion when you haven't had a great performance history could have a negative impact. Your managers might think you're just trying to bow out of hard work and you may end up losing your job before you're ready. "That's the dark underbelly of this," Skladany says.
That means taking into consideration the relationship you have with the higher-ups, and also the nature of your skills and job. The more your employer wants you the more flexibility they'll be open to when you're ready to "Whoa!" your workhorse.