/ Source: The Associated Press
Doctors and scientists from the University of Washington will get a glimpse of what it would be like to do remote surgery in space when a portable medical robot they created will be tested next month in an underwater environment designed by NASA to simulate zero gravity.
The portable robot, which can be controlled over the Internet by a human surgeon many miles away, is being developed with money from the U.S. Defense Department to be used to treat wounded soldiers on a battlefield, to perform complicated surgery on patients in remote areas of the developing world and to help sick astronauts in space.
The difference between the robot surgeon demonstrated at the University of Washington on Wednesday and others that are being used today in American hospitals involves portability and communications, said Professor Blake Hannaford, co-director of the UW BioRobotics Lab.
All the portable parts of this device weigh about 50 pounds and can be transported and reconstructed by non-engineers at remote sites. Robot surgeons currently being used in hospitals weigh several thousand pounds, are not portable and can't be easily broken down and reconstructed.
Current medical robots also were not designed to be controlled from miles away.
When the mobile surgical robot called Raven is in the Aquarius Undersea Laboratory off the coast of Florida, its robotic arms holding surgical instruments will be operated by doctors in Seattle sitting in front of a computer screen and holding onto moveable metal arms.
The experiment will involve sewing up a tear in a rubber tube that is being used as a simulated blood vessel. The surgeons will also do a skill test used to judge student doctors.
The surgeons' digital instructions will travel over a commercial Internet connection from Seattle to Key Largo, Fla., and then through a wireless connection to a buoy, which is connected by cable to the submarine-like research pod about 60 feet underwater. Two NASA astronauts and a NASA flight surgeon will be in the underwater pod with the robot.
Mitchell Lum, a research assistant and electrical engineering Ph.D. candidate, said an expected time delay of up to a second — between the surgeon's digital instructions and movement of the robot's arms — should be the most challenging part of the experiment.
"We think they will take longer to complete the tasks but we don't think it's undoable," Lum said.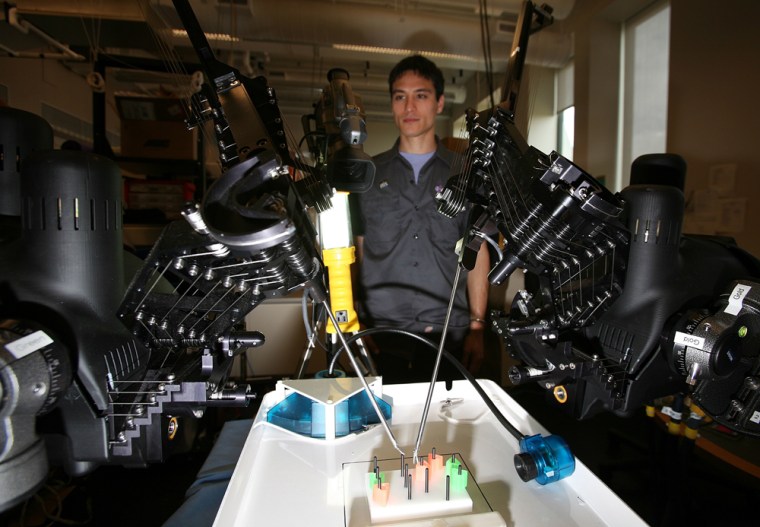 In zero gravity, both the robot and the patient will have to be immobilized, and doctors will have to deal with the different ways organs and bodily fluids move without gravity, explained Dr. Mika Sinanan, a professor in the department of surgery at the UW Medical Center who has been working closely with the project and demonstrated the robot for reporters on Wednesday.
The researchers said a major goal of the underwater experiment is to show that the robot can be dismantled, transported and set up by non-engineers in the zero gravity environment.
The co-director of the BioRobotics Lab, Associate Professor Jacob Rosen, said they needed the cooperation of doctors and every kind of engineer and computer scientist to make the robot work.
"We've all had to learn how to go into the different realms," Rosen said.
Sinanan said learning to use the robot was similar to learning a complex new surgical instrument, and comparable to the training for doing minimally invasive laproscopic surgery.
In addition to its applications on the battlefield, Sinanan expected the robot would be developed for surgery that requires very precise work in small spaces, such as coronary bypass operations or prostate surgery.
He said he was confident that robots would become standard in the operating room, but "it's going to be a slow evolution."
NASA is paying for the underwater experiment, scheduled for May 7-18, but the rest of the project is being paid for by the Defense Department. Two graduate students are scheduled to travel to Florida with Raven this Friday.
The robot was tested last summer in California's Simi Valley, using an unmanned aircraft with a wireless transmitter for communications.
Another robot being developed by SRI International in Menlo Park, Calif., will be tested in the underwater lab after the University of Washington project is tested. Neither robot has been approved by the Food and Drug Administration for use on humans, Hannaford said.