Air travel today can be positively headache-inducing thanks to delays, lost luggage and packed-to-the-max planes.
Now, add to that list the increased likelihood of not being able to board your next flight.
Close to 56,000 passengers were denied boarding on U.S. airlines in 2006, compared with around 45,500 in 2005, according to the April Air Travel Consumer Report from the U.S. Department of Transportation. Atlantic Southeast, the Atlanta-based subsidiary of SkyWest, had the highest rate of passengers bumped, followed by Delta Air Lines subsidiary Comair and ATA Airlines. JetBlue had the lowest rate of involuntary boardings.
It's no surprise that the likelihood of passengers getting bumped is rising, since the number of fliers is also steadily increasing. According to the Montreal-based International Civil Aviation Organization, which establishes all of the technical standards for the aviation industry, around 1.67 billion passengers flew worldwide in 2000. The organization estimates that the number increased to 2.1 billion people in 2006.
Missing your 25th high school reunion is one thing. But when you have an important meeting or a deal to close, losing your seat can literally cost you.
Preventative measures
Mike Boyd, president of Boyd Group, an aviation consulting firm in Evergreen, Colo., says the key to avoid being bumped is to secure a seat when buying your ticket. Airlines usually overbook flights because they count on a certain number of passengers changing or missing flights. Not having a definite seat assignment can increase the probability of getting bumped if a plane is full.
"For domestic flights, you should always be able to book a seat when you purchase a ticket," he says. "If a seat isn't available when you're buying a ticket, don't book that flight."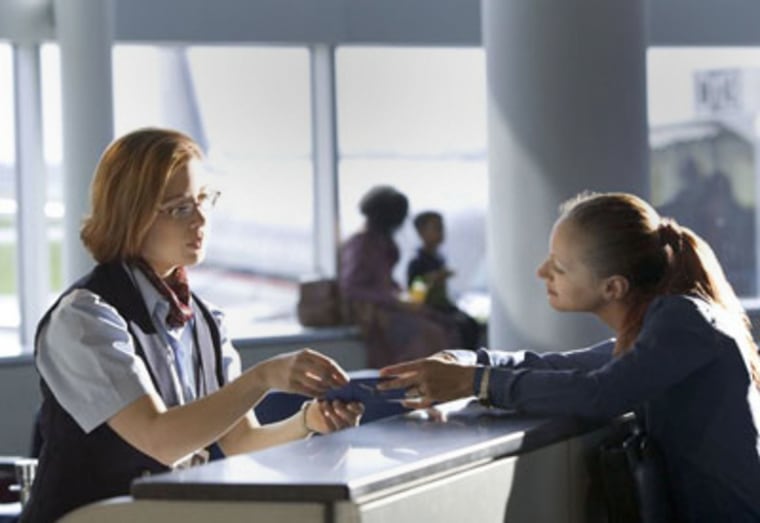 Boyd also says that passengers can log on at home and print out their boarding passes for domestic flights 24 hours before departure. This counts you as being checked in and decreases your odds of being bumped.
when planes are less crowded can also reduce the chances of getting bumped, as can .
Business travelers, take heart. These statistics shouldn't have you too concerned about your next trip going awry, says E. Christopher Murray, a lawyer with Garden City, N.Y.-based law firm Reisman, Peirez and Reisman. He says that airlines try to do everything possibly to prevent passengers from getting purposefully bumped.
"If a plane is overbooked, airlines offer attractive incentives like free tickets to people who volunteer to get bumped," he says. "With all the bad publicity out there about airlines and a competitive market, they want to retain customers."
Finally, some news about the airline industry to be happy about.