/ Source: The Associated Press
When white masquerades as yellow and green might actually be blue, a call goes out to Henry DePhillips.
DePhillips, a Trinity College chemistry professor, is among a cadre of specialists using cutting-edge science to solve the color mysteries of paintings and other cultural treasures often several centuries old.
Art collectors and museums, including Hartford's Wadsworth Atheneum, increasingly are turning to DePhillips and other experts to analyze artwork that has deteriorated over time.
With tiny samples invisible to the naked eye, they use special microscopes and other equipment to sleuth out the compounds that comprise the color pigments and materials.
The result: a glimpse into the long-ago artist's materials and methods, and a road map to preserve or restore the piece as close to its original state as possible.
DePhillips, 69, has projects under way or slated for the Lyman Allyn Art Museum in New London, the Mark Twain and Noah Webster houses, the Yale Center for British Art, and other institutions in Connecticut and nationwide.
"The whole goal of art conservation is to preserve the original vision of the artist, not my vision of what it could or should be," said DePhillips, who also uses chemistry to sniff out frauds as an authentication specialist.
"If you're going to restore a piece of art to the way it was on the day it was finished, you need to know exactly what materials they used."
DePhillips' latest project, an analysis of an 1848 painting by Emanuel Leutze at the Wadsworth, is particularly ambitious because of its massive size — 8 feet wide and 7 feet high (2.4 by 2.1 meters) — and historical significance.
"The Storming of the Teocalli by Cortez and His Troops," which Leutze painted four years before his classic "Washington Crossing the Delaware," is one of the museum's gems. But it also is showing its age — yellowing varnish discolors white backgrounds, fading blue skies have a greenish tint and blotches are evident from past restoration efforts by previous owners.
DePhillips is analyzing samples to help Stephen Kornhauser, the Atheneum's chief conservator of paintings, determine how to slow or stop the deterioration. When in doubt, conservators often choose to simply clean and revarnish a piece rather than break out the paints and brushes for a full-scale restoration.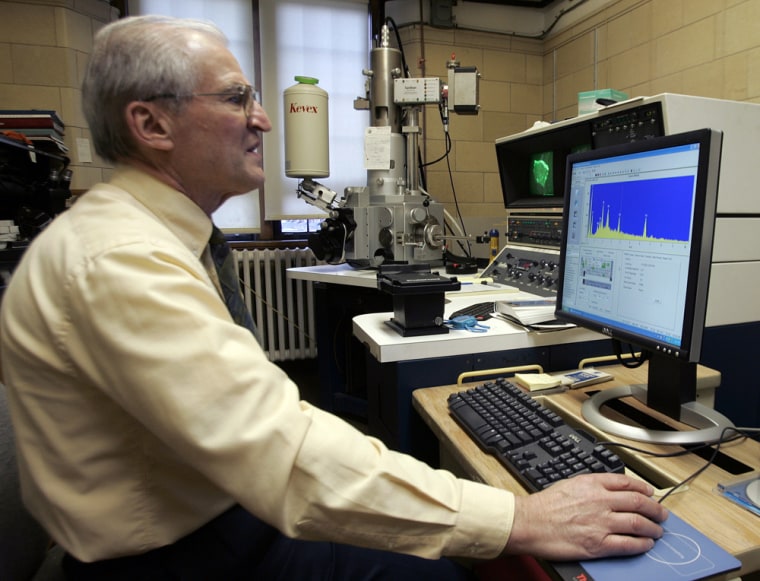 "Once we clean the piece, we really want it to look as it did the day it left Leutze's studio," Kornhauser said. "But we try to do as little as possible that produces the best results."
Until a few decades ago, most restoration and preservation was done by artists who used their best guesses on the original paints, varnishes and other substances used by the creators.
The results were sometimes good, but more often simply adequate, or, in the worst cases, left obvious signs such as mismatched blotches or brush strokes.
Using minuscule samples from the pieces, chemists can now pinpoint the blends of iron oxide, mercury, titanium dioxide, lapis lazuli and other substances that make up certain colors.
Mercury, for example, is key to the reddish-orange hue of vermilion.
And even when a painting's cloud seems dingy, the presence of titanium dioxide proves that when it left the artist's easel, it was the bright white associated with that substance.
The implications go beyond aesthetics to cold cash. For example, the use of pure Prussian blue — the first synthetic color of the Industrial Revolution — can cause a painting's value to skyrocket.
The analysis work has also launched an academic niche that introduces art students to the tenets of chemistry and vice versa.
DePhillips, who has been a chemistry professor at Trinity since 1963, has a lengthy waiting list for his class, "Science and Art." Several other universities, including Carnegie Mellon in Pittsburgh and Truman State in Missouri, have recently launched similar courses.
Educators such as DePhillips say they welcome the new generation of specialists, which they think will benefit the art world as a whole.
"Our job has been done correctly if you, a viewer of the piece, cannot tell that anything has been done," DePhillips said. "That is meeting our responsibility to history."