/ Source: msnbc.com news services
As thousands of Virginia Tech students and faculty filled the center of campus Monday morning to pay tribute to the victims of last week's massacre, investigators pored over the e-mail and cell phone records of the gunman, Seung-Hui Cho.
State police recovered e-mail records from Cho's university account, as well as the e-mail records of his first victim, Emily Hilscher, NBC News reported. Investigators also obtained detailed cell phone records for Cho, NBC said.
In describing attendance Monday, Sciences Department Dean Lay Nam Chang said classes were almost as full as before the massacre. "They (students) are, in fact, returning to normalcy," he told a news conference.
On campus, an antique, 850-pound brass bell was installed on a limestone rostrum for the tribute, and 33 white balloons were released into the air in memory of the victims of the 32 victims and Cho. About 1,000 balloons in Virginia Tech colors — maroon and orange — were also released.
"I've been back with my friends, but I don't know how it's going to feel, seeing the empty seats in the classroom, noticing the people who aren't here anymore," said David Patton, a 19-year-old freshman who was friends with two of the victims. "I'm wondering where they are now, if they are in heaven, and when I'll see them again."
The chimes of the bell echoed through the campus, covered with a week's worth of memorials and tributes to the students, including flowers, writings and candles.
The bell rang at 9:45 a.m., around the time when Cho killed 30 students and faculty members in a classroom building before committing suicide. Monday's tribute lasted 11 minutes, as the bell rang for each of the victims and Cho.
'Let's go Hokies'
As the crowd broke up and classes resumed, people started to chant several times: "Let's Go Hokies" — a reference to what students, professors and alumni call themselves.
Some students were finding it hard to move forward, however.
"I thought last week as time goes by that I could forget this tragic incident," graduate student Sijung Kim said. "But as time goes by I find I cannot forget."
"It's only been a week, but it seems so long ago," said Marc Hamel, 43, a political science student. "Getting back into class is really going to help."
A moment of silence was also observed at about 7:15 a.m., near the dormitory where Cho's first victims, Ryan Clark and Emily Hilscher, were killed.
In front of the dorm, a small marching band from Alabama played "America the Beautiful" and carried a banner that read, "Alabama loves VT Hokies. Be strong, press on."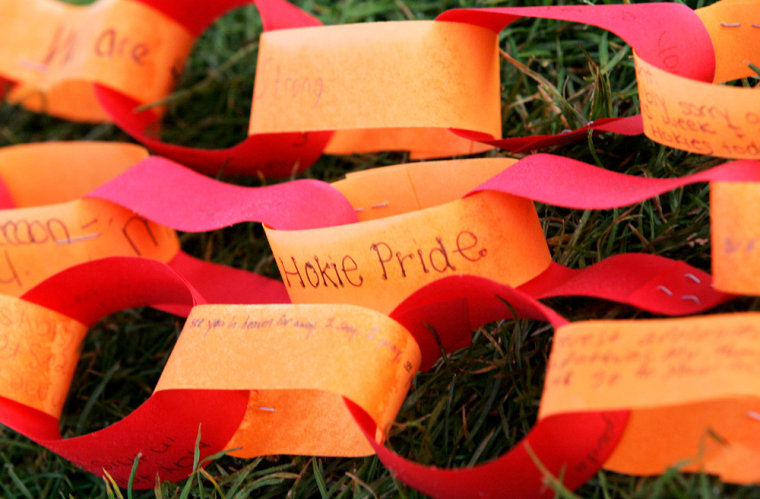 Afterward, a group of students and campus ministers brought 33 white prayer flags from the dorm to the school's War Memorial Chapel. They placed the flags in front of the campus landmark and adorned them with pastel-colored ribbons as the Beatles' song "The Long and Winding Road" played through loudspeakers.
"You could choose to either be sad, or cheer up a little and continue the regular routine," said student Juan Carlos Ugarte, 22. "Right now, I think all of us need to cheer up."
Ugarte, a senior from Bolivia, wrote a message on a yellow ribbon for one of the victims, Reema Samaha. "God will forever be with you. I will always pray for you, and remember."
Andy Koch, a former roommate of the gunman, was among the many students who remembered the shooting Monday. "Last night, I didn't sleep much," he said.
On the main campus lawn stood a semicircle of stones — 33 chunks of locally quarried limestone to remember each of the dead.
Someone left a laminated letter at Cho's stone, along with a lit purple candle.
"Cho, you greatly underestimated our strength, courage and compassion. You have broken our hearts, but you have not broken our spirits. We are stronger and prouder than ever. I have never been more proud to be a Hokie. Love, in the end, will always prevail. Erin J."
Many students vow to continue courses
University officials were not sure how many students planned to be back Monday. Virginia Tech is allowing students to drop classes without penalty or to accept their current grades if they want to spend the rest of the year at their parents' homes grieving last week's massacre.
But whatever decisions they make academically, many students say they will do their mourning on campus — and that they can't imagine staying away now.
"I want to go back to class just to be with the other students. If you just left without going back to classes, you would just go home and keep thinking about it," said Ryanne Floyd, who returned to campus after spending most of last week with her family and avoiding news coverage of the tragedy. "At least here, being with other students, we can get some kind of closure."
Students began returning as more details about the rampage emerged. Dr. William Massello, the assistant state medical examiner in Roanoke, said Cho died from a self-inflicted gunshot wound to his head after firing enough shots to wound his 32 victims more than 100 times.
But there was nothing unusual about Cho's autopsy, he said, and nothing that indicated any psychological problems that might explain his reason for the killings.
On Monday, eBay said Cho did not purchase ammunition used in the rampage on the online auction site, refuting published reports.
The company said Cho did in recent months buy empty ammunition clips and a gun holster on eBay. He also sold other items including books and tickets to sporting events.
"Empty ammunition clips and gun holsters are unregulated items that can be legally bought and sold on eBay as well as in retail stores across the U.S. However, we are saddened that Mr. Cho purchased on eBay any item that may be linked with his actions last week," the company said in a statement.
Push to get 'back to normal'
Meanwhile, Virginia Tech's Student Government Association issued a statement Sunday asking the news media to respect the privacy of students and leave by the time classes resume.
"Our students are ready to start moving forward, and the best way we can do that is to get the campus back to normal," Liz Hart, director of public relations for the SGA, said in an interview. Students don't want "anything external to remind us it will be a difficult road. We know that."
Virginia Tech officials say victims' families are their top priority. They have been given a private e-mail address and direct phone number for President Charles Steger.
The campus is covered with memorials and tributes to the students, including flowers, writings and candles. There are constant reminders of counseling options, and state police will provide security at least through Monday.
"I still feel safe. I always have," said Claire Guzinski, a resident of West Ambler Johnston Hall, where Clark and Hilscher were slain. "I just think, stuff happens. It's still in the middle of nowhere, a rural area. What are the chances of it happening twice?"
The only thing she feels nervous about, she says, is what to say to classmates who lost close friends.
"What do you say?"