The phone calls begin to pick up in early afternoon, after school gets out.
Often, it's kids. But sometimes, say the managers of The Wishing Well in Cherry Hill, N.J., parents are among the 20 to 40 callers a day who ask whether the store has received any more plush toys called Webkinz.
"It's unbelievable," said Evelyn Harris, manager-owner of the gift ship.
It's frustrating, too, because despite the constant barrage of would-be customers — and daily phone calls to the company that makes them — Harris hasn't gotten a shipment of the latest must-have toy for the tween set in about five weeks.
The Webkinz drought has left many unhappy youngsters in its wake — and, Harris worries, resulted in missed opportunities to get their parents in to the store to purchase other items.
"What we're really whining about is that it's so much traffic to be getting in here," said Renee Steinberg, the store's manager.
Launched less than two years ago, Webkinz have quietly grown into a phenomenon similar to Cabbage Patch Kids and Beanie Babies in years past — the type of toy that a parent will drive across the state to snag, or pay four times the selling price for on a Web site such as eBay.
Popular with 7- to 12-year-olds, Webkinz is a sort of amalgamation of tween favorites: a cute plush toy, a virtual pet, a social networking Web site and a place to play online games.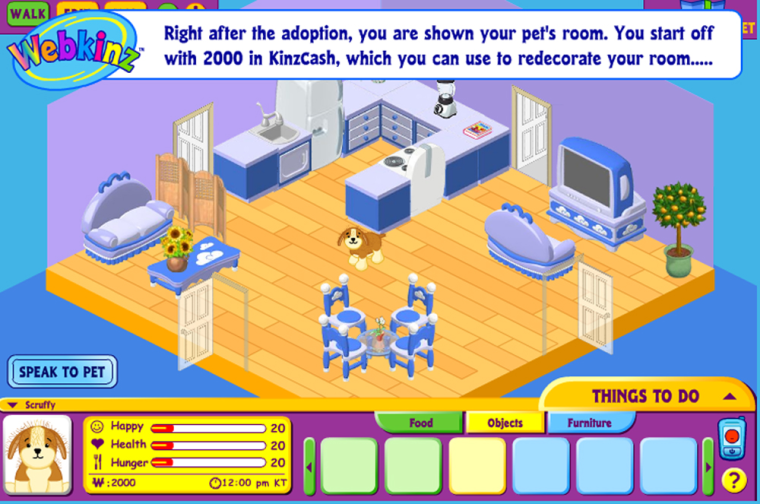 Each stuffed animal comes equipped with a special ID that lets kids log on to a Web site and build their own virtual reality for an online version of the pet, complete with its own room.
To coddle their online pets with special room decorations and other treats, kids can earn "KinzCash" by playing games, taking quizzes or doing odd jobs like painting. (No real cash changes hands.) The virtual animals also need nourishment and attention in order to thrive.
Webkinz owners also can interact with one another using a tightly controlled chat program, which offers pre-built phrases to prevent people from seeking out personal information.
Susan McVeigh, spokeswoman for Webkinz maker Ganz, said the company does plan to add another chat site for older kids, which will let them converse more freely. Still, she said that site will be heavily monitored to prevent kids from doing things like releasing personal information.
While other toys have offered some of these things individually, Webkinz hit a nerve when it put them all together.
"It's combining a lot of the elements that you've seen before in one product, so we're really finding it to be really, really popular," said Adrienne Citrin, spokeswoman with the Toy Industry Association.
Katherine Nguyen, owner of Building Blocks Toy Store in Chicago, has set up waiting lists for the toys, which she said sell out in about a day. After not getting any for about five weeks, Nguyen finally received about 100 Webkinz last week — and sold out of them immediately.
Hallmark Cards Inc., which operates 480 corporate gift stores and has 3,700 licensed locations, has been told that supply problems are expected to ease by the end of May or early June. In the meantime, spokeswoman Kristi Ernsting said, "It's just hard to find them."
Ganz' McVeigh said the privately held Canadian company is scrambling to get more Webkinz on shelves.
"I know that demand is huge right now, and we're working flat out to increase our supply to our retailers as quickly as we can," she said. "Every part of the company is focused on supporting them."
Webkinz' popularity is especially surprising because Ganz has not sought out any paid advertising.
"We say it spread schoolyard to schoolyard, pretty much," McVeigh said.
Loretta Rederscheid's 9-year-old daughter, Erin, first began hearing about Webkinz from kids at school in December, and by Christmas she had received her first one. Rederscheid put her foot down after her daughter had amassed five of the toys.
That was when Erin appealed to a more powerful force — the Easter bunny.
"She leaves this big, long note for the Easter bunny that says she wants a Webkinz," Rederscheid recalled.
The mother of two from Floral Park, N.Y., relented, in part because she wanted her daughter, a third grader, to keep believing in the Easter bunny. Still, she was in for a shock when she went to the store and discovered they were sold out.
After poring through the yellow pages, she finally found a store that had just one left — and would sell it to her only if she agreed to spend $10 more at the store. Rederscheid gave in and bought the Webkinz, plus another stuffed toy for her son. The highly sought-after black lab puppy Webkinz was a hit.
"She was absolutely bowled over," her mother said.
Rederscheid likes that Erin has to take care of the virtual pet, including feeding it balanced meals, and that she can have virtual play dates with other kids online. She said the games also have an educational element, with things like word scrambles that help with spelling.
"Instead of having her sit in front of the TV, I like that it's an interactive thing," she said.
Still, Rederscheid insists her daughter is not getting any more Webkinz, even though Erin complains that some kids she knows have as many as 19 of them. She also won't let Erin play with her virtual Webkinz every day.
"I think she'd spend every moment on the Web site if I didn't limit her," she said.
Despite the intense popularity, retailers such as The Wishing Well say it may not be long before the shortage frustrates parents and fickle kids enough to turn to another must-have toy.
Already, competitors are scoping out the market. Ty Inc. recently launched a line of dolls, called Ty Girlz, that also live virtually online.
"People are buying them as alternatives to Webkinz," Building Blocks' Nguyen said, although she noted that the appeal is less broad because they are geared to slightly older girls.
The iconic Barbie doll now has an online component where girls can dress up a virtual doll, decorate her room and even go shopping. And Russ Berrie and Co. also has begun selling Shining Stars, a line of plush toys that also have a Web-based counterpart.
People who buy a Shining Star toy can register and name an actual star through the Web site, as well as play games and do other things. Andy Gatto, Russ Berrie's chief executive, said the company plans to add even more interactive features down the road.
Gatto admits that the shortage of Webkinz is helping Shining Stars' popularity.
"There is absolutely a pent-up demand for Webkinz or for, I think, any kind of a product that marries, again, this virtual and dimensional experience," he said.