/ Source: The Associated Press
After spending 25 years in an Illinois prison for rape, Jerry Miller was found innocent Monday after DNA evidence showed he was not responsible for the 1981 attack.
After a judge vacated his conviction, Miller smiled, and a courtroom of his family and friends cheered.
"I will get on with my life, start a life, have a life," Miller said at a news conference after the court hearing. "I'm just thankful for this day."
The exoneration is the United States' 200th based on DNA evidence, according to the Innocence Project in New York, a nonprofit group that works to exonerate wrongly convicted inmates.
Miller, 48, had been found guilty of rape, robbery, aggravated kidnapping and aggravated battery. He was paroled in March 2006 and now works two jobs and lives with a family member in a Chicago suburb.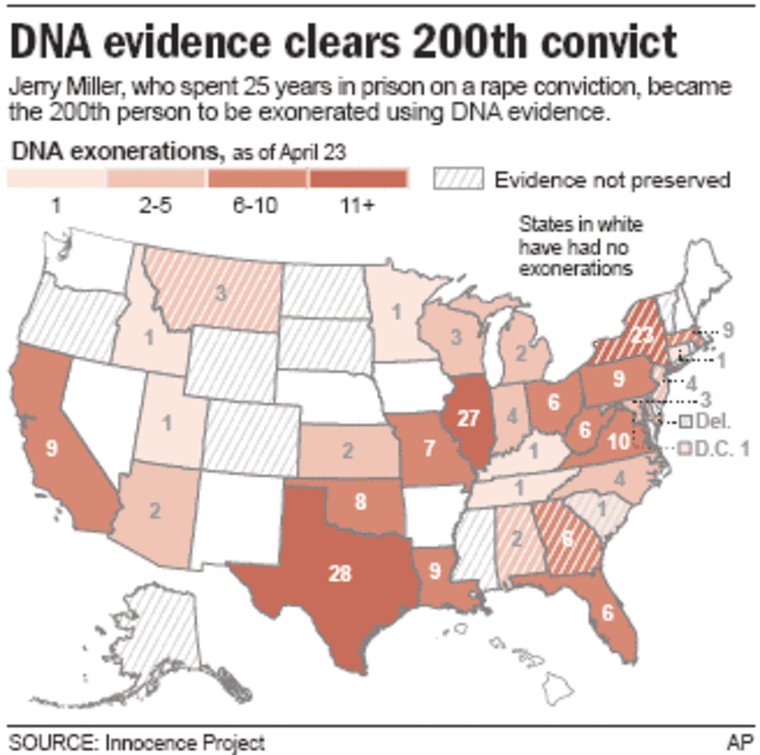 He no longer has to register as a sex offender.
He had been arrested after a 44-year-old woman was attacked as she got into her car at a Chicago parking garage in September 1981.
The attacker raped the woman, put her in her car's trunk and ran away after two parking attendants approached him.
The garage workers later picked Miller out of a police lineup of suspects.
At the trial, Miller testified he was home watching a championship boxing match at the time of the crime. Still, the jury found him guilty and sentenced him to 45 years.
Last year, the Innocence Project persuaded Cook County prosecutors to conduct new DNA tests on a semen sample taken from the woman's clothes.