/ Source: The Associated Press
For most of her life, Jean Taylor has lived in northern New Jersey near the largest oil refinery on the East Coast.
She wonders what she's breathing, though she says the odors are not as noxious as they were a few decades ago.
Since the terrorist attacks of Sept. 11, 2001, she also has wondered about security. A community activist, she toured the Conoco Phillips Bay View plant with a group of like-minded citizens and was amazed at what she saw — and didn't see. "There wasn't any guard or security official that I saw. There's more security at the airport than out here."
Now federal officials are catching up with Taylor's concerns.
In October, Congress passed a law giving the Homeland Security Department the authority to regulate the nation's most hazardous chemical plants.
Those rules have now been published, and regulators and the about-to-be regulated, congressional and state officials, industry and environmentalists all have different views of what comes next.
'Vulnerability zones' around 100 plants
While New Jersey has a particularly large concentration of chemical facilities, nearly every U.S. urban area has plants that produce or use hazardous materials capable of endangering their neighbors. The government lists about 100 plants nationwide with a million or more people living in such a "vulnerability zone."
California, for example, is home to 12 plants, each with more than a million people living in its shadow. Ohio has nine, Illinois 14 and Texas 17.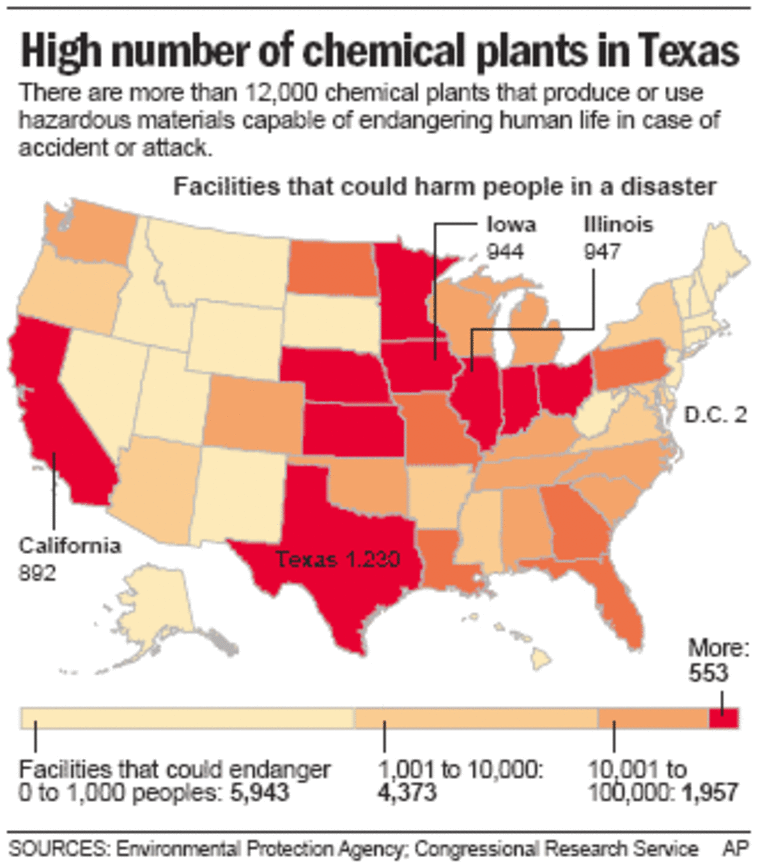 Homeland Security Secretary Michael Chertoff acknowledges "the collection of a lot of potentially dangerous chemicals in one place does create an attractive target to somebody who wants to carry out a terrorist attack."
Department regulators estimate as many as 66,000 plants around the country possess some amount of a "chemical of interest." Roughly one-third of those already are regulated by other agencies, such as the Coast Guard or the Environmental Protection Agency. For the rest, the government is asking the owners to complete an online questionnaire within 60 days telling what they manufacture, what chemicals they store, in what quantities, and in what type of storage.
The department will determine their risk level by assessing the potential consequences to people nearby of an accident or attack, the impact of sabotage or theft, and the economic consequences of any catastrophe.
7,000 high-risk sites estimated
Chertoff estimates about 7,000 plants will fall into the high-risk category.
Assistant Secretary Robert Stephan, who will oversee the process, said 100 to 150 in the topmost tier can expect the earliest attention and closest scrutiny.
All 7,000 high-risk facilities will file "vulnerability assessments" in which various threat scenarios are played out. Managers must determine whether the plant could withstand an attack by armed assailants, for example, or a bomb. Each plant must develop a security plan that will resolve those vulnerabilities. The Homeland Security Department will then follow up with inspections.
Stephan said resources are tight; he will have only about 80 regulators to address all the high-risk plants, and a budget of $25 million.
T. Ted Cromwell of the American Chemistry Council, an industry group, said some companies already have taken many of the required steps. But Stephan estimated 20 percent present a significant risk because they haven't participated in any voluntary program.
Among the new tools Congress has given the department is the ability to levy fines up to $25,000 per day, or to shut down egregious violators.
"We have the ability to make life so burdensome and so uncomfortable on these facilities that they may on their own choose to adjust their business model and the types of chemicals they use. However, we are not going to dictate that they change," said DHS spokesman Russ Knocke.
A number of lawmakers and environmental activists want the department to do just that. Critics say too much attention is paid to fences and physical security instead of reducing the amounts and toxicity of the chemicals used.
"A chemical attack could be carried out with readily available technology, and people wouldn't even have to go on the grounds to do it," says Bob Bostock, former homeland security chief at EPA.
"It is common sense that if a facility owner can replace a deadly chemical with a safer chemical that would not kill tens of thousands of people," then the department should be able at least to discuss reducing the danger with the owner of the facility, said Sen. Joe Lieberman, I-Conn., chairman of the Homeland Security Committee.
Federal vs. state rules
Environmental groups such as Greenpeace also contend the rules fail to protect communities.
One issue that rankles some lawmakers and state officials is that the federal rules could override state rules that are even more stringent. New York, Maryland and New Jersey are among states that have enacted their own chemical regulations. Those could be challenged in court by companies now brought under federal rules.
Chertoff says federal rules would only override state rules that directly conflict with the federal ones, and he promises that no state will be barred from doing what it does now if the state rules are more stringent than the new federal rules. Congress is pushing legislation that would ensure state rules wouldn't be overridden by the federal government, but it is stalled.
New Jersey officials were on their way to requiring chemical plants to substitute safer substances. They have taken the first step, of identifying alternatives, but have not yet ordered change. Now they fear they are frozen in place.
"The Bush administration's rule prevents New Jersey from moving any further with its strong chemical plant security program," said Scott Mulhauser, spokesman for Sen. Frank Lautenberg, D-N.J.
Back in Linden, N.J., Jean Taylor says she tries not to dwell on fears of terrorism, but sometimes it does bother her. "I wonder whether anything has happened to improve the situation," she says.