Camping, hunting, fishing, hiking. Just a handful of excursions guys take together each year. Alone. No women allowed.
The country's lakes, rivers and streams still draw scores of men seeking to bond with friends. But these days, fellas are finding higher-end haunts offering off-road driving, whiskey tasting, drag racing lessons and private poker tournaments.
Sometimes called 'manscapes,' they're an example of a larger trend in leisure travel: gender-specific jaunts.
Research conducted last year by I'm In!, a Waltham, Mass.-based company whose Web site helps users create gender-specific group trips, in collaboration with Compete, a Boston-based online market research firm, found that an estimated 20 million men currently spend $10 billion to $12 billion a year on guys-only getaways.
"Social travel is ripe for massive growth," says Stephen DiMarco, vice president and chief marketing officer at Compete. "Travel is the largest ecommerce category, and social networking is the fastest growing online category."
A study by Compete of two million Web users found that among those polled, 38 percent of men and 34 percent of women had taken a gender-based trip in the last year. The average group size was eight; the average age of participants was 30 to 55.
Attractive amenities
To help take bonding to the next level, hotels and resorts are now offering packages to accommodate every type of man, from those seeking adventure and sport to those in need of rest and relaxation.
Packages offer everything from unlimited golf to rock climbing to spa treatments. Some include an experiential learning component--poker lessons, say, or a tour of a scotch distillery.
"For men, the annual guys' trip is male bonding at its best," says Brian Harrington, president and co-founder of I'm In!. "There's usually some competition, lots of cocktails and a healthy dose of camaraderie. These trips are anchors that hold men's relationships together in a sea of busy personal and professional lives."
Spring break for moneyed grownups
Services like I'm In!, founded in late 2005, provide online tools that help ease the pain of organizing group trips.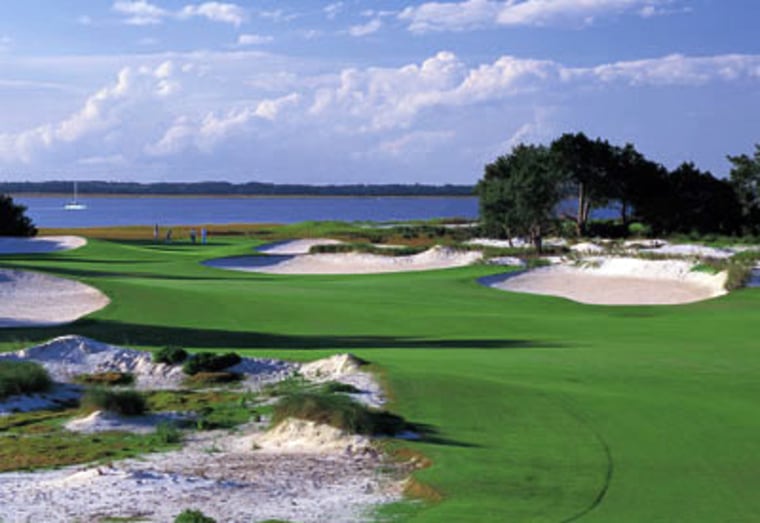 Guys-only trips are "exceedingly difficult to pull together," says Harrington. "What they want is a central place to organize themselves and plan, without mile long e-mail threads. They want ideas to make planning easier and access to travel suppliers who can create memorable group experiences."
Men typically seek pre-packaged deals, he says, to cut down on details.
The Harbor Beach Marriott Resort & Spa, for example, offers "the fishing mancation," which starts at $725 per person per night, based on a six-person group. The trip starts with a bucket of beers upon arrival, and continues with an offshore fishing expedition on a private 53-foot catamaran charter, complete with a captain and fully trained crew. The hotel's chef will then pan-sear, roast, grill or fry your catch.
The Venetian Resort-Hotel-Casino in Las Vegas offers a $25,000 two-night mancation package for six guys, which includes communal accommodations in the 1,500-square-foot Prima Suite, unlimited private limousine service for the duration of the package, a poolside massage for each guest, a private poker lesson and VIP entry (no waiting and the best seats in the house) to dinner, night clubs, and entertainment, including bottle service, inclusive of a bottle of choice, mixers and a private bartender.
Do you prefer a dermal peel to a rod-and-reel? Are you unhappy being hairy? Then you'll want a spa package where you can be "manscaped."
Both the Mayflower Inn & Spa in Washington, Conn., and the Montage Resort & Spa in Laguna Beach, Calif., offer customizable male-specific four-day packages that include hours of treatments such as Shiatsu, Thai massage or an herbal detox wrap.
"Men's weeks at Mayflower offer a mix of unique high-power individualized programs and male bonding camaraderie amidst blue-chip luxury," says Lisa Hedley, president and creative director of the Mayflower Spa.
A note to girlfriends, sisters, wives and moms: It's possible that your man is behaving badly on his mancation. According to Compete, "41 percent of men would prefer their wives not know about what happened" on a guys-only retreat.
Of course, if your man opted for the facial rather than wrestle the 1,200-pound marlin, you probably can rest a little easier.