/ Source: msnbc.com news services
All residents were accounted for Wednesday after crews scoured the mangled remains of houses and trailer homes in the wake of tornadoes that killed at least 10 people in this border community and its Mexican neighbor. The storm killed two other people in Louisiana and Arkansas.
Twisters cut across a nearly 4-square-mile area in a rural community southeast of Eagle Pass on Tuesday night, destroying two empty elementary schools, a church, business and homes. Several mobile homes were still missing as searchers with dogs went lot to lot.
Maverick County Judge Jose Aranda said that all residents were accounted for, but that 50 to 200 families were left homeless.
A family of five — a girl, her parents and two other relatives — was killed when the winds blew their mobile home across the street and slammed it into Rosita Valley Elementary School.
"It was a whole family, and they were all together, probably like they were huddling," said police Officer Ezekiel Navjas, who arrived Tuesday night just as crews were pulling from the wreckage the body of the girl, believed to be about 5 years old.
"I've never seen nothing like this," he said, shaking his head as he walked down a dirt road lined with homes cut in half like doll houses and mesquite treetops torn from their trunks.
One of the dead was found in a house, and the other died after being taken to a San Antonio hospital, authorities said. More than 80 others were injured, and at least four remained in critical condition Wednesday.
Across the Rio Grande in Piedras Negras, three people were killed and 300 homes were damaged. About 1,000 people sought refuge in shelters in Piedras Negras, where 32 people were killed by a tornado three years ago.
No warning system in town
Neither Eagle Pass nor Piedras Negras had a siren warning system like those used to help people evacuate ahead of the same storm when it flooded streets and peeled roofs off homes in North Texas. No injuries were reported there.
Lightning was blamed for a death Wednesday as the huge weather system plowed through the Mississippi and Ohio valleys. The bolt started a fire near Shreveport, La., that killed a 101-year-old man, authorities and the man's family said.
A 12th person died in Arkansas when high winds swamped a boat on a lake, officials said.
The sprawling front also spun off tornadoes Tuesday in Oklahoma and Colorado, caused flooding in Iowa and Nebraska, and piled snow more than a foot deep in the Rockies.
About 350 residents from Eagle Pass were in shelters and were kept from their homes until rescuers completed their search of the area. Search teams made up of police, firefighters, Border Patrol agents and National Guard soldiers picked their way through homes, knocking on doors, calling out to residents and marking searched buildings with spray paint.
'Stunning ... devastation'
Gov. Rick Perry arrived for a tour in the late afternoon, saying he was pleased with officials' response. The state has asked the federal government for quick assistance and a disaster declaration, which would entitle it to federal aid.
"It is stunning, the devastation," he said.
Eagle Pass resident Ricardo Tijerina, who rode out the twisters with his six children in a house near the school, said he saw the weather roll in and expected a typical spring storm.
"I saw some clouds, but I never imagined it was going to be that bad," said Tijerina, whose children, ages 5 to 15, crowded under their beds while he watched a neighbor's trailer roll off its foundation.
The tornado hit near Eagle Pass around 7 p.m., according to the National Weather Service. There were reports of another funnel cloud in Piedras Negras later that night, but it was unclear when or if it touched down.
Tijerina and another neighbor went out in the wind to make sure everyone in the neighbor's trailer was OK, but the family, with seven children, was not home, he said.
School, flights canceled
After the tornado passed, neighbors poured onto the darkened streets checking for anyone who needed help, said Eglanteina Alamillo, 20. "You could hear everyone was walking around and helping people get out of the trailers," she said.
Navjas said he and other rescuers worked as long as they could Tuesday night. He finally went home for a couple hours of sleep after his flashlight went out around 4 a.m.
School was canceled Wednesday in Eagle Pass, a city of 26,000 about 150 miles southwest of San Antonio. Like most border towns, it is heavily dependent on its relationship with its Mexican neighbor. It also depends on revenue from the Kickapoo tribe's Lucky Eagle casino.
"These are people that have built their homes a little at a time," Aranda said. "They probably don't have a mortgage, but they don't have insurance either."
American Airlines canceled about 200 flights because of weather in Dallas, spokesman Billy Sanez said. The airline also diverted about 80 flights bound for Dallas-Fort Worth International Airport to other airports.
Ken Capps, vice president of public affairs at the Dallas airport, said the flight control tower was temporarily evacuated Tuesday night but the airport remained open. Weather canceled 160 of about 950 departing flights Tuesday, and cots were provided for stranded passengers, airport officials said.
Storm whips through West
In Denton County, heavy winds blew the metal roof off a restaurant and damaged several mobile homes and a commercial building under construction, said Roland Asebedo, assistant chief for Denton County's Emergency Services. No injuries were reported.
The storm system dumped heavy snow, rain and hail before roaring out of the West. Western and central Iowa received up to 3½ inches of rain, and in parts of Nebraska there were reports of as much as 5 inches.
In Colorado, six buses carrying at least 60 children were stranded after being unable to travel in the storm that dropped more than a foot of snow in about two hours, said Rob Finley, assistant fire marshall for El Paso County.
Children in those buses were all accounted for late Tuesday and had been rescued and taken to shelters opened in the county, about 80 miles south of Denver.
Whiteout conditions
While the sun was out in downtown Colorado Springs on Tuesday afternoon, there were whiteout conditions on the plains east of town where crews on Sno-Cats rescued dozens of motorists, said Lt. Clif Northam of the El Paso County sheriff's office.
A tornado damaged several buildings near the small town of Wild Horse about 110 miles southeast of Denver, but no injuries were reported, the Cheyenne County Sheriff's Department said.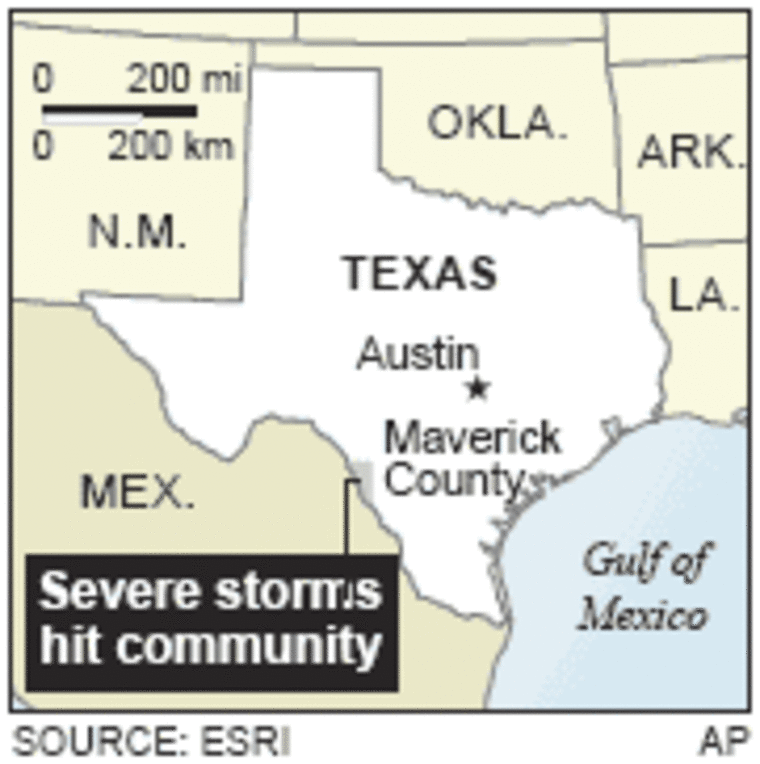 "I was terrified," said Wild Horse resident William Skinner, 47. "It was right there, by my neighbor's, just about 200 feet away."
Evergreen, Colo., in the foothills west of Denver, reported 16 inches of snow, and other foothills towns had up to 14 inches. Some schools were closed.
"There's cars sliding off the roads everywhere," said Rick Olde, owner of Olde's Convenience Store in Evergreen. "A lot of people took their snow tires off a little early this year."
Tumbling boulders, a fallen power line, accidents, slick pavement and poor visibility forced nearly a dozen road closures, including on Interstates 25 and 70.
Hail the diameter of a quarter hit parts of southeastern Colorado, and authorities said some rural roads were blocked by flooding from heavy rain in northeast Colorado, northwest Kansas and southwest Nebraska.
In Nebraska, the U.S. Geological Survey reported Tuesday that most of its stream gauges along the Republic River were near or exceeded flood stage.