Let's be honest: I have wine anxiety. Whenever I'm invited to a dinner party and decorum dictates that I bring a bottle of wine, I go into a little panic. Will I bring a suitable vintage? Will it complement the food? Is this bottle too cheap? Too pretentious? Frankly, my wine-tasting experience is limited, and it mostly dates from my college days, when I would tap a glass from a box -- hardly the makings of an oenophile.
Earlier this year, when I was given the opportunity to face down my wine anxiety, I took it. I signed up for a four-day food-and-wine event, The Masters of Food & Wine, South America, which took place at one of my favorite hotels: The Park Hyatt Mendoza, in Mendoza, Argentina. Mendoza is one of the world's most important wine regions, and Argentina is one of my favorite places, so it seemed an auspicious place for me to get a little more wine-savvy.
What I liked most about this event was how accessible and comfortable it was for amateur wine buffs and newbies. I had been nervous about fitting in, but I needn't have worried. The Masters staff organized us into small groups then sent us out on a series of day trips to vineyards. We also enjoyed "culinary excursions" (lunches and dinners) consisting of perfectly matched wines and foods selected by the event's international roster of sommeliers and chefs. The combination of small-group intimacy and professional attention made for a very personal event, entirely devoid of class consciousness and snobbery. In fact, a nice fellowship sprang up among the attendees, who engaged in many lively discussions of the philosophies behind winemaking and good food.
Many participants made new friends at the Masters, including me. I fondly remember the kindness of the editor of Eno City and Wine Guides, who took me under her wing at many of the wine tastings and vineyard tours, explaining to me the intricacies of wine, viticulture, oenology and the social aspects of wine. Another new friend is the founder of Women & Wine, who shared her passion for identifying wines by grape variety, origin and vintage. She's the one who taught me the ABCs of color, smell and taste -- I even learned a thing or two about tannins.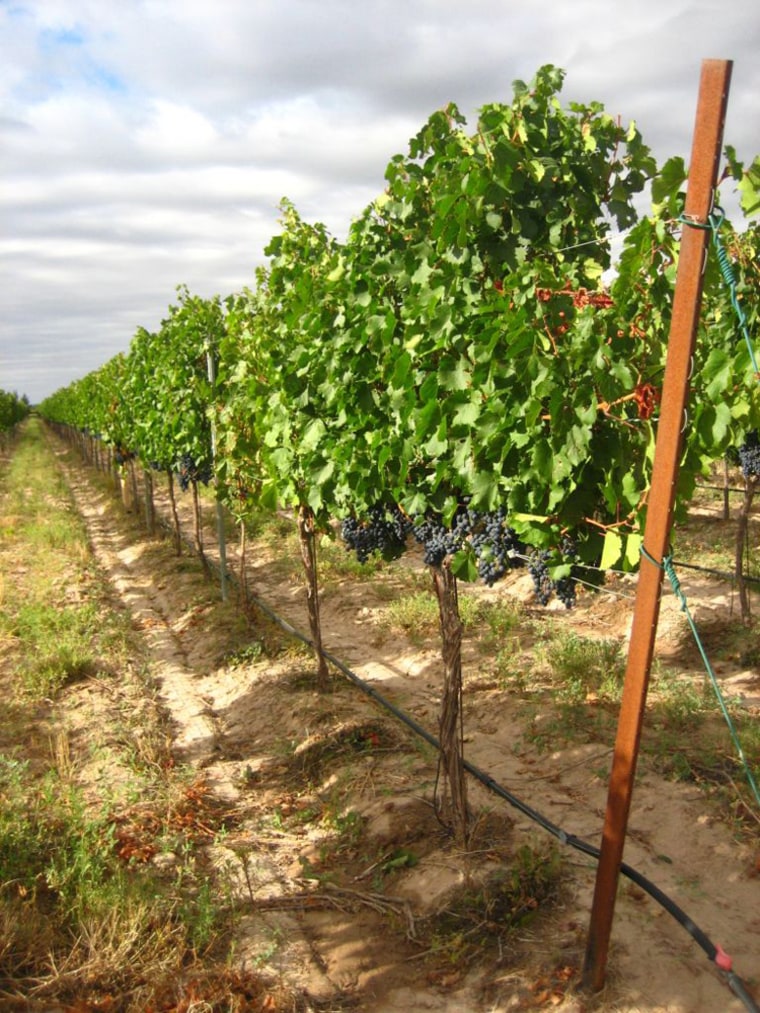 All this eating and drinking and fellowship took place against the background of the spectacular surroundings of Mendoza. As Julie Brosterman, of Women & Wine puts it: "Lunch isn't just lunch in this town of over 900 wineries. It's a celebration of family, friendship, good food and fine wine -- but mostly an appreciation of what has happened in this land at the base of the Andes mountains."
The architect of the inaugural Masters of Food & Wine, South America, was Carl Emberson, general manager of the Park Hyatt Mendoza, a wonderful host and a respected hotelier. Because of his unique position, the event drew participation from distinguished chefs from celebrated kitchens ranging from New York and Buenos Aires to Tokyo and Paris. Their talents were abundantly displayed on the last evening at the exclusive Wine Spectator Gala Dinner, an eight-course meal of fabulous dishes, each with a perfectly paired wine.
I feel lucky to have participated in the first Masters of Food & Wine, South America, where I came to prefer a fine Malbec to my usual single-malt scotch. I'm confident this event will draw crowds in years to come, as it is truly an extraordinary gastronomic experience. Next year's event will be held at the Park Hyatt Mendoza from Feb. 14 to Feb. 17. It would make a wonderful Valentine's gift.
Joel Widzer is an expert on loyalty and frequent flier programs. He is the author of "The Penny Pincher's Passport to Luxury Travel," a guidebook on traveling in high style at budget-friendly prices. or .