/ Source: The Associated Press
A butterfly found only at a popular Nevada off-road vehicle site won't receive federal protection as a threatened or endangered species, the U.S. Fish and Wildlife Service decided Wednesday.
After a 12-month review, agency officials said federal listing under the Endangered Species Act is unwarranted because of recently adopted measures to protect the habitat of the Sand Mountain blue butterfly. Also higher-than-expected numbers of the insect were found during a survey last year, fish and wildlife officials said.
"Our finding, after looking at all the available information and the conservation strategy being implemented, is that the threat of the species becoming extinct is no longer there," said Bob Williams, field supervisor of the agency's Nevada office.
Conservationists, who had sought to have the butterfly listed under the Endangered Species Act, branded the decision the latest attempt by the Bush administration to undercut environmental protections. They say butterfly numbers have steadily decreased, and its habitat is rapidly vanishing.
"We have a finding based on a conservation plan that is politically, rather than science-based," said Karen Schambach of Public Employees for Environmental Responsibility. She said the agency was more concerned with promoting off-road recreation than ensuring the viability of the butterfly.
Federal land managers for the first time in March restricted motorcycles, dune buggies and all-terrain vehicles to designated routes at the Sand Mountain Recreation Area, a series of wind blown sand dunes that are the remnants of an ancient lake about 85 miles east of Reno. The dune's shrubs are the butterfly's only known home.
Richard Hilton, president of Friends of Sand Mountain, said the butterfly would be better served by the collaborative conservation plan than by a federal listing, which could shut down one of the largest sand dunes in the West.
"It's a relief there wasn't a listing that would impose further restrictions out there," said Hilton, whose group represents primarily off-roaders.
Lisa Belenky, staff attorney for Center for Biological Diversity based in Arizona, said conservationists would review the Fish and Wildlife Service's documents before deciding whether to seek a court order requiring a more thorough analysis.
Her group, along with Public Employees for Environmental Responsibility and the Nevada Outdoor Recreation Association, filed a lawsuit in federal court in Sacramento, Calif., in January 2006 to try to force the agency to declare the butterfly an endangered species.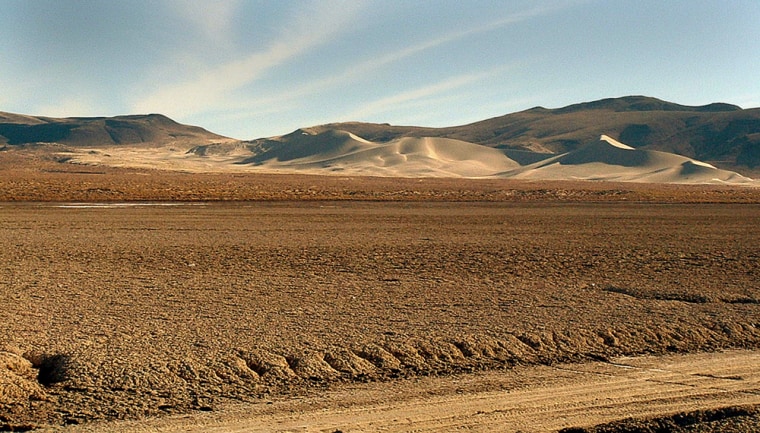 "Federal land managers have already allowed off-roaders to destroy more than half of the butterfly's habitat," Belenky said. "The protections of the Endangered Species Act are desperately needed to preserve the remaining habitat and save this species from extinction."
Last September, University of Nevada, Reno researchers said a first-of-its-kind count found up to 500,000 butterflies in areas where their host plant still exist, significantly more than they had anticipated.
Sand Mountain, which is 600 feet tall and stretches for two miles, attracts about 50,000 off-roaders who pump an estimated $7 million a year into the local economy.
The U.S. Bureau of Land Management is installing fences and signs to confine off-roaders to designated routes in the 4,795-acre recreation area, BLM spokesman Mark Struble said. The restrictions apply to about 60 percent of the area, but Struble said the vast majority of off-road use takes place in areas that will remain open to travel.
Williams said compliance by off-roaders would be monitored.
"If the habitat starts to get eroded again, we'll be in a situation of reviewing our finding again," he said.