It's always exciting to tell you about a new BlackBerry. It's also a lot of fun to test them. Today's release of the new BlackBerry Curve is no exception.
The Curve (model 8300) is a combination of RIM's super-slim, super-successful BlackBerry Pearl (two letter per keyboard key) and the full-sized, QWERTY keyed 8800 series — taking a bit from each to create a completely new "curvy" form factor.
And the BlackBerry wizards also threw in a bunch of cool new features for good measure.
Research in Motion engineers are constantly busy figuring out ways to improve their highly-addictive line of "Crackberry" wireless cell-phone devices. This time around they've figured out how to shrink their QWERTY keyboard device and make it better.
Curve is only 4.2 by 2.4 by 0.6 inches and weighs just 3.9 ounces. That means it's only slightly larger than their Pearl, but sports the full keyboard and a larger screen (320 by 240 pixels). By the way, the light-sensing technology for the screen automatically adjusts backlighting levels for indoor, outdoor and dark environments.
Curve is a GSM/GPRS/EDGE phone which works in most places on the planet. There's Bluetooth in there too. And, of course, Curve runs BlackBerry's famous e-mail delivery software. If you know anything about BlackBerry email, there's no need to waste time on minute details.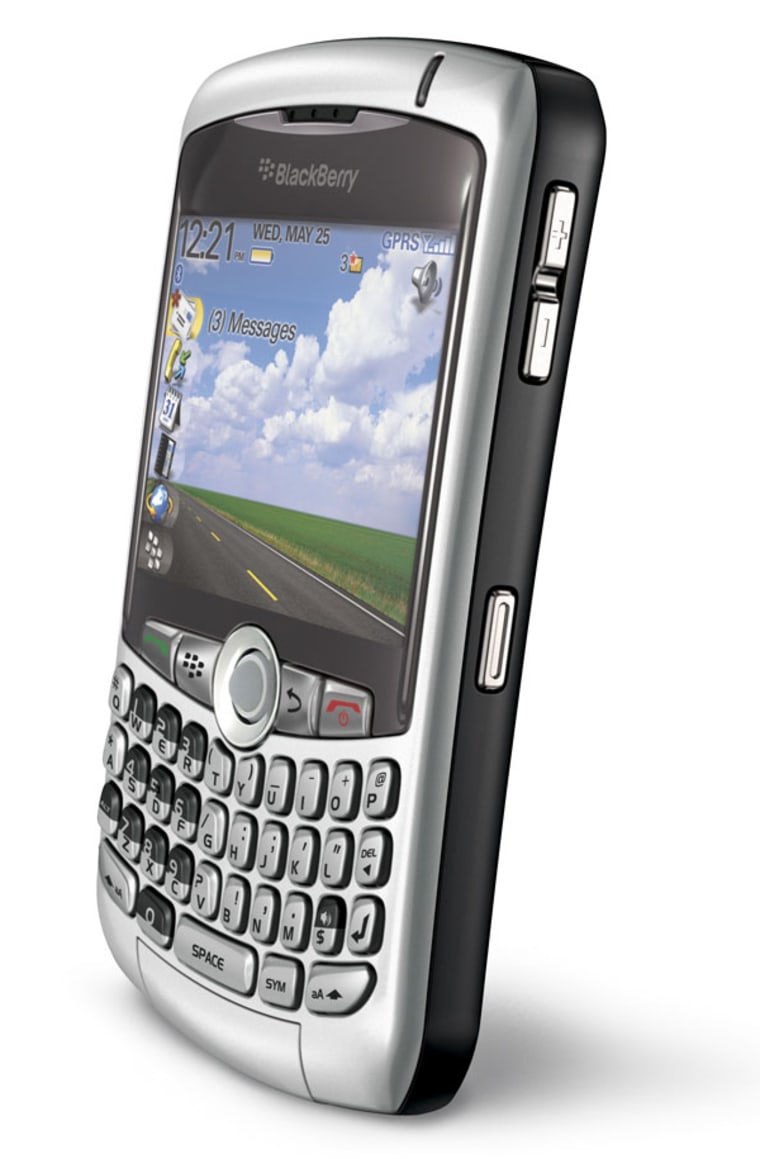 What does merit further discussion? The Curve comes with a 2 megapixel camera, the Roxio Media Manager software suite, a newly overhauled media player (music and video) a real-sized (3.5mm) stereo headphone jack, as well as a microSD expansion card slot.  2GB cards are available now — 4GB cards should be available later this year.
One new feature that's particularly notable is the ability to download and install street maps onto your Curve. BlackBerry Maps is available on the devices' Web site. Attach a GPS receiver to your Curve and you have yourself a very portable direction-finding unit. I got to try the BlackBerry system out on a recent trip to Florida and it worked flawlessly. It was even quicker than another company's standalone unit which was installed in the same car.
Field testing
The Curve has been a joy to use during this all-too-short test period. It worked seamlessly on the U.S. East Coast and also in a number of different areas in Europe. I'm also happy to report that the Curve sounds great too when used as an MP3 music player. I couldn't resist loading and listening to some of my favorite tunes through this phone while travelling overseas.
AT&T/Cingular will be the first to sell the Curve in the U.S., which will kick off in the next few weeks/months. Exact dates and pricing have yet to be announced. 
But, Mike Lazaridis, president and co-CEO at RIM, told me that he's working on keeping the Curve very competitive with other modern-day smartphones. Stay tuned for details.
One other item of note: RIM has also just announced another QWERTY keyboard model, the 8830 World Edition that works on Verizon's CDMA domestic network and also has a GSM/GPRS radio inside.  It's the first Verizon handset that will work both in the U.S. and overseas; it's also one of the first CDMA cell phones ever to be able to do so.