/ Source: The Associated Press
The death toll from a tornado that nearly obliterated this farming town climbed to 9 on Monday, but residents said it could have been far worse if not for a warning that gave them time to take shelter in storm cellars and basements.
"We had plenty of warning," said Gary Goodheart, whose house was gutted with only a few walls left standing. "If people paid attention to sirens they should have been able to get to a safe place."
Cadaver dogs worked alongside residents, who were allowed back in to scour the rubble for whatever belongings could be salvaged. Two bodies were found Monday — one in the debris and another in the Kiowa County State Fishing Lake.
A survivor was also found late Sunday night. First reports indicated he had been rescued from wreckage, but officials said late Monday that the man had returned to a house looking for documents when he was discovered by rescuers.
The death toll Monday at one point had been reported at 10; officials later lowered it to 9.
The Category F-5 enhanced tornado, the most powerful to hit the U.S. in eight years, destroyed about 95 percent of the town Friday night. It also left 13 people hospitalized, four in critical condition. Two others were killed from the storm system in other parts of Kansas.
In this tornado-prone region, residents knew what to do when they heard the rarely issued "tornado emergency" alert and scurried into basements and storm cellars. When it passed, they pushed out through debris, their walls and roofs blown away.
"My house doesn't have a basement, so I went to my mother's and got in her basement," resident Scott Huckriede said. "But most of the houses in town do have basements, and the ones that don't have the courthouse or the school to go to. I think pretty much everybody went."
Warning 39 minutes before it hit
In a statement, the National Weather Service said that "forecasters in Dodge City were able to issue a Tornado Warning 39 minutes before the 1.7 mile wide wedge tornado hit the town." That was updated with a "tornado emergency" message 10-12 minutes beforehand that urged Greensburg residents to get to shelter immediately.
A step above the typical tornado warning, which simply means a twister has been spotted or is likely to develop, a tornado emergency is used when an extremely dangerous storm is headed directly for a populated area, meteorologist Jennifer Ritterling said.
One was last issued in 1999 when an F-5 tornado struck the Oklahoma City area, killing 36 people. Ritterling said the typical lead time for a tornado is 10 to 18 minutes but the storm's extreme size made it simpler to spot and predict its movements.
"The strong and violent ones are easier to detect than the smaller tornadoes," she said. "We try not to cry wolf and send out false alarms for things that aren't rotating. You have to put that extra wording in when it appears people are in danger."
Mike Umscheid, a meteorologist at Dodge City, issued the lifesaving warning Friday night. In his online blog, Umscheid said he initially thought the storm would miss Greensburg to the southeast. But then, he said, the storm began turning more to the north with each pass of the radar.
"I didn't even really give it thought ... the 'tornado emergency for Greensburg' ... it was like instinct — just did it," he wrote on the blog.
Iraq war cited as slowing response
Also Monday, Kansas Gov. Kathleen Sebelius said the government's response to the disaster was undermined by ongoing National Guard deployments to the Middle East.
"I don't think there is any question if you are missing trucks, Humvees and helicopters that the response is going to be slower," Sebelius said. "The real victims here will be the residents of Greensburg, because the recovery will be at a slower pace."
Sebelius said she would address the issue with President Bush when he arrives in Greensburg to tour the damage on Wednesday. White House spokesman Tony Snow rejected the criticism, saying the National Guard had equipment positioned around the country to respond to disasters when requested by states.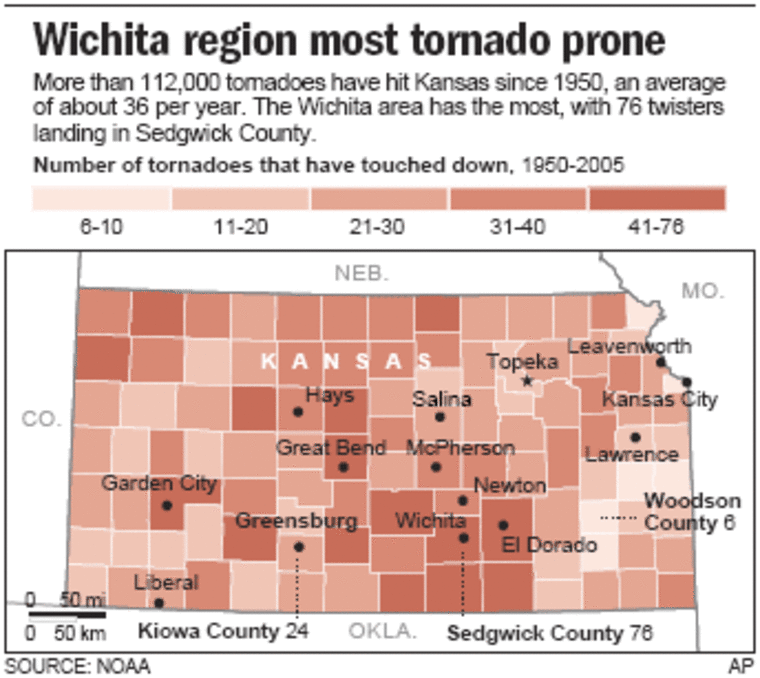 "There's been an enormous amount of help on the scene already, frankly, when it comes to what's been going on with the tornado. FEMA has certainly been actively engaged, and the administration is doing whatever it can," Snow said at the White House. "And if there's a need for equipment, it will arrive."
The search-and-rescue effort stalled briefly Monday after an overturned storage tank began spewing anhydrous ammonia, a toxic substance used for fertilizer by farmers. A portion of the town was evacuated anew, and access to the city was cut off briefly.
School was canceled for what remained of the year, superintendent Darin Headrick said. But he reassured students and staff: "Our teachers will have jobs; our kids will have classrooms to attend," he promised. "This is going to be a huge hurdle for people to overcome, but it will also be a huge opportunity."
There remained plenty of caution about what the rubble might reveal in the coming days. Since the tornado hit Friday night, emergency responders have had little indication of how many people in this central Kansas town of 1,500 may be safely staying with friends or relatives, rather than in shelters.
Law enforcement officials will be checking identification and compiling a list of people whose whereabouts still haven't been determined. Residents were told to leave again by 6 p.m.
Amid the searching, a museum volunteer uncovered a missing 1,000-pound pallasite meteorite. One of the largest of its kind in the world, the meteorite is insured for $1 million. For decades, meteorite hunters from around the world have been drawn here to hunt for space rocks in the rich soil near here.
Museum volunteer Don Stimpson dug through the rubble Monday until he found the meteorite where it had been displayed, enclosed in glass at the Big Well museum and gift shop.
"I read reports the meteorite was gone, that it got sucked up by the tornado," said Stimpson. "Unless you know what you are looking for, it looks like rubble."
Tree trunks stood bare in Greensburg, stripped of most of their branches. All the churches were destroyed. Every business on Main Street was demolished, and the town's fire engines were crushed.
The massive concrete silos of a grain elevator towered over the flattened expanse of what was left of the town.
Near downtown, a woman supported by two others stopped frequently along U.S. 54, breaking down in sobs.
"If I hear that people are going stay and we're going to have a school, then I'll stay," said Greensburg High School shop teacher Peter Kern, who had lived in the town for the last year. "If we don't have a school, I don't have a job."